Strong protests against the arrest of Khurram Parvez, a distinguished human rights defender have been registered with statements demanding his releasing being made nationally, within India and internationally.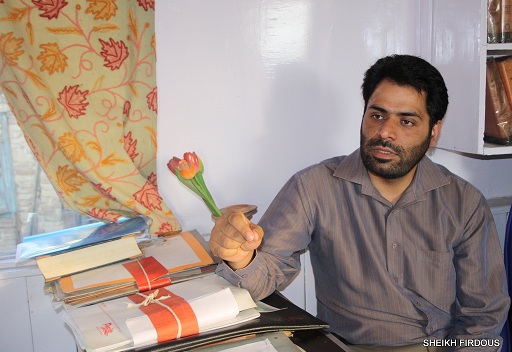 His arrest came a day after he was stopped in Delhi by authorities to board a flight to Geneva where he was going to attend the ongoing United Nations Human Rights Commission (UNHRC) session. On Wednesday, September 14, Pervez was stopped by Immigration authorities at IGI airport in Delhi and disallowed to board a flight to Geneva. The same day the authorities subsequently allowed his two other colleagues, lawyers Parvez Imroz and Kartik Murukutla, to travel to attend ongoing United Nations Human Rights Commission (UNHRC) session.
Khurram Parvez remains in preventive detention right now. This is the first such high profile arrest of a human rights activist in Kashmir in the recent past. The actions against Mr. Parvez appear symptomatic of the escalated repression in Kashmir by institutions of state since July 8.

Family members have told the media that the police officials from Kothibagh Police station called him in the evening asking him to visit the police station because Superintendent of Police wanted to speak to him. (Photo Source: Facebook/Khurram Parvez)
Khurram Pervez (39), who is presently Chairperson of Asian Federation Against involuntary Disappearances (AFAD) and Program Coordinator of Jammu Kashmir Coalition of Civil Society (JKCCS), has been kept in Kothibagh Police Station. Despite repeated attempts, the police officers were not available to comment on the arrest.
Meanwhile the Indian Express states that according to Pervez's family members, he had returned home from Delhi this morning. The family members said that the police officials from Kothibagh Police station called him in the evening asking him to visit the police station because Superintendent of Police wanted to speak to him. "He called the SP and told him he will come at 10 am tomorrow,'' a relative said. "Late in the night, a police party came to his home, asking him to accompany them to the police station. There wasn't any police officer in the police station at that time. They told us that he would have to stay in the police station". Pervez's family members said that the police didn't give any reasons for the arrest.
"At around 1.30 am, as I was about to board my flight to Geneva, I was stopped at immigration and detained for one-and-a-half hours. The officer had stamped my boarding pass but they subsequently disallowed me to proceed to board the flight,'' he had told The Indian Express. Pervez had also said that he was "only orally informed that immigration officers had instructions that he was not to be arrested, but that he should not be allowed to leave the country".
A statement issued by the JKCCS said that Pervez "is not being allowed to travel because he has been highlighting violations of human rights. Preventing him from travelling is an attempt to criminalize the human rights campaign and documentation work which JKCCS has been involved in for the last several years".
Text of the Statement
UNLAWFUL ARREST AND DETENTION OF KHURRAM PARVEZ
September 16, 2016
Noted human rights defender, Khurram Parvez, was arrested and detained at around 12:30 am today in Srinagar, Indian-administered Kashmir. He has been detained, without formal arrest or notifications, and in violation of his rights to information, and legal counsel. He has not been provided with any written document, court order or the reasons for his detention. His arrest today follows his detention on 14 September at the New Delhi international airport for approximately two hours. Following which, he was barred from travelling to Geneva, Switzerland. Khurram Parvez is the Programme Coordinator of JKCCS and its spokesperson, and Chairperson of the Asian Federation Against Involuntary Disappearances, a collective of 13 non-governmental organizations from ten Asian countries that campaign on the issue of enforced disappearances. Khurram Parvez was scheduled to attend the 33rd UN Human Rights Council Session in Geneva to brief UN bodies, including the UN High Commissioner for Human Rights, and foreign governments on the atrocities committed by Indian state forces in Jammu and Kashmir, particularly over the last two months. Khurram Parvez is presently detained at the Kothi Bagh Police Station in Srinagar.
The unlawful detention of Khurram Parvez is a violation of internationally recognized and non-derogable civil and political rights, and India's own constitutional guarantees. It is a clear indication of reprisal, an attempt to intimidate and restrain Khurram Parvez and his human rights work. In doing so, it seeks to isolate him and silence the critical concerns of Kashmir from being heard by the international community. Unlawful arrests have been consistently used by the Indian state in Jammu and Kashmir to repress all space for dissent. Tellingly, the action on Khurram Parvez closely follows India's rejection of the UN High Commissioner's request for access to Jammu and Kashmir for a UN fact-finding mission.
The unlawful arrest and detention of Khurram Parvez, and denial of his right to lawyers, represents a real and imminent security threat that requires urgent attention and action. An urgent appeal has been sent by JKCCS to the President of the UN Human Rights Council, UN High Commissioner, and Special Procedures of the UN Human Rights Counsel, including the Special Rapporteur on Human Rights Defenders and the Working Group on Arbitrary Detention.
The unlawful arrest and detention of Khurram Parvez is a threat to the principles that Khurram Parvez so courageously represents through his long-standing human rights work in Indian-administered Kashmir: of truth, justice, equality and fundamental rights and freedoms. Khurram Parvez must be released immediately and his rights and freedoms restored.
Parvez Imroz, Advocate, President, JKCCS