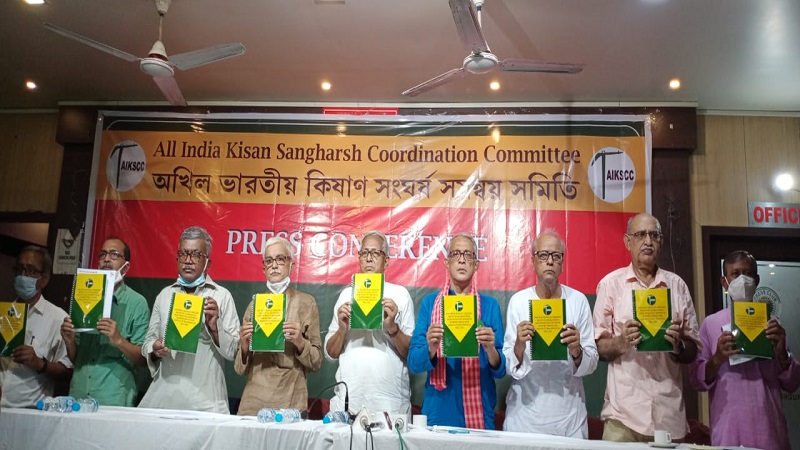 West Bengal farmers will start a strong movement if Minimum Support Prices (MSP) is not made a legal assurance for all agri-produce, said the All India Kisan Sangharsh Coordination Committee (AIKSCC), on September 16, 2021.
Stating that over 60 percent of people and 68 percent land in the state is engaged in agriculture, the AIKSCC farmers submitted a letter to Chief Minister Mamata Banerjee along with a draft of the MSP law to demand legalisation of the remunerative prices.
"The National Commission on Farmers (Swaminathan Commission) has recommended a policy of remunerative pricing which clearly states that the minimum price of the agricultural produce should be fixed by adding at least 50 percent to the comprehensive cost of production," said AIKSCC Secretary Avik Saha during a press conference on Thursday.
Farmers said that they are unable to earn enough despite good investment and good yields. Agriculture accounts for 27 percent of the state's GDP yet farmers' conditions continue to deteriorate.
"Farmers are not able to meet the basic needs of the family with the income they are getting from the prices they are getting for their produce, after deducting the cost of production," said State Secretary Kartick Pal.
Moreover, the AIKSCC said that farmers and agricultural workers are suffering severe debt. In some cases, some farmers are driven to death by suicide. Farmers said that it is the constitutional duty of the government to protect the lives and livelihoods of farmers and all people associated with it.
"The state government must formulate policies to ensure the implementation of the Right to Life and the Right to Livelihood and to prevent the misery of farmers by enacting and enforcing appropriate laws," said Saha.
A demand for legal MSP has been a longstanding demand of farmers participating in the nationwide struggle as well. On September 15, the Samyukta Kisan Morcha (SKM) said that the National Statistical Office's (NSO) seventy-seventh survey revealed how the mandi system was weakening under the BJP-led central government. Farmers said this can be correlated to the decline in real farm incomes of agricultural households.
"The NSSO report shows that the percentage of agricultural households that sold their produce at the government mandis has decreased significantly between 2013 and 2019 – this is the period that coincides with the NDA-1 regime of the Modi Government. The majority of the agricultural households were unaware of the MSP announced by the government, and most blamed lack of infrastructure for not being able to sell at the APMC mandis," said the SKM.
The SKM alleged that such facts argue that the government is weakening mandis in the favor of corporations. Farmers across India are preparing for Bharat Bandh on September 27.
Related:
WB activists and CSOs demand delinking of Census from NPR-NRC process
Ayush Sinha sent on leave: Farmers call Haryana govt's move, righting of a severe wrong
Lakhs of farmers flood Muzaffarnagar mahapanchayat!