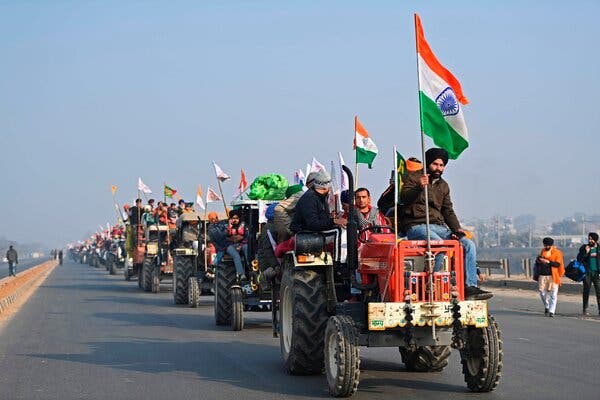 As the anniversary of the farmers struggle approaches, various farmers have begun preparing for a nationwide mobilisation on September 27, 2021.
Following the Samyukta Kisan Morcha (SKM) guidelines, farmers will demonstrate from 6 AM to 4 PM on Monday. Leaders specified that educational institutions, markets, government offices, private vehicles, public transport and social events will be stopped. However, medical and emergency services will be exempt from the Bandh.
Local-level meetings were conducted in Jaipur, Rajasthan on September 19 by multiple organisations. On the same day, Madhya Pradesh's Badwani district took out a rally in support of the Bharat Bandh under the banner of the Narmada Bachao Andolan. Other areas like Bhitarwar, Gwalior and Jabalpur organised press conferences and meets. Members will observe a state-level meeting on Monday for future plans. Similar meetings also took place in Uttar Pradesh, Bihar, Uttarakhand, Himachal Pradesh, Karnataka, Andhra Pradesh, Odisha, Maharashtra and Telangana.
Karnataka farmers observed a virtual public meeting on Sunday wherein leaders encouraged the public to join the protest. Tamil Nadu has prepared for review meetings on Monday to prepare for coordinated work between farmer unions on September 27.
Speaking to Sabrang India, Tamil Nadu farmer leader K. Balakrishnan said that state farmers will have a state SKM unit from September 21. As for the Bharat Bandh, all districts had planned for road and railway blockades since September 4. Chennai's Guindy railway station will witness protests along with road blocks near Mount Road and Tondiarpet areas. Further, a protest march will go on between September 20 and September 25 to raise awareness.
Regarding the farmer struggle anniversary, he said, "The farmers' movement has spread like wildfire across Tamil Nadu. We will not let the government douse the fire."
According to Balakrishnan, political parties including people from the DMK will join the Monday Bandh.
Meanwhile, Punjab's Mohali district appealed to all milk vendors and vegetable sellers in the state to support the Bharat Bandh. Considered the epicentre of the peasant struggle, some of the earliest farmers' protests against the three contentious farm laws began from Moga district in Punjab. On September 19, 2020 farmer unions denounced the pro-corporate farm ordinances.
A year later, amidst political turmoil, thousands of Amritsar farmers took out a tractor march on September 18 to protest against the three laws and to mobilise support. Farmer leader Jagmohan Singh told Sabrang India that teachers, traders and railway authorities promised to cooperate with farmers to make the Bandh a success. Following the concluding meeting in Patiala, trucks and similar transport have also been readied for farmers.
"We are proud of our farmers who still remain at toll plazas, national highways. On Sunday, we celebrated the state anniversary for farmers. After Muzaffarnagar, we feel that the regime is shaken by farmers' power," said Singh.
For the appointed day, farmer leaders encouraged slogans such as "Bharat Bandh Against Anti-Farmer Modi Government," "Modi Brings in Mandi Bandh, Farmers take up Bharat Bandh" and "Narendra Modi, Kisan Virodhi!"
Farmer leaders said their demands have remained the same for the past year: withdrawal of the three farm laws; a legal guarantee to MSP; withdrawal of contentious laws against farmers in the Air Quality Management legislations; dismissal of the Electricity Bill 2021.
SKM leader Darshan Pal thanked merchants and traders, employees' unions, lawyers' associations, transporters' unions, trade and worker unions and others for their support for the Bandh. To reciprocate, the SKM extended support to the All India Strike of "scheme workers" on September 24, 2021 by anganwadi workers, ASHAs, MDMs, NCLPs, SSAs and NHM workers. These workers are demanding regularisation of their services as workers, with minimum wages and dismissal of privatising public sector units and services and withdrawal of four labour codes.

Related:
Ayush Sinha sent on leave: Farmers call Haryana govt's move, righting of a severe wrong
AIKS debunks GoI's claims of highest ever rabi MSP hikes
Modi should show greater commitment to minority rights before talking about Guru Granth Sahib
Kisan Mahapanchayat calls for harmony, right-wing adds communal twist