Students continued to protest and boycott academic activities at Aligarh Muslim University (AMU) on Sunday, May 6, demanding the arrest of Hindu right-wing activists who allegedly forced their way into the university on Wednesday, May 2, assaulted students, vandalised property, and violated the security of former Vice President Hamid Ansari. Several hundred students protested the Aligarh Police's alleged "inaction against vandalism and violation of law" by members of the Hindu Jagaran Manch (HJM), the Hindu Yuva Vahini (HYV) and the Akhil Bharatiya Vidyarthi Parishad (ABVP).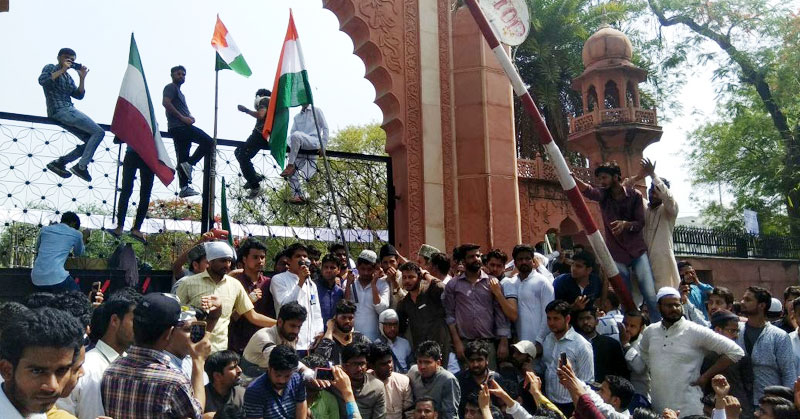 On Wednesday, May 2, about sixteen armed men, purportedly from Hindu Yuva Vahini (HYV) and RSS laced with sticks, pistols and country-made revolvers entered the AMU campus along with more than 25 police personnel, while Hamid Ansari was there for a lecture. They assaulted two students, and, according to students at AMU, burnt an effigy of Mohammed Ali Jinnah at the university's Bab-e-Syed gate. They reportedly also chanted slogans against AMU and its administration. Eventually, AMU Students' Union (AMUSU) leaders and activists handed over six (some) people to the police, who refused to file an FIR and released them. In place of taking action against those who indulged into acts of violence in the first place, police lathi-charged students who gathered to demonstrate against their alleged inaction, and also used tear gas in an attempt to get the peaceful protesters to disperse, with more than 20 students reportedly sustaining injuries. Among those injured was AMUSU president Maskoor Ahmed Usmani, who said, "This was a pre-planned, organised attack by the police and Sangh parivar members, against the institution, as well as the students. The police could not handle 30 Hindu Yuva Vahini members, but had no qualms in brutally beating up hundreds of innocent students." An event to grant Ansari lifetime membership to the AMUSU also had to be cancelled.

Reacting to the events of the campus, Abdullah Azzam, ex AMUSU president said, "I am not surprised that the Sanghi goons came with lathis-dandas, since they couldn't pick up books, they are picking weapons. I am surprised that the police lathi charged the students. So many students lay unconscious for several hours." He added, "This RSS backed BJP government has lost its fight on several fronts and it has the most problems with the section of society that's getting educated."
Calling for a judicial probe against the goons belonging to right-wing Hindutva outfits who entered AMU and indulged in acts of aggression, more than 5,000 students congregated at the university's Bab-e-Syed Gate on May 3. On Friday, May 4, as protests persisted, Section 144 of the CrPC was imposed by Aligarh's administration, and Internet services were also suspended at least until midnight on Saturday, May 5. The Aligarh District Magistrate Chandra Bhushan Singh also ordered a magisterial enquiry into the violence at AMU.

Several students alleged that there has been a complete blackout in the media about the protests. They expressed that while the media is portraying that the violence and clashes at AMU are a result of the protests on Jinnah's portraits and effigy-burning, the fact is that the police violently attacked the students who were peacefully protesting the onslaught by right-wing goons and Aligarh police. Students also see this in the light of the witch-hunt of Muslim students on university campuses. Najeeb Ahmed, a JNU scholar remains missing till date. In fact his sister was present at the protests to extend support to the protesting students.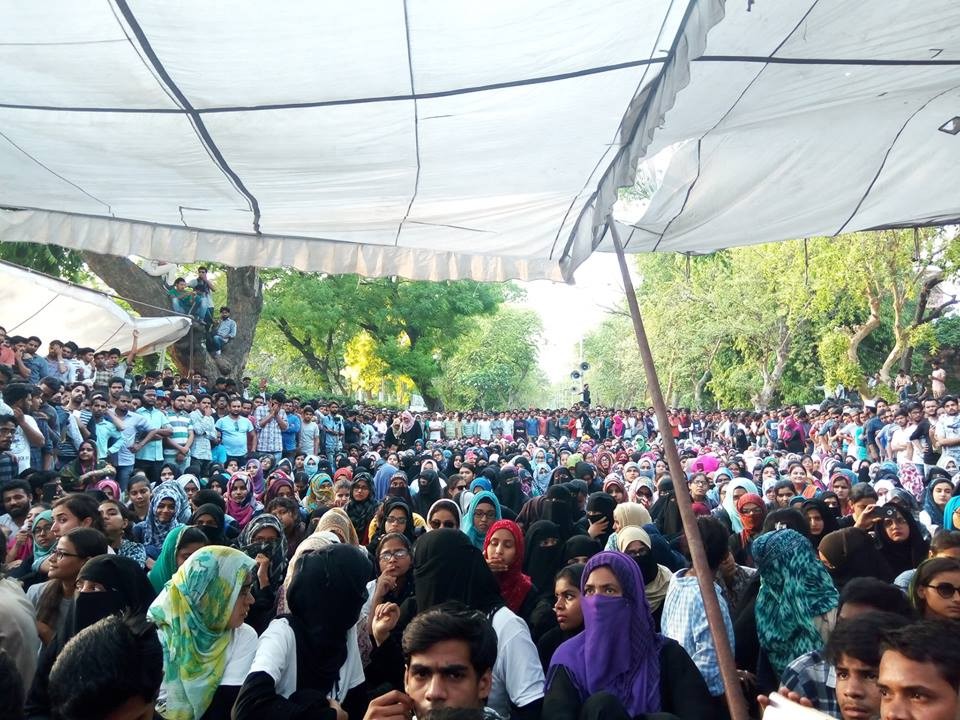 Responding to the allegations of students being anti national, a time-tested trick of the right wing propaganda, AMU professor Shafey Kidwai clarified that students "were raising the slogan – Bhagwa Rang aur Aatank se Azadi. These are not anti-India slogans, and do not relate to the unity, integrity and sovereignty of India." Meanwhile, AMU has decided to postpone university exams to May 12.

In the entire fiasco, students are right to consider this entire episode as a matter of grave national security as a former Vice President was present on campus at the time of the attack.
However, the events of May 2 and subsequent protests have a context in an issue that began unfolding weeks prior to this, when local BJP MLA Satish Gautam wrote to AMU's administration, taking exception to the photograph of Jinnah displayed in the students' union building, reportedly because of his role in India's partition. Jinnah founded AMU's court, and was granted honorary membership to the AMUSU in 1938, which is why his picture has been displayed, reportedly for decades. However, the AMU Student Union Life Membership, which was given to Mohammed Ali Jinnah was also given to people like C.V.Raman, Pandit Jawaharlal Nehru, Mahatma Gandhi, H.N. Bahuguna, Ramvilaas Paswan, Dalai Lama, Mother Teresa, etc. And in India at many places properties of Jinnah are present till today. But, in what appears like an attempt to stir controversy just before Karnataka elections an Kairana by-poll elections, on Monday, April 30, Aditya Pandit, district president of Aligarh's Hindu Yuva Vahini (HYV) chapter, demanded that the photograph be taken down within 48 hours, and if not, threatened to come to the campus and do so himself.

Students said, "If our FIRs are not admitted then we will go to the High Court and we will continue the Dharna till all our demands are met and the goondaism is not brought to halt". They added, "Our struggle is not for Jinnah but against the goons who created nuisance in campus". Students' demands include the arrest of goons responsible for violence, an inquiry on the policemen to lathicharge, FIR against 300 students should be withdrawn and setting up a judicial investigation
On May 6, two people were arrested in relation to the violence at AMU, with Aligarh SSP Ajay Kumar Sahni identifying them as Yogesh Vashney and Amit Goswami. Javed Khan, Station House Officer, Civil Lines, said that Vashney was part of the Hindu Jagaran Manch (HJM), and that Goswami identifies as a right-wing Hindu leader.
Though these arrests have been made, this needs to be seen in the larger context of the assault on universities, education and the attack especially on minority students for electoral gains.
Related links
Police violence in AMU after Hindutva goons attack students
AMU Violence an attempt to strengthen anti-Muslim narrative,' members of the society condemn police violence
The Fascist Attack at AMU
CPI (ML) New Democracy blames BJP Government for fomenting communal strife in AMU