With the sudden shutdown of Kumal Tea Estate in Jalpaiguri district without notice, no school buses are transporting students to their schools which are 7 to 10 kms away.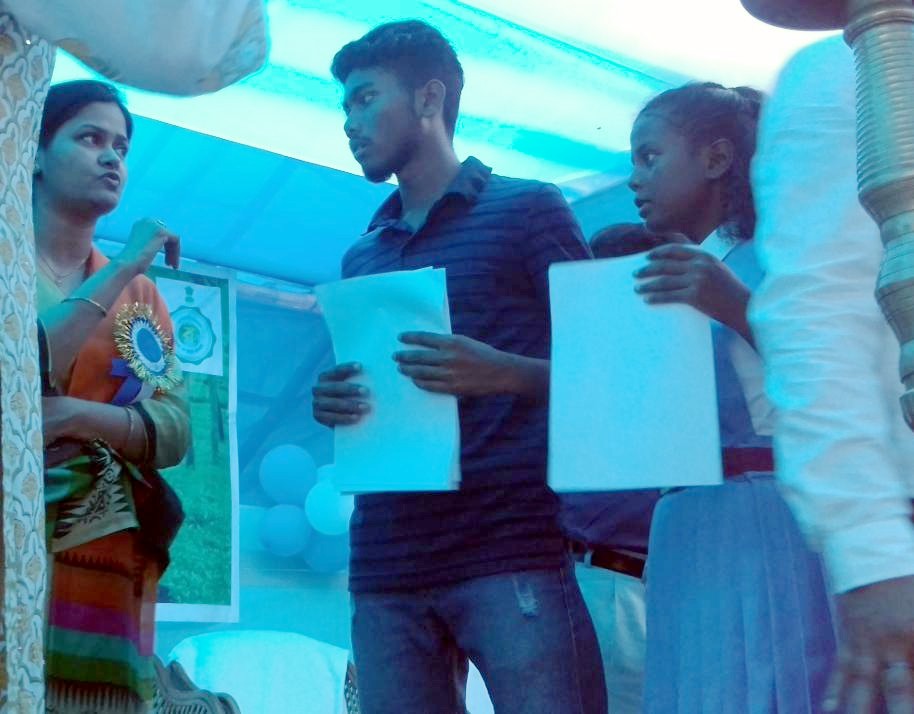 Extreme right: DM of Jalpaiguri. Next to her is Alvinasus Oraon of Class 12 and extreme right Nandini Oraon of class 8 from Kumlai tea gardens handing over the mass petition to the DM
West Bengal: Over 30 children of tea garden workers have dropped out of school in West Bengal. With the sudden shutdown of Kumal Tea Estate in Jalpaiguri district without notice, the transport facilities for school children has stopped. With no buses plying to their schools which are 7 to 10 kms away, the students of the region have stopped going to school.
The tea estate management abandoned Kumlai in November 2015. They left sans a legal notice of shutdown or a message about their later return.
When the tea garden was operational, as per the mandates of the Plantation Labour Act, 1951, children of plantation labourers got transport service to and from schools. Now, when the garden is closed there is no such service. Many children study in Adarsha Bidya Bhaban, St.Bartholemew's High School, Pushpika Girls Junior High School, Subhashini Girls High School, Ideal Hindi High School (H.S.) and Gajendra Vidya Mandir High School which are 7 to 10 km away from their residence.
Family income is less and irregular which limits them from providing with the minimum money required to go to school. During the monsoon and without any school buses, it further becomes close to impossible to attend school. Due to this, more than 30 students have dropped out.
The children organised an open meeting on June 21 and about 20 children were present. In the meeting, the meaning of freedom was discussed. "Freedom is not in the air, it comes with responsibility wherein the State has promised its citizens to provide basic essential services of Food, Health, Shelter, etc and to provide these basic services the State collects Tax. In the year 2009 clause (A) was added to Article 21 (Right to Life) stating that Education is the fundamental right of each and every child in India. Here in Kumlai, since the garden is closed there is no transport service and parents really do not have the income to send children to school on a regular basis. In this scenario, the question arises- where is their Right to Education? Further, if the garden is closed does it mean that the state is not responsible to provide education support as promised in the PLA, 1951. After much deliberation, the children decided to send a mass petition to the district magistrate, SDO, BDO, SI and Gram Pradhan," said Christopher Nag, a researcher from TISS who is doing their fieldwork in Kumlai.
The children drafted a letter and in a weeks' time and approached other school going children from the village with their concerns. They made 200 others consent to their mass petition and got the document signed. They have submitted the petition in the DMs office and are awaiting a response.
"We humbly request to you to please provide for the transport service so that we are able to continue our education. According to the Plantation Labour Act, 1951 the tea garden owner has to provide educational support. Now since the garden is closed, it is adversely impacting on our fundamental right to education. During exams we do get bus service to go and give exams but if we are not able to attend regular class what will we learn and how will we give our exams? It is a matter of basic fundamental right to education as mentioned in the Article 21(A), Right to free and Compulsory Education Act, 2009 and Directive Principles of the Constitution and also in the United Nations Convention on the Rights of the Children which India acceded in 1992," their petition read.
The ground reality of the tea estate
"The workers union approached Joint Labour Commissioner(JLC), the District Magistrate(DM) – Jalpaiguri and through them, the owner of Kumlai TG i.e. Kanoi Group was approached. DM and JLC called for an all-party meeting (Workers, Kanoi Group, Workers Union and Dooars Branch Indian Tea Association). Kanoi Group was not responsive and did not attend any meeting. In one of the meetings held in Uttar Kanya, Kanoi Group, through its representatives, simply said that they will be able to run the estate only if the workers agree to a 50 per cent reduction in the total number of permanent workers of the garden and they will not run the factory. The workers denied to the proposal of the owner and since November 2015, Kumlai Tea Garden is closed," said Nag.
The two workers union namely Progressive Tea Workers Union affiliated to Akhil Bhartiya Adivasi Vikas Parishad and Trinamool Congress's Union are actively involved in Kumlai Tea Garden. After the garden got closed these two Union have formed three different committees and are carrying on plucking work during the season (April to November) and sell the leaves to the local Bought Leaf Factory (BLF); one committee is run by PTWU and other two by TMC. TMC union leaders sell them directly and PTWU sell it via local dealer with whom they have made a verbal contract and fixed the per kg value of leaves at Rs.18.
"Non-functioning of plantations has taken away as many as 7,600 direct and indirect jobs in these states. The West Bengal government has cancelled the land lease of Bundapani, Redbank, Dharanipur and Surendranagar tea estates and taken possession of the land to find out new entrepreneurs. Panighata, Manabari, Joybirpara and Kumlai estates were closed due to labour unrest," reported the New Indian Express in 2017.
Related Articles-
No further delays in payment, pay Rs.127 crores to Tea-Garden workers of Four states: Supreme Court