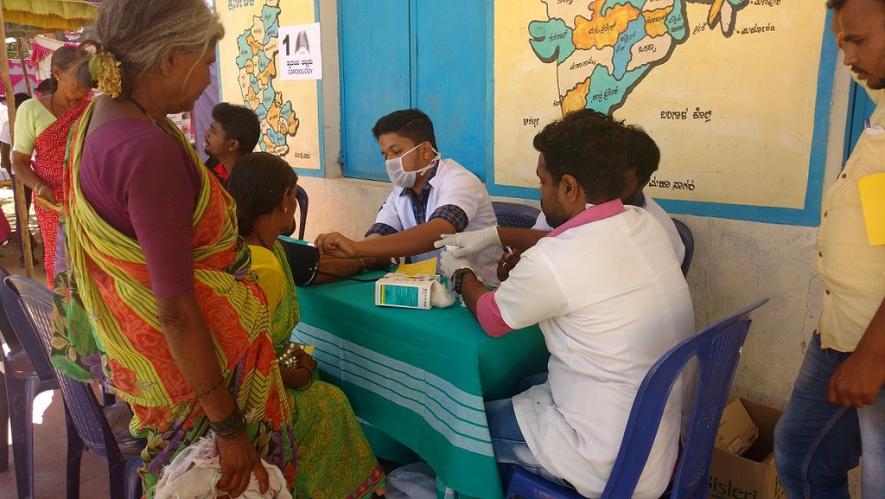 Representational Image. Image Courtesy: Flickr
New Delhi: The Pradhan Mantri Jan Arogya Yojana (PM-JAY) is a component under Ayushman Bharat launched by the government to support the economically weaker section (EWS) to avail of healthcare services. The PMJAY scheme was launched in September 2018 to provide health insurance coverage of ₹5 lakh to about 50 crore beneficiaries.
However, a detailed analysis of the PMJAY has shown that those most vulnerable – whether in terms of state communities or gender – have not been able to use it as well as the relatively better off. The analysis was published in Lancet Regional Health —South East Asia and done by researchers from Association for Socially Applicable Research (ASAR), Pune and Duke University School of Medicine, in the US. The study looked at the 2018–2022 period.
The study cited a 2021 national household survey that showed that awareness and enrolment levels were the lowest among households in the poorest 40% of the population. "Thus, overall, the scheme is failing to target the most vulnerable population," it stated.
The vulnerable population groups, e.g. Scheduled Castes (SCs), Other Backward Classes (OBCs), the Islamic population, and families with children and elderly, have higher cases of Catastrophic Health Expenditure (CHE) a situation where health spending exceeds 10% of a household's consumption expenditure. Also, the incidence of Impoverishing Health Expenditure (IHE) is higher in rural areas and poorer states compared to urban areas and wealthier states.
The inequities are reflected in the supply and utilisation of services under PMJAY. To assess equity in PMJAY's supply-side components, the study measured the number and distribution of empanelled hospitals. Information about supply-side components like medical equipment, drugs, and health workforce was unavailable. To assess utilisation-side components of PMJAY, they measured claim volumes, claim values, and enrollment rates.
The report states that states with higher poverty headcounts and disease burdens have a higher need for PMJAY and vice versa. However, the utilisation of claim volume and value is higher in states with lesser needs, e.g. Kerala and Himachal Pradesh, and lesser in states with higher requirements, like Bihar, Madhya Pradesh, Uttar Pradesh, and Assam. "This discrepancy in need vs utilisation is due to poor supply-side factors, including a low number of empanelled hospitals, an inefficient beneficiary identification system, and weak health governance in states with greater poverty and disease burdens. A similar pattern is seen at the district level, where socio-economically backward districts (also known as aspirational districts) have lower beneficiary identification rates, the total number of claims, and total claim amounts than non-aspirational districts. The majority of aspirational districts are located in Jharkhand, Orissa, and Chhattisgarh," the report states.
The report further states that enrollment under the scheme is almost equal for males (50.8%) and females (49.2%) nationally. However, the total number (volume) and value of claims are higher for males than females (51.5% and 56.4% vs 48.5% and 43.6%, respectively). Out of the top 50 procedures in PMJAY, 60% of procedures are utilised more by males and 30% are utilised more by females.
SC and ST groups are considered the two most vulnerable in India and are, therefore, eligible for PMJAY. "Overall, these groups comprise approximately 28% of India's population. However, there is little information to understand the utilisation. At the national level, SC and ST populations have contributed to only 5% and 2% of private hospital admissions, respectively, since the scheme's inception," the report states.
The report concludes that PMJAY has been updated in several aspects, including a larger population, services and cost coverages, awareness creation, and monitoring and evaluation. However, it still lags in binding domains like equity in supply and utilisation, targeting vulnerable populations, including outpatient coverage, and dynamic cost coverage. "The inequitable supply and utilisation affect the most vulnerable groups. It risks creating a spiral where the most deprived classes can fall into further deprivation. PMJAY should work on the above-discussed shortfalls, which will need an increase in supply-response regarding healthcare infrastructure and services and an overall increment in GHE," it states.
Courtesy: Newsclick