The controversial BJP leader, Subramanian Swamy has threatened Muslims leaders to give up their claims on the disputed Babri-Masjid-Ramjanmabhoomi plot in Ayodhya or else none can stop the Union government from pass a law on the building of Ram Mandir at the spot the moment the BJP-led NDA government gains a majority in the Rajya Sabha next year.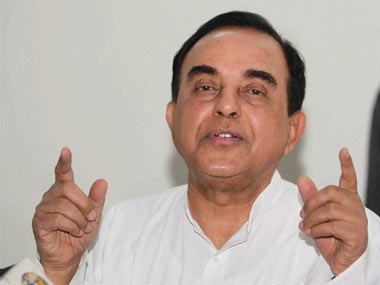 Image: PTI
In a tweet message Swamy said,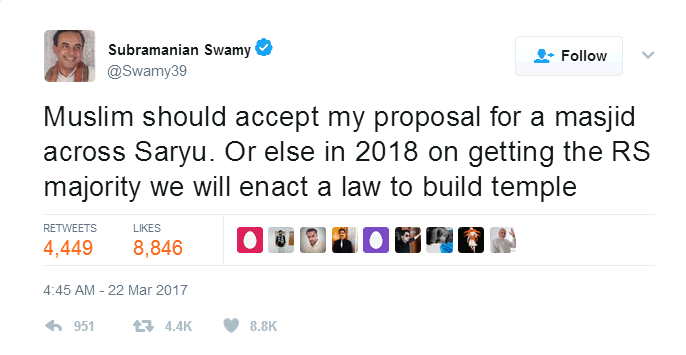 This was followed up with a second tweet: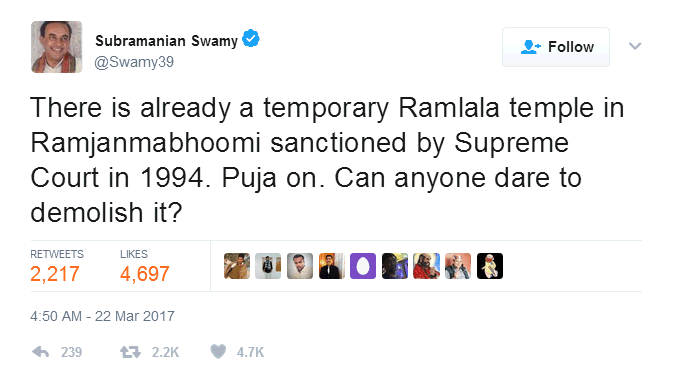 Responding to the tweet messages the Congress party has demanded that he be prosecuted for contempt of court.
Last year the BJP leader had intervened in the case over the disputed plot pending before the Supreme Court since 2011 asking for an early disposal of the case. While hearing him on Tuesday, the Supreme Court had suggested that it would be better if the parties in the dispute were to arrive at an out-of-court settlement in this "sensitive" and "sentimental matter".
The apex court's bench headed by chief justice JS Khehar even offered the services of a court-appointed principal mediator if the contending parties so desired. Swamy is to report back to the court after exploring the matter with the disputants by March 31.
Even as he expressed his willingness for talks as suggested by the apex court, Swamy has made it clear that there was no question of any compromise on the Ram Mandir being built at the spot.