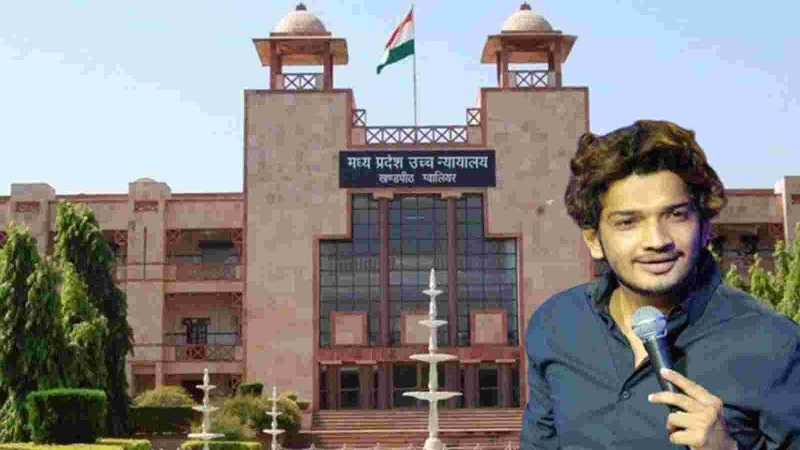 Image Courtesy:livelaw.in
Justice Rohit Arya of the Madhya Pradesh High Court has reserved orders on the bail applications of comedian Munawar Faruqui and his co-performer, who were arrested by the Indore police on January 2 in a case related to alleged hurting of religious sentiments.
"Such people must not be spared. I will reserve the order on merits," said Justice Rohit Arya. Parties that opposed the bail plea of Munawar submitted that the comedian has made highly objectionable statements against Hindu gods and deities.
According to LiveLaw, one lawyer argued that Munawar has posted several videos previously which were circulated on social media and that he repeated the same remarks on three different occasions i.e., comedy shows. "This has led to other comedians making such remarks about Hindu Gods. This is happening with 70 percent of the comedians", she said.
Further, Justice Rohit Arya observed, "But why do you take undue advantage of others' religious sentiments and emotions. What is wrong with your mindset? How can you do this for the purpose of your business?"
The court asked Senior Advocate Vivek Tankha who appeared for Faruqui whether or not he wanted to withdraw the bail application. He submitted, "He has committed no offence in the matter your lordship. Bail should be granted."
Justice Arya has asked other counsels objecting to the bail application to file their concerned documents and supported evidence. He then reserved orders on the bail application of Nalin Yadav, arrested as a co-performer with Faruqui.
On January 5, the Additional District and Sessions court Judge Yatindra Kumar Guru rejected the bail pleas of Munawar and Nalin who were booked for allegedly insulting Hindu deities during their comedy show, based on a complaint made by Eklavya Singh Gaur, convenor of Hind Rakshak Sangathan and the son of BJP MLA.
Related:
Sessions court denies bail to stand-up comic held for 'insulting' Hindu deities
UP Police submit production warrant for Munawar Faruqui
Stand-up comic Faruqui Munawar's custody extended by two weeks