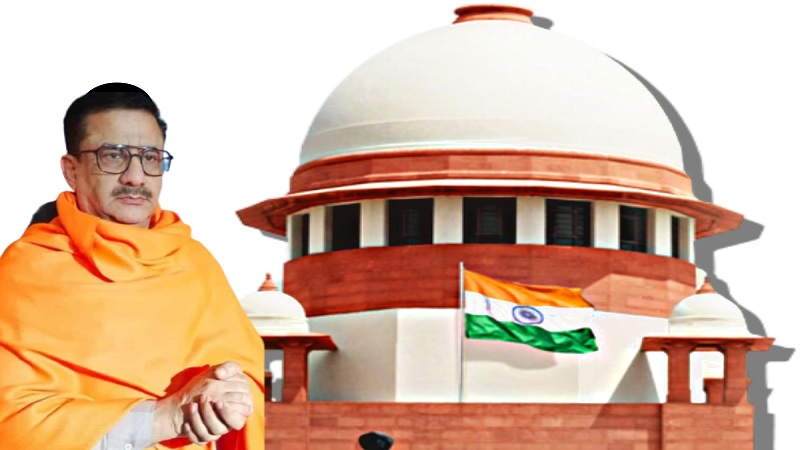 Image Courtesy: siasat.com
On Monday, August 29, the Supreme Court refused to extend the interim bail granted on medical grounds to Jitendra Tyagi a.k.a Wasim Rizvi in the case for allegedly making anti-Muslim hate speeches at the Haridwar Dharam Sansad, reported LiveLaw.
On May 17, 2022, the Supreme Court granted bail to Jitendra Tyagi alias Wasim Rizvi for three months on medical grounds in connection with the case of hate speech at the Haridwar Dharam Sansad. After issuing notice in the Special Leave Petition (SLP) filed by Tyagi challenging Uttarakhand High Court's order refusing bail on May 12, a bench comprising Justice Ajay Rastogi and Vikram Nath directed him to give an undertaking that he would not engage in hate speech and not give any statement to electronic, digital, social media.
During the hearing on May 12, Justice Ajay Rastogi had commented on the religious conclaves and was quoted saying, "Spoiling the atmosphere! Stay together peacefully, enjoy life."
Accordingly, during today's hearing the Court asked Tyagi to surrender by September 2 and posted the matter for hearing on September 9 despite his counsel's request to post on September 5.
The bench comprising Justices Ajay Rastogi and BV Nagarathna reportedly told Tyagi's counsel, "You are on interim medical right? Surrender first. Go and surrender first."
The court was informed by the State of Uttarakhand that it has already filed chargesheet on March 30, 2022, and the trial court has framed charges on May 19, 2022.
Jitendra Tyagi has been charged with Section 153A IPC, (Promoting enmity between different groups on grounds of religion, race, place of birth, residence, language, etc., and doing acts prejudicial to maintenance of harmony), an offence which is punishable with imprisonment which may extend to three years.
Jitendra Tyagi, when he was known as Waseem Rizvi, was the chairperson of Shia Waqf Board before he converted to Hinduism. He was arrested by the Uttarakhand Police in January 2022 for his hate speech at the Hindutva conclave Dharam Sansad held in December last year. A bail application was filed by Tyagi before the Uttarakhand High Court which found the speech delivered by him amounting to "hate speech that intended to wage war, promoted enmity and was derogatory towards Prophet Muhammad".
Related:
Dharam Sansad case: SC grants 3 months interim bail to Jitendra Tyagi in Hate Speech
This is something spoiling the atmosphere: SC in Dharm Sansad case
Jitendra Tyagi's Dharam Sansad hate speech intended to wage war: Uttarakhand High Court