The story of Cheryl Zondi, the brave young woman who took the stand in a South African court to testify against Nigerian pastor and rape accused Timothy Omotoso has recently
dominated news headlines
. The televangelist and senior pastor of the Jesus Dominion International Church faces multiple charges. These include rape, human trafficking and racketeering.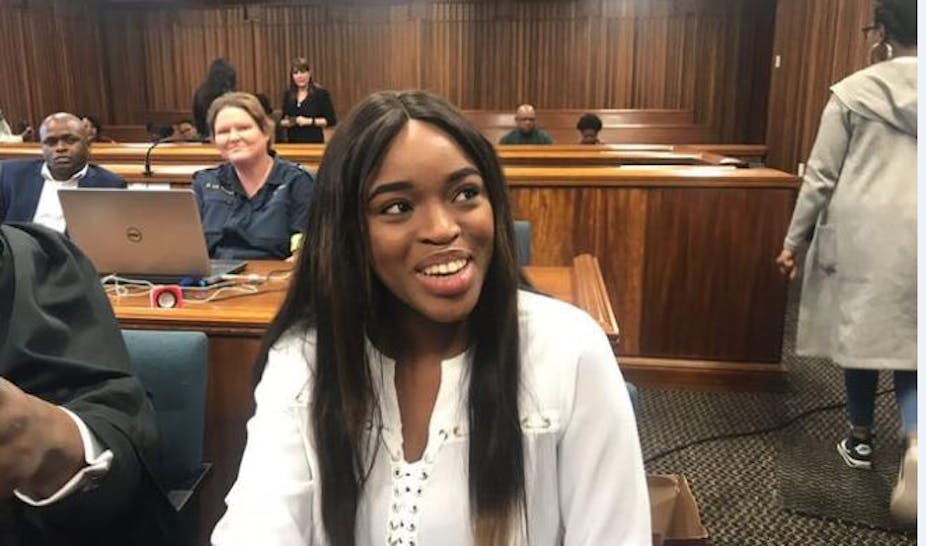 Cheryl Zondi bucked the trend of rape accusers staying anonymous in South Africa. African News Agency (ANA)
Under harsh, degrading, cross examination, Zondi, a 22-year old university student, courageously faced her alleged abuser and his jeering congregants to tell her story of alleged sexual assault that started when she was 14. In coming forward to testify in open court – despite death threats and attempts to silence her – she was not just another faceless victim of sexual violence.
There are many such faceless victims. According to the Crime against Women in South Africa 2018 report, there has been a 53% increase in sexual offences against women in a short period – from 31 665 in 2015/16 to 70 813 in 2016/17. And the real numbers are probably higher; as is the case across the globe, many incidents of sexual assault go unreported. So the statistics don't paint a full picture.
Based on the available data, the number of women raped in South Africa is 138 for 100 000 women. These numbers are among the highest in the world.
So, why don't girls and women come forward to tell their stories of sexual assault? Research shows that the reasons are complex and influenced by a web of inter-related, social-psychological factors. These include feelings of shame and humiliation, self-blame, fear and even denial. These are influenced by the prevailing patriarchal and cultural norms of societies and communities that suppress, silence and shame these girls and women.
In a highly gender unequal and patriarchal country like South Africa, violent and entrenched masculinities legitimise men's power over women. This exacerbates sexual violence. Naturally, women have severe anxieties about the repercussions and backlash if they speak out.
Another factor is that South Africa's intractable history of political and gender-based violence has resulted in deep distrust of the justice system. According to Statistics SA, satisfaction in the police and the courts has continued to fall since 2013/14.
But there are indications that the tide is turning in South Africa: not only in the way women are coming forward but how people rallied around Cheryl Zondi.

The tide is turning
Zondi's courage garnered the respect and overwhelming support of ordinary South Africans, the government, civil society and women's groups. The Minister for Women in the Presidency supported her during the trial, as did the Women's League of the governing African National Congress (ANC), among others.
Contrast this with another high profile sexual assault trial in 2006, which took a very different turn. A young woman named Fezekile Ntsukela Kuzwayo, then known only as Khwezi accused ANC deputy president Jacob Zuma of rape.
She was vilified, marginalised and threatened by Zuma's supporters and the ANC Women's League turned their back on her. She was denigrated and slut-shamed by the patriarchal court system, shunned, and fled the country after the trial. Zuma was acquitted and went on to become the country's president.
A great deal has changed in the ensuing 12 years.
Women at the country's universities have been at the forefront of speaking out about a culture of rape on campuses, "naming and shaming" the perpetrators. This has gained momentum in the wake of the #FeesMustFall mass student movement that swept the country in 2015, demanding deep change at universities.
Survivors of campus rape want to tell their stories on their own terms. One such event was the Rape Textile, which used performance art, monologues, dance and poetry to narrate the trauma of a violent campus rape of two Nelson Mandela University students.
Higher Education and Training Minister, Naledi Pandor recently informed Parliament that 47 students had been raped on campuses in 2017 and named the institutions involved. There is an urgent need for universities to discuss the ways in which to address sexual assault and rape on campuses.

Fighting gender-based violence
Strategies to fight gender-based violence must educate society about why and in what ways sexual violence affects everyone. Men's voices are critical in the fight and, here, role models are especially important. South African campaigns should also look at holding the public accountable for preventing gender-based violence.
Technology is a game changer in fighting gender-based violence in the 21st century – think of the powerful #MetToo and #WhyIDidn'tReport and other social media campaigns. But technologies like safety apps and global hashtags that include shared text messages, pictures and videos in private groups must be made more accessible to all South African women.
The availability of economical, lightweight mobile technologies could empower South African girls and women to share their stories and name their perpetrators. It is not only prevention but prosecution that is pivotal in getting justice for the country's women.
Lyn Snodgrass, Professor and Head of Department of Political and Conflict Studies, Nelson Mandela University
This article is republished from The Conversation under a Creative Commons license. Read the original article.