Professor Tathagata Sengupta's explosive interview shortly before he was illegally detained on March 22, 2016.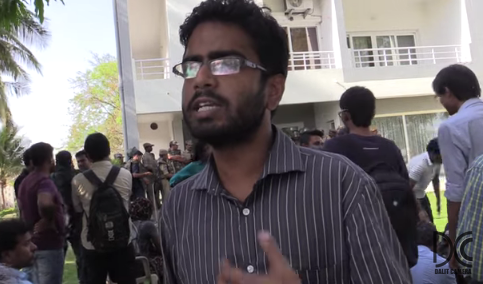 In this interview he traces how the Acting Vice Chancellor Periasami, appointed after the students protests following Rohith Vemula's death was making considerable headway in discussions with students and faculty at the Hyderabad Central University (HCU). A meeting of the Academic Council had been scheduled for March 24, 2016 to raise the Research Scholarship amounts as per UGC norms, appoint a Anti-Discrimination Committee according to a UGC circular of 2009 that was re-issued following the institutional murder of Rohith Vemula on January 17, 2016.
Students have been meeting the acting Vice Chancellor and the situation was fast returning to normal, says professor Sengupta. In that circumstance the irregular return of suspended VC Appa Rao while an MHRD inquiry against him was still afoot appears clearly motivated and inspired by ulterior considerations. Apart from the discrimination faced by Dalit students and those belonging to the OBC sections, Professor Tathagata Sengupta also speaks about the acute marginalistion of a Muslim student by sections of the faculty. This is on account of the narrow caste bias of sections of the facility at HCU.
Professor Tathagata Sengupta had also written a letter on behalf of the SC/ST Teachers Forum and Concerned Faculty of the HCU to the Minister MHRD, Smriti Irani on February 26, 2016. This can be read here.
Dontha Prashanth, close colleague of Rohith Vemula who was one of the five students belonging to the Ambedkar Students Association (ASA) suspended by the authorities in 2015 also spoke to the gathering. In the video the ACP of the area is heard addressing the students who have assembled peacefully. Dontha Prashanth on behalf of the protesting students says, as can be heard from the video that since there is an FIR against the suspended Vice Chancellor Appa Rao under the SC/ST Atrocities Act, the police should arrest him and not "shield a culprit."
On January 19, 2-16 itself the Cyberabad Cell of the Hyderabad police registered an FIR on a complaint by the students. An FIR was registered under IPC Section 306 (abetment of suicide) and SC/ST (Prevention of Atrocities) Act. (Union minister of state) Bandaru Dattatreya, vice-chancellor Appa Rao Podile, MLC N. Ramachandra Rao and ABVP activists Susheel Kumar and Rama Krishna have been named in the FIR, the Gachibowli inspector J. Ramesh Kumar told the media.