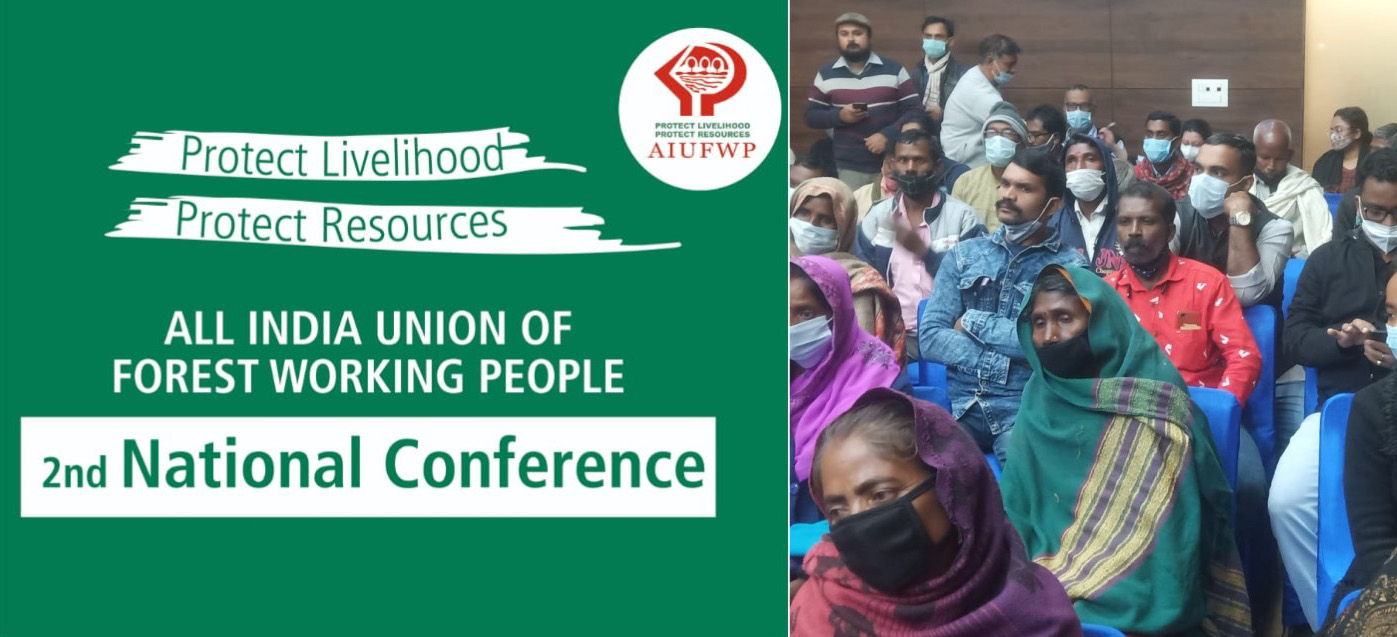 On the occasion of Forest Rights Day that is being celebrated today, Adivasis, other forest dwellers and forest working people are once again showcasing a strong commitment to ecological sustainability as well as solidarity with other peaceful struggles for human rights. This is very much in line with a unique declaration made by members of the forest rights movement at the 2nd National Conference of All India Union of Forest Working People (AIUFWP) held between December 1 and 3, 2021.
"We reiterate our collective commitment towards sustainable and egalitarian relationship with mother earth and re-commit ourselves to the cause of protecting the natural resources," they had pledged at the Conference.
This is especially laudable as it encourages different interest groups struggling to get their lawful rights, work in solidarity with one another to showcase a united resistance against capitalist globalisation, fascism and neo-colonialism. They have not only committed themselves to work together to build a broader alliance of all progressive people's struggles, but also reiterated their support for every such community in crisis in reclaiming lost physical and political space.
At first, they paid homage to all those who lost their lives to Covid-19 and also to those who sacrificed their lives in the struggles against Citizen Amendment Act (CAA), National Population Register (NPR), and the National Register Citizenship (NRC). "We convey our revolutionary greetings to the farmers, peasants and landless agricultural workers on their historic struggle to force an unrelenting, undemocratic to repeal the antipeople and anti-agriculture farm laws," the declaration reads.
The forest working people of the following regions made this declaration:
Himalayan and sub-Himalayan ranges of Shivalik's and Tarai forest region (Jammu Kashmir, Himachal Pradesh, Uttarakhand, Uttar Pradesh and Nepal), Jampui Hills, Baramura Range, Lang Tarai Hills, Atharapura Hills (Tripura, Assam, Mizoram and Bangladesh), Vindaya forestranges(Madhya Pradesh and Uttar Pradesh), Kaimur forest-range (Bihar, Jharkhand, Chhattisgarh, Madhya Pradesh and Uttar Pradesh), Eastern and Western Ghats (Kerala and Andhra Pradesh) and Sundarbans mangrove forests (West Bengal and Bangladesh).
The Conference
The conference held at Constitution Club, New Delhi was a congregation of Adivasi forest right defenders, farmers' rights activists and peasant leaders, who met to discuss the issues of land rights and evictions faced by forest-dwellers. During the three-day conference it was highlighted that as many as 7,000 (seven thousand villages) in India still aren't recognised as per their revenue to enjoy benefits of the Forest Rights Act 2006 (FRA).
Speaking during the briefing session of the conference, AIUFWP General Secretary Ashok Chaudhary said, "Our mission is to ensure that the forest rights movement is integrated into other democratic movements. It is important to understand the struggle as a fundamental political issue related to India's political-economic structure." Chaudhary said that the recent farmers' struggle has largely impacted Adivasis, who are farmers as well. He argued that land rights and forest rights are integral issues that weave in problems related to labour, and other human rights.
Citizens for Justice and Peace (CJP) Secretary Teesta Setalvad, the keynote speaker at the conference praised Adivasi and other forest-dwellers from Sonbhadra to Dudhwa, who continue to fight for their rights. Setalvad said, "24 percent of India's land is in the hands of the forest department. These 'zamindars' have repeatedly tried to lodge false cases against forest-dwellers and Adivasis demanding their constitutional and legal rights." She went on to shower praise on grassroots workers of the movement saying, "Women leaders and senior members of the Union stand at the front because this unique movement believes in being led by those struggling on-ground. CJP continues to support the people who mobilise on-ground for jal, jangal, zameen," she added.
Deputy General Secretary Roma Malik spoke of pressing issues like the state of livelihood of forest communities, landless farmers, tenant and migrant laborers, and fishermen folks after the pandemic years.
The declaration may be read here:
Related:
Struggle for forest rights, not an isolated movement: AIUFWP
Teesta Setalvad calls out modern day "zamindars" who are trying to usurp control of India's forests