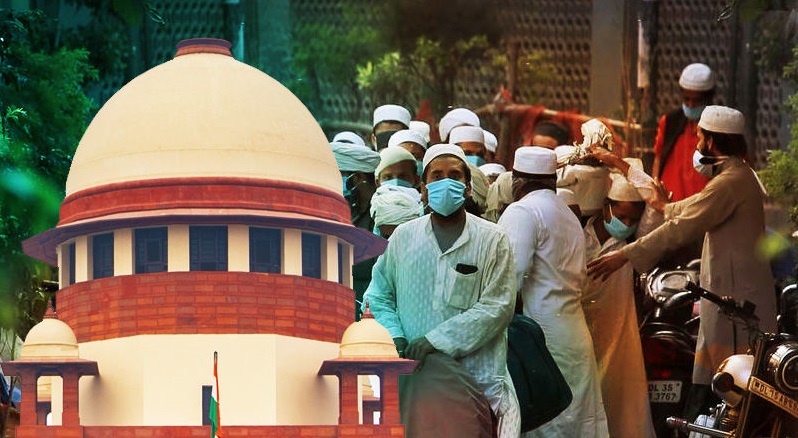 Image: Live Law
The Supreme Court while hearing a petition asking for action against the media for spreading hate against the Tablighi Jamaat came down heavily on the Centre for filing an affidavit that defended the media by saying that the petitioner had not listed any instance of "bad reporting".
To this the SC took umbrage and the Chief Justice reportedly asked, "You cannot treat this court the way you are treating it. Some junior officer has filed the affidavit. Your affidavit is evasive and says petitioner shows no instance of bad reporting. You may not agree but how you can say there is no instance of bad reporting shown?"
Dubbing this affidavit by a junior officer "extremely offensive and brazen" the court then demanded a fresh affidavit that "should not make unnecessary nonsensical averments."
A bench comprising Chief Justice SA Bobde, and Justices AS Bopanna and V Ramasubramanian, was hearing a petition filed by the Jamiat-Ulema-I-Hind and others.
The centre's affidavit also alleged that the petitioners were trying to muzzle the Freedom of Speech by targeting the media. To this, NDTV reported, CJI Bobde remarked, "Freedom of speech is one of the most abused freedoms in recent times."
The Tablighi Jamaat's meeting at the Nizamuddin Markaz in March had drawn much criticism for a gathering of thousands of people just as the Coronavirus pandemic was spreading in India. However, a large section of the media went into an overdrive and dubbed TJ members 'super-spreaders' and 'anti-national'. Other media houses had also engaged in 'investigative reports' on how 'Madrasa hotspots' were places where children were deliberately cooped up in close quarters, thereby placing their health in danger. In fact, CJP had moved NBSA against this communally inflammatory reportage.
Thus, toxic reportage about Muslim organisations indirectly helped in the vilification of the entire Muslim community that has already been targeted by Hindutva hardliners and dragged into communal controversies.
Marginalisation, dehumanisation and demonisation are all steps in building and spreading a culture of hate against a specific group. Muslims had most recently faced extreme vilification during the nationwide protests against the Citizenship Amendment Act (CAA) and then again during the Delhi violence of February 2020 when members of the community were targeted specifically as per many fact-finding reports by multiple human rights groups including the Delhi Minorities Commission and Amnesty International.
Related:
Bombay HC quashes Tablighi Jamaat FIR; says trial would be abuse of process of law
Media coverage on Covid-19, anti-CAA protests, prejudiced: Report
CJP moves NBSA against India Today's communal sting operation on Madrasas
How courts rescued the Tablighi Jamaat from further hatred
Tablighi Jamaat: K'taka HC conditionally quashes criminal cases against 9 foreigners