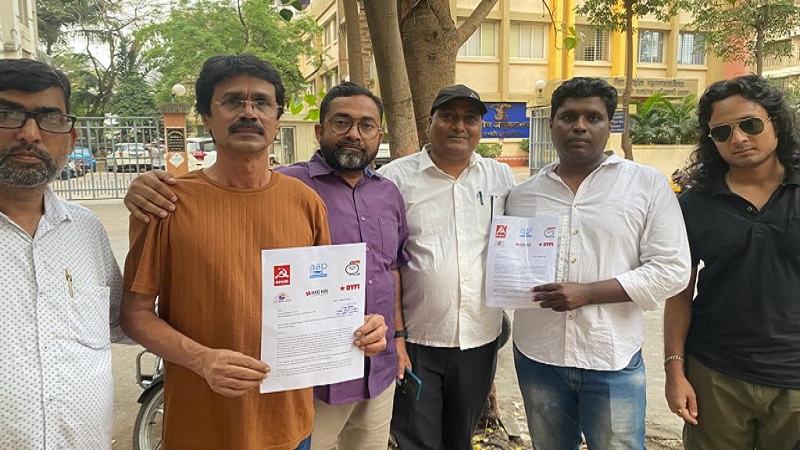 A delegation of citizens and representatives of political parties including the CPI (M), AAP and Shiv Sena(UBT) met the Mira-Bhayandar Vasai Virar police commissioner with a letter listing elements from the vicious hate speech by Kavita Hindustani in Mira Road on Sunday. The letter also requests the police commissioner to take action against the perpetrator of hate speech as well as the organisers of the 'Jan Akrosh Morcha'. Among those who attended were Sadiq Basha of the CPI(M), Sukhdev Banbanci of the AAP and Sabby Fernandes of Shiv Sena (UBT). The letter has also been signed by representatives of the Congress and Nationalist Congress Party (NCP).
Madhukar Pandey, the commissioner of police, patiently listened to members of the delegation as the excerpts of the hate speech were highlighted before him. He said that in compliance with Supreme Court guidelines, the event was video recorded and assured the delegation that legal advice on the complaint will be taken and the police will proceed according to the law. The delegation had demanded registration of an FIR and prosecution of the hate offenders. Sabby Fernandes told the CP that as a resident of Mira Road for 20 years, he has never seen such hate speeches being made.
Speaking to Sabrangindia , Sadique Basha said , "we are going to ensure that hate will not win in Mira-Bhayandar." Sukhdev Banbacci said that , 'we spoke to the Commissioner and he heard us patiently. Now we expect that action will be taken so that such events are not allowed to take place in Mira Road".
The letter can be read here:
Among the signatories to the joint memorandum are Vinod Chand, Merlyn D'sa, Corporator, INC, Ankush Malusare, Nirbhay Bharat, Babu Rao Baliram Shinde-Mira-Bhayandar Vikas Mandal, Pradeep Jagam, Ziddi Maratha, Sanjay Panday, Lawyer, Musaraf Shamsi, Journalist, Ghulam Farooqi, NCP, Salim Abbas Khan, VBA, Faraz Khan, DYFI, Rana Yasmeen #HaqHai, Mukhtar Khan, Writer, Suhel Banerjee, Filmmaker, Saboor Ansari #HaqHai, Mohamad Khan, Theatre Activist(Actor/Director), Mohd Swaad, NCP, Shivam Singh, DYFI, Ajay Panday, Film Critic, Binoj Bhaskaran, Kunhi Krishnan, MBPS, Sana Deshmukh, Pehel Foundation and Abdul Rehman Rizwi, National Coordinator, INC.
On Monday, March 13 Sabrangindia had reported how Kajal Singhala, a "speaker" from Gujarat had called for an economic boycott of Muslims in Mira-Bhayandar. She had been called to Maharashtra by the Hindu Janakrosh morcha (event organised by Sakal Hindu Samaj) to deliver such a speech that resorted to slur and hate against Muslims. She not only called for an economic boycott of the Muslim community but used derogatory terms and cooked up bizarre conspiracies to justify herself when she spoke.
Related:
Maharashtra: Vitriolic speaker from Gujarat calls for economic boycott of Muslims in Mira-Bhayandar