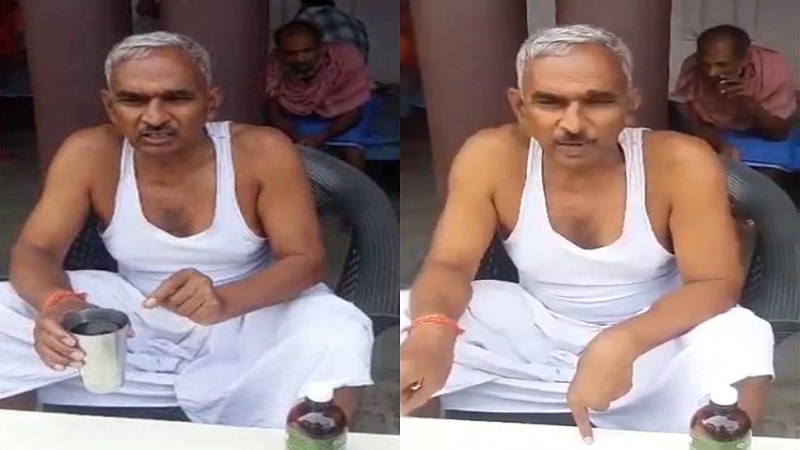 Image Courtesy:zeenews.india.com
Previously known for his hate speeches against women, and minority communities, Surendra Singh the Bharatiya Janata Party (BJP) MLA from Bairia in Uttar Pradesh, is now branching into pseudo science and is demonstrating how taking a swig of cow urine or gaumutra can stop Coronavirus in its tracks. He also tasted his own 'medicine' to prove his point on camera
From Covid-19. The BJP MLA filmed himself drinking cow urine, and recommended that others do the same, and also lick a concoction of turmeric and cow ghee. According to him this magic combination has protected him from all diseases, which he seems to suggest includes Covid-19. Uttar Pradesh, his home state, is reeling under the onslaught of the second wave of Covid-19.
Representing Bairia in Ballia district, as its MLA Surendra Singh, also demonstrated the 'correct' way to consume the cow urine. The video may be watched here, but please do not consume anything termed 'medicinal' before consulting a qualified doctor.
https://www.youtube.com/watch?v=0vhXDTDm-ug&t=3s
Recently the Chief Minister Adityanath led UP government issued directives that "help desks for protection of cows". All gaushalas or cow shelters have been ordered to strictly follow Covid-19 protocols, such as using masks and mandatory thermal screening. The gaushalas will "be equipped with all the medical equipment such as oximeters and thermal scanners for cows and other animals as well.
Now Singh has also claimed this bovine bounty that he regularly consumes is the secret to his good health. Of course he is serious when he shares the correct 'dosage' and process of drinking the cow urine. Singh has suggested the branded cow urine marketed by Ramdev's Patanjali industries, for those who cannot source it fresh. This is apt, because Yoga and Ayurved entrepreneur Ramdev, and his FMCG company Patanjali Ayurved Ltd, and Divya Pharmacy, that had claimed to have manufactured a 'drug kit' that 'cures' Covid-19 in 2020.
Now, in 2021 as Covid-19 is at its most destructive form yer Ramdev has himself been seen on a TV show blames victims of Covid-19 who are facing acute oxygen shortage, saying they just don't know how to breathe 'properly'.
शर्मनाक!pic.twitter.com/V71GmOs6ef

— Ranvijay Singh (@ranvijaylive) May 7, 2021
Related
Stop blaming the victim: It is Surendra Singh who needs 'sanskari' tutorials
'50 wives, 1050 children, animalistic tendency': BJP MLA Surendra Singh defames Muslims
Those Not Chanting Vande Matram have no Right to Live in India': BJP MLA Surendra Singh
BJP MLA Surendra Singh's Vitriol, a Brief History of a Serial Offender