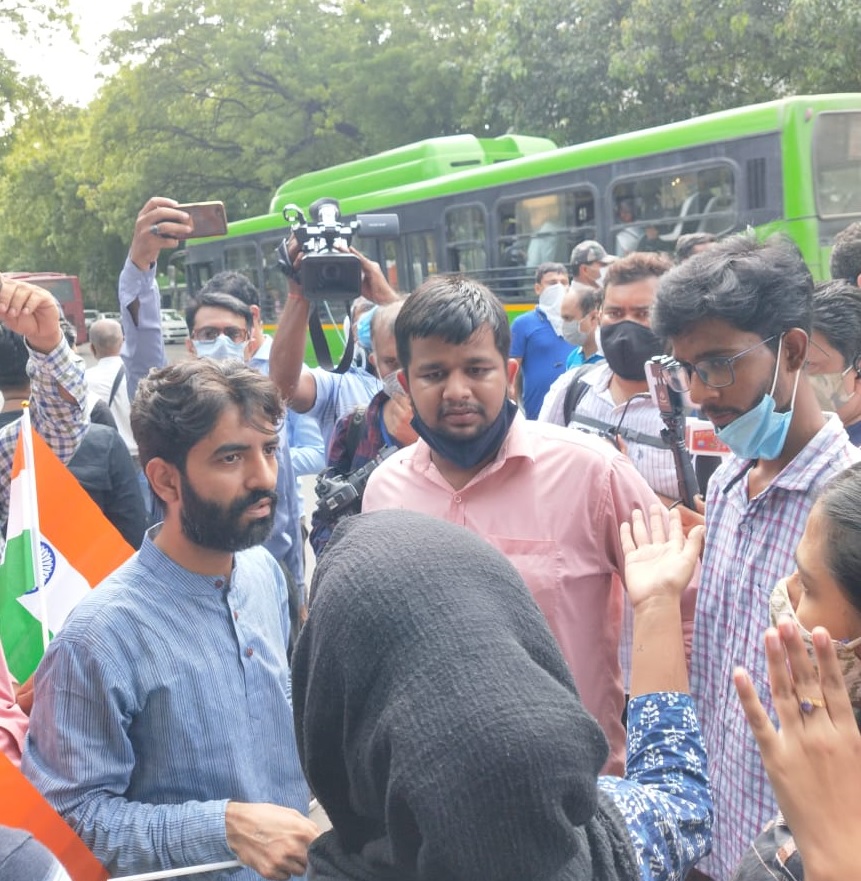 Image Courtesy:Twitter
It took Delhi Police minutes to swing into action at Jantar Mantar on August 10, slapping section 144 of the CrPc that prohibits gatherings of four or more people. They then took just a few more minutes to drag the protesters into a waiting bus. These included scores of journalists, students, peace activists who had announced a peace protest.
This was an unusual protest, that grew organically after a call given by journalist Shyam Meera Singh who told SabrangIndia before the protest that he could not sit silent after witnessing the hate speech spewed at the rally called by Bharatiya Janata Party (BJP) leader Ashwini Upadhyay who is also a Supreme Court lawyer.
It was a conversation with other reporters on the matter that threw up the idea. Someone had casually asked why there was no protest in Delhi even after such a call to violence against Muslims had been given. "Who will protest," asked another. It was then Singh spoke up. "I said we must protest," he told us. The anti-Muslim hate speech and literal call to genocide by a group at the at the Delhi rally on Sunday shook him. "It felt like someone entered your home and grabbed your mother by the collar… it felt like a personal attack… no more I said. This is an attack on democracy," he said, getting ready to leave for Jantar Mantar and hoping that others who want to protest hate and protect democracy will join him.
The numbers did not matter here, the fact that citizens were rising as one against hate, and the hope that a genocide must be averted was the driving force. He shared the idea on social media and soon it grew and Protest_against_Hate started trending on Monday night. By Tuesday morning, scores had made up their mind to reach Jantar Mantar in the evening and stand up against hate speech.
However, just hours later he announced that the Delhi Police, which had somehow 'missed' the hate speech given under their gaze on Sunday, had stopped those protesting hate, and imposed Section 144 around Jantar Mantar. Shyam Meera Singh was detained along with many others.
मैं मोर्चे पर आ गया हूँ. आसपास खड़ा हूँ ताकि शुरू में ही डिटेन न कर लें. आप लोग भी आइए. सब लोग मिलके खड़े होते हैं.
– जंतर मंतर #Protest_against_Hate

— Shyam Meera Singh (@ShyamMeeraSingh) August 10, 2021
शांति मार्च से हमें
हमें गिरफ्तार कर लिया गया है
– जंतर मंतर

मैं डरूंगा नहीं लड़ूंगा
इस संघी सरकार से।#Protest_against_Hate pic.twitter.com/us8t8lm5ao

— Sandeep Singh (@ActivistSandeep) August 10, 2021
पुलिस हम सबको किसी अज्ञात स्थान पर ले जा रही है।#Protest_against_Hate pic.twitter.com/JrvjoiNOXo

— Vivek Gupta (@30guptavivek) August 10, 2021
The Police continued to detain protesters, even dragged some of them into a bus and took them away without disclosing the destination!
आप शांति के नारे नहीं लगा सकते। नफ़रत फैलानी हो तो दिल्ली पुलिस आपको सुरक्षा देगी।

आज जंतर मंतर #Protest_against_Hate pic.twitter.com/1BNoX6Z0hR

— Ashok Kumar Pandey अशोक اشوک (@Ashok_Kashmir) August 10, 2021
इस तरह घसीट के गिरफ़्तारियाँ की गई। मैं एक चैनल को बाइट दे रहा था। मेरे साथ भी बदतमीज़ी की कोशिश की है। @Sujata1978 का हाथ मरोड़ा गया।

सॉरी बॉस आप डर गए हैं शांति के आह्वान से लेकिन हम तो कहेंगे #Protest_against_Hate pic.twitter.com/dhwtlNwWsf

— Ashok Kumar Pandey अशोक اشوک (@Ashok_Kashmir) August 10, 2021
Kawalpreet Kaur, a political activist, lawyer and national Vice President at All India Students' Association (AISA) told SabrangIndia that even the arrest of those who organised Sunday's rally was an eyewash saying, "This has been going on with the support of the people in power, with the support of the police, and this arrest with sections which are so diluted which will not even stand on their own leg is not the answer. Imagine if it was a protest by farmers or another group?" She added that only six people have been identified. "It is not that the police were caught unawares. Police presence at Jantar Mantar is normal. They saw 3,000 people gathered there, they saw people chanting slogans that were open calls for killing," said Kaur, adding that the police could have acted and stopped the hate speech in its tracks. Ironically the police acted and rounded up the peace activists and journalists on Tuesday evening.
Delhi Police has detained protestors from Jantar Mantar who had gathered to protest against the hate speeches and calls of genocide by radical Hindu groups/terrorists against Muslim community. We are at the Mandir Marg Police Station right now. pic.twitter.com/rILrBg05xS

— Kawalpreet Kaur (@kawalpreetdu) August 10, 2021
She added that the Delhi Police had in fact also detained a group of students from Jamia Nagar who went to file an FIR against the hate speech at Ashwini Upadhyay's rally. This was confirmed on social media by other activists.
AISA too had sent out an appeal to students and people of Delhi to join the protest against hate at Jantar Mantar. However this protest was a truly organic one even though brief, it made a massive point that the calls for peace can no longer be stifled.
If you're in Delhi, do come to demand action against terrorists who called for slaughter of Muslims at Parliament Street. Challenge @PMOIndia @PIBHomeAffairs @AmitShah to recognise Hindutva Supremacist terrorism as the No1 threat in India, arrest every single member of that mob https://t.co/1kU1f2nwjd

— Kavita Krishnan (@kavita_krishnan) August 10, 2021
The protesters, who now included members of AISA and other student groups, as well as university teachers, and concerned citizens themselves shared videos and photos from inside the bus. They were taken to the Mandir Marg police station and detained.
The Protest Against Hate, it seems was not something Delhi police was going to allow to be conducted peacefully. The Police had not intervened when Hindutva groups were raising anti-muslim slogans at the same place at Jantar Mantar two days ago. No one had been detained from the site then, even though police had itself stated that the rally on Sunday did not even have police permission.
मैं @ShyamMeeraSingh और अन्य साथियों को पुलिस मंदिर मार्ग थाने ले आयी है।
हमारा गुनाह सिर्फ इतना है कि हम नफरत के खिलाफ आवाज उठा रहे है।#Protest_against_Hate pic.twitter.com/PlZ4wd6Wi2

— Vivek Gupta (@30guptavivek) August 10, 2021
Those who were detained on Tuesday continued to share photos that showed that they were not easily intimidated at all. And that the call for peace was louder than ever.
Delhi police detained peaceful protesters We're in Mandir Marg police station now. Have some shame @DelhiPolice.@ShyamMeeraSingh #Protest_against_Hate pic.twitter.com/lw40KyT3cj

— Ahtesham Qadri एहतेशाम क़ादरी (@Ahtesham88825) August 10, 2021
Nearly 10 to 15 protesters detained by @Delhipolice as of now from Jantar Mantar #Protest_against_Hate pic.twitter.com/cYpfCIYzHa

— Zafar Abbas (@zafarabbaszaidi) August 10, 2021
Related:
Jantar Mantar rally: BJP leader, SC lawyer Ashwini Upadhyay among six arrested
Anti-Muslim hate speech at Delhi rally calls for communal violence
Haj House in Dwarka will lead to riots: Residents Federation write to Lt-Governor
FIR against serial hate offender Ragini Tiwari, finally
Yati Narsingh And continues to spread hate
Gurugram Court denies bail to 'Jamia Shooter' in a Hate Speech case