..nothing to eat
nothing to wear
boundless is the anguish
who indeed can bear to see such misery
among the world's creatures
let my soul be condemned to hell
but let the Universe be redeemed.
– Bhima Bhoi,

[Source: Biswamoy Pati in Religion and social 'subversion', Re-examining colonial Orissa (EPW, July/2010)., Bidyut Mohanty in Orissa famine of 1866 Demographic and economic consequences (EPW, Jan/1999.,http://roundtableindia.co.in/lit-blogs/?tag=bhima-bhoi]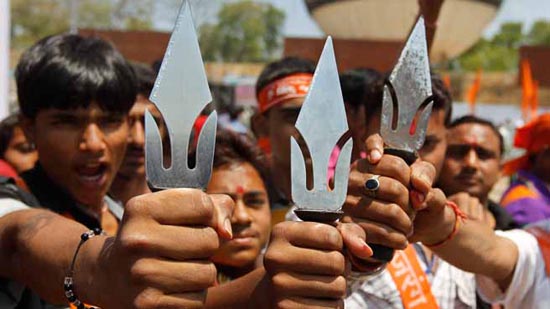 Bhima Bhoi, saint, poet and social reformer, who lived in later part of the 19 th century and who wielded his pen against the prevailing social injustice, religious bigotry and caste discrimination, would not have imagined in his wildest dreams that in the second decade of the 21 st century there would arrive such new claimants to his legacy who stood against everything for which he stood for. A populariser of Mahima movement or Mahima Dharma which 'draws elements from Islam, Buddhism, Jainism, Vaishnavism and Tantra Yoga,' the movement Bhima led was a 'deeply felt protest against caste system and feudal practices of western and central Orissa.' and goal of his mission was "Jagata Uddhara" ( liberation of entire world).
Recently Bhima Bhoi's name reached national headlines once again when BJP, the ruling dispensation at the centre, named the venue of its national executive meeting held in Bhuvaneshwar after him. The symbolism was not lost on people who understood it as part of the parties electoral calculations as it wants to 'woo dalits who constitute over 17 per cent of Odisha's population.' Inaugurating the media centre, Dharmendra Pradhan, a central minister explained the rationale behind this move as he told how the 'revolutionary poet's ideology was being followed by crores of people in Odisha, Chhattisgarh and Jharkhand.' (http://www.ndtv.com/india-news/bjp-names-party-meet-venue-in-odisha-after-dalit-poet-bhima-bhoi-1681490)
It is a different matter that the first steps being taken by the ruling dispensation to co-opt Bhima Bhoi in their pantheon of Prat Smaraniya ( worth remembering in the morning) or the launch or relaunch of digital pay app called BHIM (adding one more name to the 'acronym crazy' of this government) which is a very crude manner to tap sympathy/support of the followers of Bhim (Rao) Ambedkar, have come at a worse time for all such people who venerate Bhima Bhoi or who are ready to walk in the footsteps of Ambedkar.
The saga of Buta Singh, son of a dalit farm labourer from Mansa, Punjab – who is now 'accused no 10 – accused of culpable homicide' along with 70 others who were protesting the massive fee hike by the Punjab University administration, Chandigarh, brings out poignantly how this plan is being executed. It has been widely reported that there was simmering discontent on the Punjab University campus when the administration notified that from coming session there would be 8 fold or 10 fold increase in fees in various courses supposedly to get over curtailment of funds from UGC which finally erupted in a militant protest movement led by a united front of students from revolutionary left to other democratic organisations barring the Akhil Bharatiya Vidyarthi Parishad (ABVP). (https://kafila.online/2017/04/12/reclaiming-punjab-university-student-protests-erupt-in-chandigarh/)
The Chandigarh Police found it fit to lodge charges of sedition against these protesting students and thus further extended the sphere of 'sedition' to its ridiculous extent. ( As an aside it may be reminded here that the Central Minister for Ayush ministry had called all those people who prescribe 'non-aurvedic drugs' as 'anti national' /http://timesofindia.indiatimes.com/city/kolhapur/Doctors-prescribing-non-ayurvedic-medicines-are-anti-national/articleshow/52058067.cms/) It was finally forced to drop these charges because of tremendous public pressure. Describing the arduous struggle waged by Buta Singh to get education and reach his dream destination Punjab university, when '.. Universities are known by packages and vice-chancellors boast of campus placements,' who ' rarely talk about the knowledge the universities are producing.' the write-up poses a question which none has bothered to ask :
" Why was Buta ready to brave water cannons? Why didn't the police cane scare him? Why was his fragile body ready to face third-degree torture?" ( 'Why Buta Singh Must Protest Again' (http://www.tribuneindia.com/news/ludhiana/education/why-buta-singh-must-protest-again/392603.html))
and the article ends with a note :
He should protest because every wretched of the earth has the right to access to knowledge; he should protest because the courage to disagree shouldn't die; the dream to rebel should live on. He should protest so that the university doesn't become a cage, a placement centre, a package deal. He should protest because now protest seems the only way to survive. (-do-)
Any cursory glance at the trajectory of Buta's young life makes it clear that young people like him are to be found in various campuses and one should be ready to listen to stories of their childhood or adolescence to get to know how even after 70 years of independence it is difficult for students from ordinary background to reach good academic institutions. e.g It was only last year that an activist writer had looked at the social composition of JNU (Jawaharlal Nehru University) and concluded
..for years, JNU has been home to the finest and most fertile minds from economically and socially deprived sections of society. And when they analyze the hows and whys of their socio-economic background, they get drawn to Marxism. …Estimates suggest that at least 70 per cent students of the university come from either poor or lower-middle-class families…
After the enrolments last year, the percentage of students in JNU from SC, ST and OBC has gone up to 55. A large number of Muslims are enrolled in Arabic, Persian and other language courses in JNU. Data on them is not available. But if, along with them, the number of Ashraf Muslims and other minorities is added, it can be safely presumed that at least 70 per cent of the students in the university are non-Dwij. Note that the number of OBC students in JNU has gone from 288 in 2006 to 2434 in 2015, ie a tenfold increase in nine years. The number of women students has also gone up substantially
(/kafila.online/2016/03/01/bahujan-discourse-puts-jnu-in-the-crosshairs-pramod-ranjan/)
Sedition charges against students from Punjab University might have been dropped but repression continues. There are reports that the police is raiding houses of students based upon video inputs and terrorising students but it is a very positive thing that developments in Punjab University has given rise to solidarity movement all across Punjab and thousands of people from different strata of society have come out on streets demanding justice for students and teachers.
Definitely what is unfolding before our own eyes in Punjab University could be said to be a microcosm of the developments elsewhere on other campuses of the country. Methods adopted might be different, targets chosen might be different and objectives bandied about might be different but the aim is very much clear. The saffrons want to weed out all dissenting elements from campuses or silence them, make arrangements so that there is no fresh inflow of such elements and are able to turn campuses into modern day gurukuls where students would have no qualms in paying obeisance before their teachers. They want to create a new breed of disciplined students who would be mainly interested in utilising the transitory period at such institutions in rote learning which could be regurgitated at places of employment ( of course, if they are fortunate enough to get one)
Perhaps Banaras Hindu University – one of the central universities seems to be a model University which they want every other institution of the country to turn into. Much has been written about the fact that here how attempts are on to subvert the idea of democracy in insidious ways. Girl students have been a primary target in this plan and various restrictions have been imposed specifically on them. A girl student cannot use mobile phone after 10 p.m., they are disallowed to use the 24 7 library at night, they are not allowed to use the bus facility which has been provided to all students, they were asked to give an affidavit that they won't indulge in any protest or demonstration. There are dietary restrictions also on them, thus while male students can consume meat, women are not allowed to do so. When there was an agitation by students to establish a cyber-library, the administration refused to concede to their demand under the specious plea that "such a library will be used by the students to watch pornography. There is no need for a cyber-library because students need not study anything outside the syllabus". ( (thewire.in/67205/bhu-rsss-new-education-lab-open-gender-discrimination/))
And as the on-going developments in JNU demonstrate they have no qualms in using any method – using fake videos, planting fake news or freely using the might of the police force, the tactics of 'dumbing down' by the media or even using young storm troopers of the Hindutva Right – to accomplish this. Their 'defeat' of a different kind in the first round of attack, when bogey of anti-national slogans was raised – kudos to the unprecedented movement which emerged in the campus putting majority of students and teachers on the same side of the barricade which received massive national, international support – has not deterred them from continuing with their designs to 'shut down' JNU or turning it into its anti-thesis.
The manner in which funds are not being released leading to many students facing tremendous hardships – under one pretext or another – or the planned manner in which more than 70 to -80 per cent seats have been reduced in different courses, is just an indication that they are ready to go to any extent.
A recent write-up 'BHIM on lips, lock on cash for students' which appeared in The Telegraph explained in detail how there has been a 'drought in scholarship funds at JNU' (https://www.telegraphindia.com/1170416/jsp/frontpage/story_146624.jsp#.WPUy7Pl97IU)
– Stopping the Rs 2,000-a-month merit-cum-means scholarship that nearly 1,000 undergraduate and master's students at JNU are entitled, which is given to students whose parents earn less than Rs 2.5 lakh a year.
– Drying up of the flow of another allowance called the "non-National Eligibility Test" scholarship from the higher education regulator, the University Grants Commission, affecting around 3,000 JNU research scholars. The non-NET scholarship is given to research students not covered by the Junior Research Fellowship, on offer for the top 3,200 performers in the National Eligibility Test, or by the handful of other fellowships.
– Severe cut in seats for integrated PhD-MPhil courses, now it can admit just 130 students against the 1,068 last year, under pressure from UGC and the HRD (human resource development) ministry
– Scrapping of additional "deprivation points" awarded during admission to research students from backward regions and marginalised sections
For close watchers of the education scenario in this country it is abundantly clear that while Ambedkar said, 'Educate, Agitate, Organise'," the present regime is "is instead practising the mantra of 'exclude, alienate, oppress'." Whatever might be the claims of the BJP and its cheerleaders, it is evident that 'Drona mindset' is in full play and doors of better educational institutions are being closed for 'Eklavyas' and 'Shambuks' of today's times.