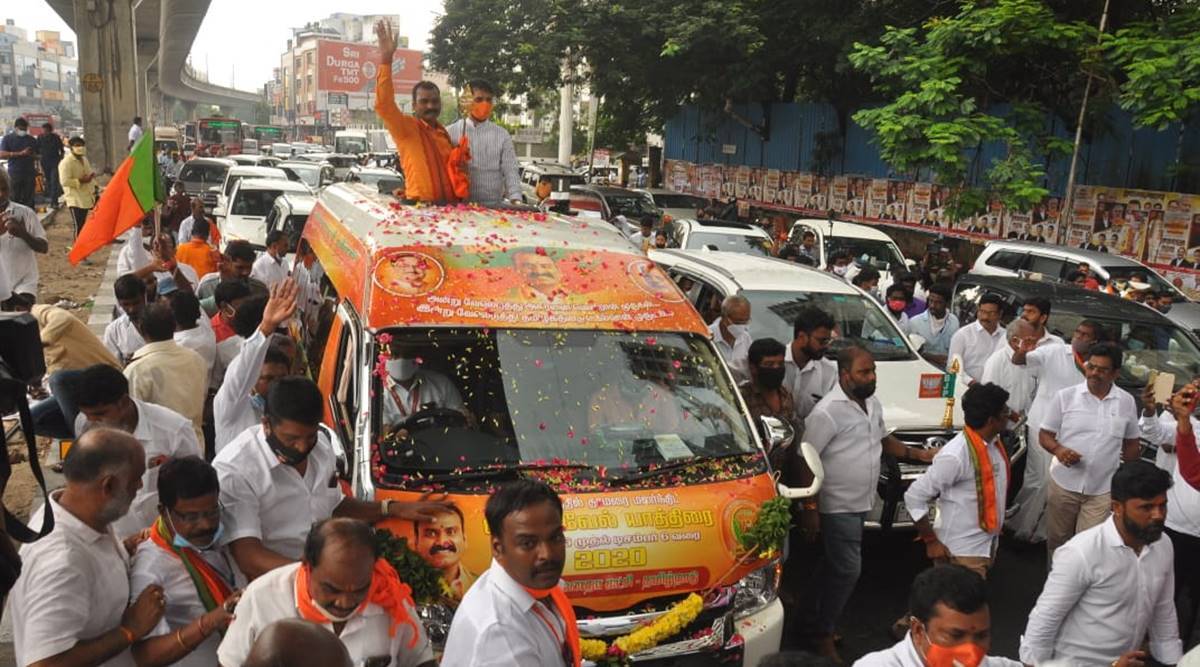 Tamil Nadu police detained state Bharatiya Janata Party (BJP) Chief L. Murugan and other party workers for undertaking an illegal 'Vel Yatra' in violation of the coronavirus social distancing norms on November 6, 2020.
The government informed the Madras High Court on November 5 that it will not allow the saffron party to hold the state-wide procession. The Advocate General denied permission to the BJP owing to the pandemic as well as a government order prohibiting gatherings to prevent the spread of infection. The rally also faced opposition from other political parties.
Despite the denial, Murugan proceeded from Chennai to Tiruttani on Friday afternoon with a vel (spear) in hand. Similarly, BJP Secretary C. T. Ravi, senior leader H. Raja, and other BJP functionaries decided to join the yatra following discussions at Murugan's residence.
The month-long rally will visit six abodes of Lord Muruga all over Tamil Nadu. The event is seen as an attempt by BJP to consolidate Hindu votes in the state.
Tamil Nadu Fisheries Minister D Jayakumar assured action against the party members citing an administrative fear of a second wave of infection in the state. Countrywide, the coronavirus pandemic has led to 1,25,029 deaths as per the Worldometer.
Yet, Murugan told reporters that he had only exercised his constitutional right to worship, and so will continue the journey towards Tiruttani. Building on this, Raja threatened to hold an agitation all over the state if the yatra was stopped. He also questioned the government's decision considering the fact that schools and colleges had reopened.
The forced yatra has also resulted in various law and order situations like at the outskirts of Nazarathpettai where an altercation occurred between BJP functionaries and the police who permitted only five vehicles to proceed and asked remaining workers to return. Meanwhile, nearly 500 police officials were deployed at Tiruttani.
Related:
Delhi is Covid-19 capital with over 50,000 Covid cases, 394 deaths over past 10 days
India's Covid-19 tally so far: 80 lakh and counting!
No laxity until the medicine is available: PM on maintaining Covid-19 protocol