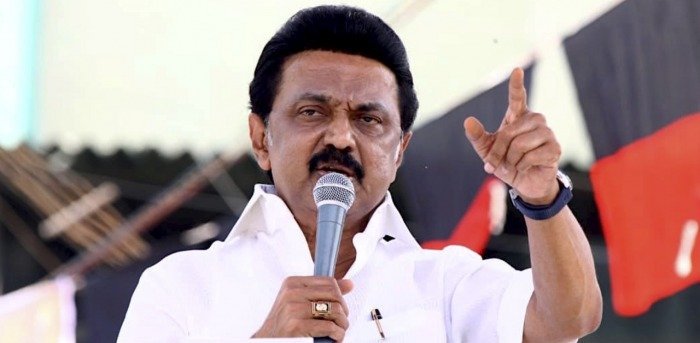 To say that it is time for a 'sonrise' in Tamil Nadu is perhaps a pun that has already done a thousand rounds of social media and whatsapp groups. But it is actually the truth, one that was in the making for 10 years.
On May 2, the Dravida Munnetra Kazhagam (DMK) defeated its arch-rival All India Anna Dravida Munnetra Kazhagam (AIADMK) Tamil Nadu Assembly elections. In Tamil Nadu, the DMK has been a vocal and visible opposition, especially in recent times as it stood its ground to defend the interests of the Tamil people, and to uphold secular values, while expressing solidarity with people led struggles such as the massive Farmers' Protest still holding strong on the Delhi borders.
On May 7, DMK-led alliance's leader, and DMK party chief MK Stalin will take oath as the next Chief Minister of Tamil Nadu, as per multiple media reports. According to The Week DMK sources "emphasised Stalin would be sworn in in a 'low profile' ceremony" as the Covid-19 crisis continues. Stalin has also asked supporters to avoid celebrations on Sunday, given the pandemic situation, the swearing in ceremony, itself will be a simple one, held most likely in Raj Bhavan.
Thank you Hon'ble Minister @AmitShah for your wishes.

Tamil Nadu will stand with the Union Government to fulfil our federal obligations and to advance the interests of its people. https://t.co/oIqRTERrEx

— M.K.Stalin (@mkstalin) May 2, 2021
According to The Week, DMK general secretary Durai Murugan has called for a meeting of the DMK's legislature party meeting on May 4, where Stalin will be formally elected as the legislature party leader. Media reports add that Stalin is likely to include many younger faces in his cabinet. However, The Week adds that Stalin's son, Udhayanidhi Stalin, is unlikely to be part of the cabinet at the moment. Udhayanidhi made his poll debut with a win from Chepauk constituency, but may have to wait a while before any ministerial berth is assigned to him.
Tamil Nadu Chief Minister Edappadi Palaniswami had resigned on Monday morning, following the AIADMK's poll defeat. Palaniswami congratulated Stalin on Twitter saying, "I extend my congratulations to Mr. MK Stalin who will take over as the Chief Minister of Tamil Nadu"
தமிழ்நாட்டின் முதலமைச்சராக பதவியேற்கவுள்ள திரு.மு.க.ஸ்டாலின் அவர்களுக்கு என்னுடைய நல்வாழ்த்துக்களை தெரிவித்துக் கொள்கிறேன் @mkstalin

— Edappadi K Palaniswami (@EPSTamilNadu) May 3, 2021
According to Indian Express, while both DMK and AIADMK, carry secular credentials, DMK's win was also due to the fact that the AIADMK was in alliance with the BJP. The AIADMK had also lent "support of its MPs for CAA in Delhi" and had remained silent on many issues concerning minority issues. While DMK stood up and spoke out, and also forged alliances with the CPM, CPI, VCK, Congress, and Tamil nationalist leader Vaiko's MDMK as well as an understanding with Indian Union Muslim League (IUML) and the Makkal Katchi (MMK).
Already in charge as it were, DMK president M K Stalin has asked his supporters to follow precautions against Covid-19, and has also written to Prime Minister Narendra Modi demanding universal vaccination.
Related:
Battleground Bengal: TMC decimates BJP's communal agenda, wins almost 50 percent
Online petition demanding Modi's resignation gathers over 4 lakh signatures
Puducherry: AINR Congress-BJP wins UT, but who will be the CM?
Kerala: LDF wins 97 seats, UDF 41; BJP score Zero