Reports of exploitation, humiliation, violence, and rampant nepotism are still flowing out of the private-sector law college popularly known as the Law Academy, in Thiruvananthapuram twenty whole days after the commencement of the students' struggle there. At the centre of the controversy is the principal, Lekshmi Nair, who seems to have 'inherited' that position in the institution owned by her family: clearly, the students are determined to teach her a good lesson. Rarely have we seen all student organizations, from the far-right to the far-left, rally against one person with equal determination; but from the complaints of students – subsequently confirmed by the University of Kerala to which this college is affiliated – it appears that there is no reason to be surprised.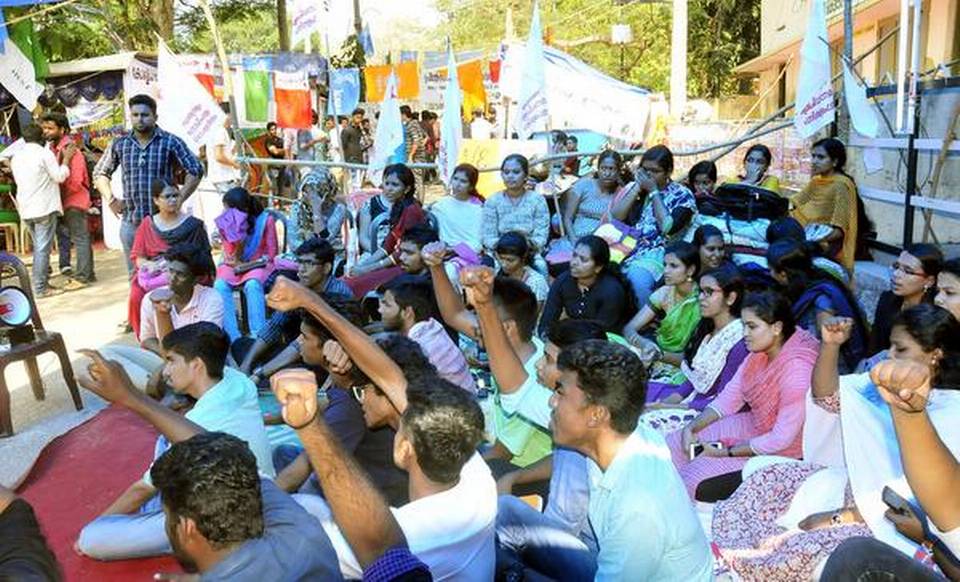 SFI students staging a protest near the law academy in Thiruvananthapuram
But the irony of utter lawlessness and blatantly feudal despotism perpetuated in an institution devoted to legal education in a democratic nation itself seems lost, for the authorities' commonsense about liberal education in Kerala has been that it should be neither liberal nor education nor anything to do even remotely with the practice of democracy. I have been saying this over and over again, and really, feel utterly breathless at this.
I have spent some time with this Lekshmi Nair in my youth – she was briefly at the University Women's Hostel in Thiruvananthapuram, when I was a resident there in the mid-1980s, as a young college student. She struck me as the quintessential rich man's insolent brat, oozing privilege from every pore. Her website lists academic achievements including high scores in the BA History course which she reputedly completed at Government Women's College (where I was a student myself) but she never struck me as someone with any love for learning or at least, whatever she read seemed to have no impact on her at all. She was however, a defiant young woman and we heard stories about why she had to stay in a hostel in town though her family and home were close by – something that we (those residents who were connected to left student organizations) resented because poorer young women students from far away were often unable to secure a place in the hostel into which this woman seemed to have sashayed in. Those stories I will not discuss. Suffice to say that from these stories she appeared to be like very many young women she is humiliating and punishing now – women who behave and choose in ways not acceptable to the social and sexual mainstream, and dare to defy family authority. It is quite possible that these stories were false, misleading, but the very fact that these stories(which I personally refused to endorse) circulated against her means that she was, however briefly, at the receiving end of patriarchal attitudes that punished not only her gender but also her youthfulness. That, really, makes me wonder: how is it that so many of the tyrants who run our public and private educational institutions today forget their own vulnerable youth? Those days of course no one deferred to rich men's little monsters and their tantrums; those things, we thought, happened in distant Karnataka, where 'capitation fee' colleges bred horrors who indulged in sadistic ragging and other sorts of violence. In other words, no one thought that Lekshmi Nair could grow to lead the hellish institution that Law Academy seems to be.
Clearly we were both naïve, and blind to what lay ahead of us in the future.
Naïve, because we were still blissfully unaware of the history of Nair dominance in local politics in Thiruvananthapuram. Only in my recent research on the local history of a highly underprivileged locality in Thiruvananthapuram did I wake up to its full, shocking extent – to the way in which the male scions of powerful Nair families slid, elbowed, and smoothed their way into all major political parties here, controlling both elite and working class politics from the 1930s to the present. There were of course Nair activists who were definitely more than power-brokers, notably, 'Jooba' Ramakrishna Pillai, the organizer of the scavengers' union of the 1930s, and Chalai Bhaskaran Nair, the trade union leader who led the loaders at the Chalai Market who, sadly enough, remains only in the memories of the workers who he fought alongside. The Nair politician who thrived was the power-broker par excellence – the mediator who stood between the traders and workers, and profited from deals with both sides. In the course of fieldwork I heard many anecdotes about how Nair second-cousins reached out to and secured each other's interest even while seemingly arrayed against each other as Congress and Communist party activists in the field of politics. After 1950, when community competition between the elites of powerful communities came into full play, Nair men, often rich landlords, came to capture key positions and resources in political parties here (interestingly, the open acknowledgement of this is largely in the accounts of the Nadars of the present-day Kanyakumari district of Tamil Nadu, who openly refer to the Pattom A Thanu Pillai government in Thiruvananthapuram of the 1950s and early 60s as 'Nair rule'). Lekshmi Nair's political connections, then, were enduring ones: indeed, what the present crisis has revealed is the steel frame of Nair power in local politics, and not Lekshmi Nair's petty obsession with power, which were evident even in the cookery show that she used to offer on the Kairali channel. Kalathil Velayudhan Nair, who is listed as one of the founders of the Law Academy, was a Nair heavyweight, for sure, and a smooth operator in politics and definitely, the Law Academy founders' connections with 'socialism' (as claimed in the website) are tenuous. The enormous influence wielded by Nair heavyweights (even now) at the University of Kerala is a legacy carried forward from the days of the Travancore University, undisturbed till quite recently, and surely intact in the 1980s. I had a KU diary from 1988 which listed the professors there, and there were just a few who did not have the Nair tail behind their names. The BJP's eagerness to jump into the fray, clearly, is an expression of its anger against that section of Nairs who still have much to gain from associating with the CPM; the CPM's reluctance to proceed against the Law Academy is clearly related to its determination to refrain from alienating precisely this group.
We were blind in the 1980s, I said, because there was no way we could foresee the frenetic expansion of private sector higher education in Kerala, though signs were showing even in the 1980s (when for example, the Law Academy finally had the land it leased assigned to it in the mid-80s). The numbers of engineering colleges, for example, which were just 15 in the government and government-aided sector and three in the self-financing sector in 1997, grew to 84 by 2005 with most of the new ones set up in the self-financing sector. Nevertheless, researchers find that they have not fulfilled the purpose of producing employable labour, being notoriously deficient in facilities, and adept at a whole range of strategies to evade scrutiny and student protest. Also, by the early aughts, higher education ceased to be the concern of the small section of aspirants to government and government-aided colleges (according to available research, Kerala fell behind other states in access to higher education relative to population, but this relies on data that does not count unaided 'parallel' colleges), since by this time, SSLC and HS pass percentages had risen quite strikingly. Secondly, it seems evident that the growth of the self-financing sector mirrors the aspirations of the new Malayali middle class that arose out of the Gulf migration and other developments such as the expansion of land value as land increasingly became real estate. It is no coincidence that its expansion is largely in engineering and medical education, which are of course fervently believed to confer upward mobility on the family of the student, and not, say, in polytechnic institutes or technical high schools, which are still largely in the government sector. Thirdly, higher education which has been progressively identified as a non-merit good in the state is now booming business – cheap and hugely profitable.
Many of these colleges have evolved cost-minimizing strategies, which, to say the least, are terrifying. As an ex-manager in one of these institutions told me recently, this is next only to Kerala's cancerous construction sector as a profit-spinner. The plan is always simple: acquire a piece of land (in the recent outrage, we have heard of many instances in which the promoters managed to bribe their way to bypassing necessary requirements), usually in the hilly mid-land terrain, clear and sell the vegetation, dig up the top soil and boulders, sell it all for a huge profit, and combining the proceeds with loans, build some basic infrastructure. Then set up a swank office in cities, hire cool-looking-sounding business graduates at low wages of course, to bluff and lie about facilities to potential students and parents. In the meantime, pull the strings to clear hurdles with academic authorities, set up faculty, much of which can be 'ghostly' (i.e. present only during inspections and so on). Once students take the bait, focus on building appallingly oppressive structures that subject students to a veritable reign of terror and parents to the constant fear of the loss of their investment, so that the bluff is never called off! Until now this structure has worked flawlessly. Critics like me have turned fairly hoarse with shouting from the rooftops about the treatment of students as mere raw material to be processed in whichever way these educational racketeers and gullible parents deem fit – and that this industrial process is both inhuman and appallingly inefficient.
In short, the issue that ought to be at the centre of public concern in the wake of the Law Academy imbroglio should not be limited to punishing a despicable brat. It should, rather, be on unearthing and condemning the racket that higher education has become in an era in which community organizations represents a new corporate interest. It ought to direct us towards the very specific nature of the capitalism that has emerged in Kerala in the post-1990s – towards reflecting critically on the nature of the new capital that threatens to destroy all that we possess – our ecological security, financial resources, and as evident now, our young people – that is our future as human beings and citizens itself.
I am not saying that the students should not teach the thieving, insolent, privilege-drunk brat a fine lesson; indeed, I hope it serves as a good lesson to the very many institutions which adopt her ways too. But we need to do more than taming the brat.
This article was first published on Kafila.online