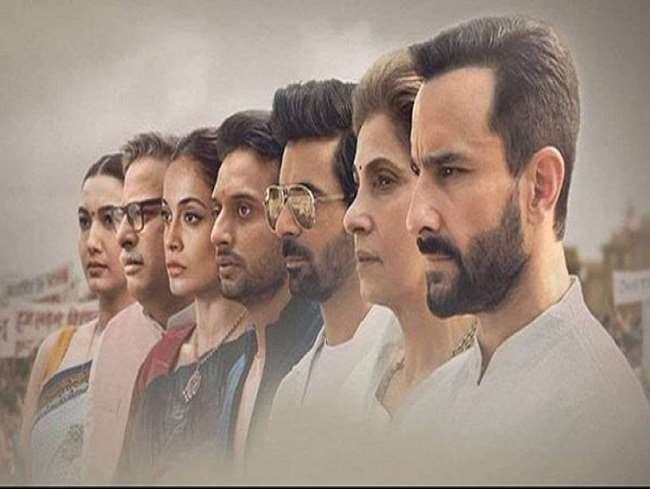 It is a typical masala sprinkled political drama web series, yet Tandav, the show now airing on Amazon Prime, is now facing major criminal action after days of trolling over 'hurting religious sentiments. Bar and Bench reports that now the Uttar Pradesh police have filed a case against the creators of the web series, after BJP leader Kapil Mishra sent a legal notice to Amazon.
Amazon show #tandav in trouble as FIR filed in Lucknow. @KapilMishra_IND pic.twitter.com/5fWwNomQ1Y

— Bar & Bench (@barandbench) January 18, 2021
The web series is a fictional story of political power play. According to news reports it is being alleged that makers and the web streaming service have insulted Hindu gods on the series. The police case was filed just hours after the Union Ministry of Information and Broadcasting (MIB) sought a response from Amazon Prime on a complaint filed by Maharashtra BJP MLA Ram Kadam. The trolling of the series, its acting cast, and its makers has been going on since it first aired a few days ago. People have been calling for a ban on the series and alleged it has hurt their religious sentiments. Now official action against the filmmakers has followed.
The show has been directed by Ali Abbas Zaffar, written by Gaurav Solanki and has a star cast of prominent film actors including Dimple Kapadia, Saif Ali Khan, Tigmanshu Dhulia, Mohammed Zeeshan Ayyub, Sunil Grover, Anup Soni, Kumud Mishra, Gauahar Khan, Kritika Kamra, Sandya Mridul and many more. The director, producer and writer of the series and Amazon's head of India Original Content, have now been accused of promoting religious enmity and defiling a place of worship. According to a report in NDTV, a complaint has been filed at Lucknow's Hazratganj police station by a sub-inspector who is also posted there.
Uttar Pradesh Chief Minister Yogi Adityanath's media adviser Shalabh Mani Tripathi shared a copy of the FIR, warning the makers to be ready for arrest, he posted on Twitter. "There is no tolerance for playing with people's sentiments.. in yogiji's Uttar Pradesh case has been registered under serious sections against the team of Tandav… be prepared for arrest soon."
जन भावनाओं के साथ खिलवाड़ बर्दाश्त नहीं, घटिया वेब सीरीज की आड़ मं नफरत फैलाने वाली वेब सीरीज तांडव की पूरी टीम के खिलाफ योगीजी के उत्तर प्रदेश में गंभीर धाराओं में मामला दर्ज, जल्द गिरफ्तारी की तैयारी !! pic.twitter.com/V9ZewGNOHw

— Shalabh Mani Tripathi (@shalabhmani) January 18, 2021
Soon after Tripathi's message, scores of Bharatiya Janata Party politicians amplified that demand. According to NDTV, the policeman who filed the complaint stated he had alerted senior officers about numerous Twitter comments critical of Tandav's content, and was ordered to watch it. The complaint states that 17 minutes into the first episode, "people dressed up in a very bad manner (sic) to represent Hindu gods and goddesses and have been shown to speak in a very uncalled for language… that hurts religious sentiments". It added that in the same episode there are "conversations that lead to caste conflict, there are similar scenes in many other episodes. In the web series, the character of the person occupying the high post of India's Prime Minister has been shown in a very indecent manner… The series depicts lower and higher castes and scenes that insult women, and the intent… seems to be to hurt religious feelings of one community and to spread conflict".
However, those who have watched Tandav, without wearing a sensitive religious lens will know that it is yet another web series which is based on politics, the biggest national obsession after cricket.
It in fact can be panned for its superficial portrayal of politics, and of caste equations, and most of all its abysmally myopic treatment of key female characters. The series is surely deserving of a film and television critique and analysis of its formulaic treatment, trite dialogues, some hamming by even seasoned actors, no thanks to its weak writing, however it is not a political documentary. It is a merely fictional story, that is a thinly veiled take on real life social events that have taken place years apart. While it eerily foretells the ongoing farmers revolution, and notes the students movement that had united the country during the anti-CAA agitation, it fails to showcase either with any depth at all. The focus remains on dynasty politics, which too though beautifully shot, is superficial. But politicians are upset anyway.
Of course it also shows the police as politicaly controlled puppets who respond to "orders from above", there are Muslim students are shown as protestors who are then attacked by cops, there is a hint of a farmers/workers' protest, there is media manipulation, but all that is seen in real life everyday now. And then there is, what the trolls have been frothing about, a Muslim actor Mohammed Zeeshan Ayyub, playing a Hindu student leader Shiva Shekhar who in turn is playing an abstract fictional adaptation of a Hindu god in a fictional college play. Perhaps trolls were triggered by memories of student leaders such as Kanhaiya Kumar, or of the attack on JNU and Jamia students, or maybe they were upset that Tigmanshu Dhulia plays a Prime Minister who is killed by his son Samar Pratap Singh, played by Saif Ali Khan. Khan plays a villain, as do many other characters in various degrees. For the record the worst depiction in Tandav is of the women characters who are all treated as eye candy, or muses, at best, or as powerless yet scheming villains at worst. But the trolls are not upset by that filmmaking flaw at all, for now.
Tandav is far from being a nuanced depiction of Indian politics, or of the social people powered movements now underway. However, the question to be asked is, why is the political leadership giving so much traction to a fictional web series? What is this buzz of activity against Tadav, meant to distract us from?
Related:
Love Jihad Ordinance criminalises interfaith unions, assault on Article 21: Petitioner
Take action against 'Swami' for hate speech: Subhashini Ali to UP Police