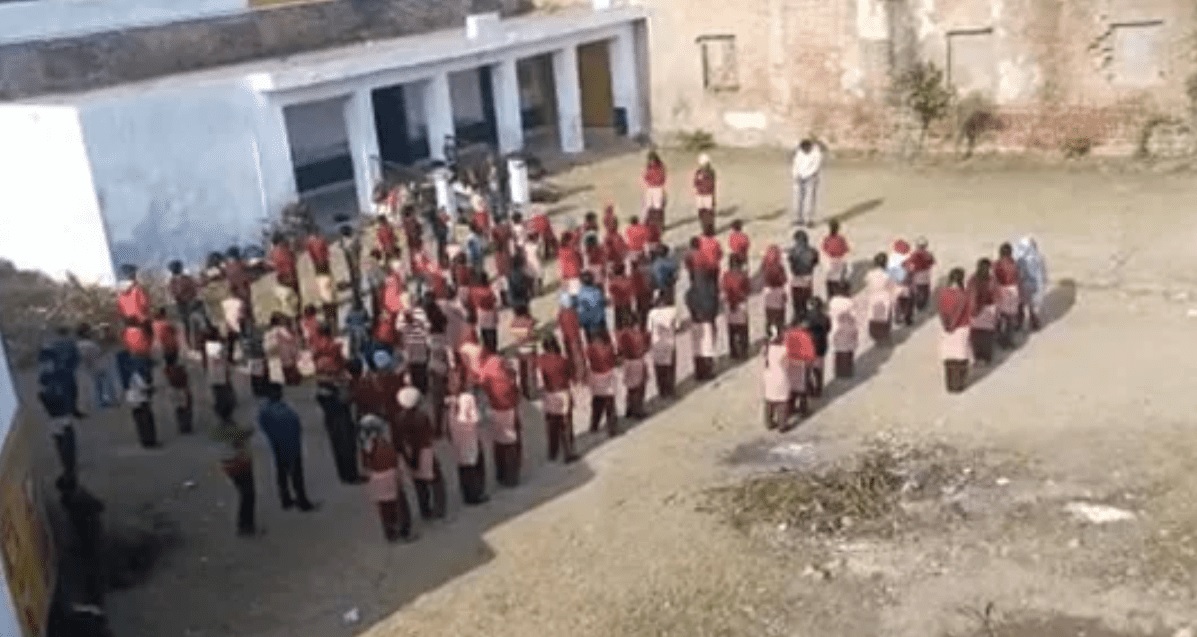 The police in Faridpur, Bareilly booked the school principal and a para teacher of government higher primary school, after the local unit of Vishwa Hindu Parishad accused Siddiqui and Waziruddin of hurting "religious sentiments" of people in "a Hindu-dominated area by reciting madrassa-type prayers in the school". The poem also known as Bachche ki Dua, was composed by Muhammad Iqbal in 1902 and its first verse has also been used in a song in a Hindi movie called 'Raazi'.
The VHP raised objection on the line: mere allah burai se bachaana mujhko'. (O God! protect me from the evil ways). The VHP's city president Sompal Rathore on whose instance the FIR was filed, alleged that school principal Nahid Siddiqui and Shiksha Mitra (teacher) Waziruddin were trying to convert the students and that students who protested against such prayers were threatened.
2 teachers in UP's Bareilly booked — for 'causing riot' — and suspended after video of school children singing a song from their Urdu syllabus goes viral.
Objectionable part is: Mere Allah burai se bachana mujhko (O Allah! protect me from the evil ways) pic.twitter.com/xBePwhS1q4

— Kanwardeep singh (@KanwardeepsTOI) December 22, 2022
In an opinion piece in Indian Express, Devyani Onial wrote that the Urdu poem talks about a child's wish for a life like a candle (shama), that banishes darkness from the world (door duniya ka mere dum se andhera ho jaye) and brings light to all corners (har jagah mere chamakne se ujala ho jai). It talks about protecting the poor (garibon ki himayat karna) and loving the weak (dard mandon se zaifon se mohabbat karna). She wrote,
"Before this, no one who had sung it had thought of it as a religious prayer. Children who followed faiths other than Islam neither paused nor stopped at the word "Allah"; everyone sang along, praying to God, asking him to keep us on the right path (nek jo raah ho us raah pe chalana mujhko). But in times when Urdu, the language, has become Muslim and the colour orange Hindu, what chance does a line like that have in an orange-lit India?"
The entire poem written by Mohammad Iqbal reads as follows:
lab pe aatī hai duā ban ke tamannā merī
zindagī sham.a kī sūrat ho ḳhudāyā merī!
duur duniyā kā mire dam se añdherā ho jaa.e!
har jagah mere chamakne se ujālā ho jaa.e!
ho mire dam se yūñhī mere vatan kī zīnat
jis tarah phuul se hotī hai chaman kī zīnat
zindagī ho mirī parvāne kī sūrat yā-rab
ilm kī sham.a se ho mujh ko mohabbat yā-rab
ho mirā kaam ġharīboñ kī himāyat karnā
dard-mandoñ se za.īfoñ se mohabbat karnā
mire allāh! burā.ī se bachānā mujh ko
nek jo raah ho us rah pe chalānā mujh ko
Related:
Behind one of UP's biggest 'anti-conversion' case; 54 persons booked
Was the murder of Abdul Jaleel a hate crime driven by 'moral policing' by Hindutva outfits?
Church vandalised in Karnataka's Mysuru, statue of Baby Jesus damaged