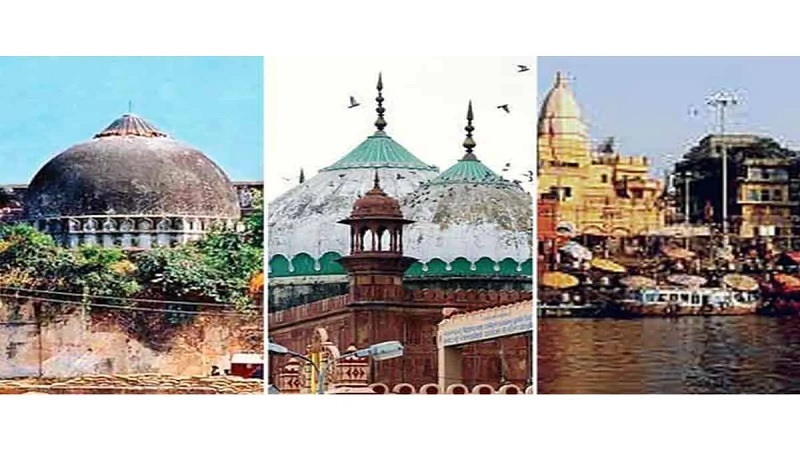 The suit filed for restoration of temples in the Qutub Minar complex in Delhi is the latest in a line of similar suits invoking land disputes at temple sites in Mathura as well as Varanasi. After the Babri mosque demolition, the central government passed a law to save and protect the religious character of all places of worship, to avoid any such communal disturbances in the future. Then how are these suits seeking restoration of temples and reclamation of land justified? Does the law allow it? We shall deal with these questions in this article.
The suit filed in a Delhi court to restore temples in the Qutub Minar complex which also houses a mosque seems to be inspired from the suit recently filed in a Mathura court for removal of Shahi Idgah mosque which is adjacent to Krishna Janmabhoomi. While a Senior Civil Judge Chhaya Sharma had dismissed a similar suit, Mathura District court admitted the plea and the hearing is underway, with next hearing scheduled for January.
When the Ayodhya dispute was at its peak in early 1990s, right wing organisations like Viswa Hindu Parishad (VHP) had laid claim on two other sites: the Shahi Idgah mosque in Mathura, and the Gyanvyapi mosque in Varanasi. A suit pertaining to the latter was entertained by a district court in Varanasi but the order is pending in appeal at the Allahabad High Court.
The suits in the matters of Shahi Idgah in Mathura and Gyanvyapi in Varanasi or Kashi were expected after the Ayodhya verdict came out in favour of Hindu petitioners. The slogans of "Yeh to kewal jhanki hai, Kashi, Mathura baaki hai." (This is just a sneak peek, Varanasi and Mathura are still left) had filled the Ayodhya air when kar sevaks were marching on for the demolition of the Babri mosque.
India has had a dark history dealing with temple-mosque disputes. The Babri Masjid demolition and the subsequent communal riots that followed and have scarred an entire generation of both communities. It was to prevent any such further disputes, the Narsimha Rao government, which was in power when Babri Masjid demolition was carried out in all pomp and show, passed the Places of Worship (Special Provisions) Act, 1991.
The Places of Worship (Special Provisions) Act
The purpose of the law was to prohibit conversion of any place of worship and to provide for the maintenance of the religious character of any place of worship as it existed on August 15, 1947. The law kept the Ram Janmabhoomi-Babri Masjid dispute out of its purview, without citing any reasons for the same but probably because the case was sub-judice at that point in time.
The section 3 of the Act clearly states, "No person shall convert any place of worship of any religious denomination or any section thereof into a place of worship of a different section of the same religious denomination or of a different religious denomination or any section thereof." The objective of the law was clearly to maintain communal harmony in the future.
"We see this Bill as a measure to provide and develop our glorious traditions of love, peace and harmony," the then-Home Minister, S.B. Chavan had said in the Lok Sabha on September 10, 1991. "The country's tradition of amity and harmony came under severe strain during the pre-Independence period. After Independence, we have set about healing the wounds of the past and endeavoured to restore our traditions of communal amity and goodwill to their past glory," he had said, reported The Hindu.
The law states that all suits, appeals or any other proceedings regarding converting the character of a place of worship, which are pending before any court or authority on August 15, 1947, will abate as soon as the law comes into force. But there are exceptions to this as well, any place of worship referred to in the said sub-sections which is an ancient and historical monument or an archaeological site or remains covered by the Ancient Monuments and Archaeological Sites and Remains Act, 1958 is not declared to maintain its religious character. It is unclear why this was done.
One then wonders why are there suits in courts in this day and age making attempts to reinvigorate Hindu temples and why were they being entertained in courts if the law does not allow it? The language of the Act is clear when it states that no suit shall lie on or after such commencement (of the Act) in any court for conversion of the religious character of any place of worship, existing on the 15th day of August, 1947. So, clearly, it is not just a penal law that provides punishment for contravention but also disallows suits that seek to challenge places of worship.
All of these suits rely on history which clearly states that temples were destroyed, and mosques were built in their place, by invaders as a mark of victorious conquest. Historians slammed the Qutub complex plea and stated that history was being taken out of context in suits like these. Professor and historian Harbans Mukhia said, "History is not a matter of public opinion. Historical events take place in their context. You can't isolate a 12th century fact from its context and present it in 21st century and claim victimhood. Where does logic find a place in all this?"
Destruction of temples in history
Notion of temple desecration was a very politically motivated action in the context of pre-modern India, prevalent from even before the advent of Islam into India, as argued by History Professor Richard Eaton. Royal temples housing the state deity symbolised the sovereignty of the king. Temples have been desecrated in inter-dynasty conflicts as well. In 642 A.D, the Pallava king Narasimhavarman attacked the Chalukyas and destroyed their royal temple looting their state deity from their capital. Such actions of destroying royal temples and looting the central deity were carried out with the explicit aim of detaching a vanquished king from the most visible sign of his former legitimacy.
Thus, the act of temple desecration was well established within the Indian political rhetoric. While history records that Aurangzeb did destroy temples like the famed Vishwanath temple at Varanasi and the Keshav Nath temple at Mathura, there was no instruction given regarding the general desecration of all temples throughout the empire and in fact, he has been documented to have patronised temples and their functionaries. The Vishwanath temple (built by Jai Singh) was destroyed as punishment for Jai Singh's complicity in facilitating Shivaji Maharaj's escape from Aurangzeb's prison. To confuse this to be an expression of his faith would be a historical anachronism.[1]
Related:
History taken out of context: Historians slam Qutub Minar plea
Suit for restoration of temples in Qutub Minar Complex claims "National shame must be vanished"