A former AAP MLA, he said he had only posted pictures of children but 'they are seeing them as Muslims'

Image Courtesy: nationalheraldindia.com
In what was another instance of the ruling party members engaging in hate speech, BJP leader Kapil Mishra found himself at the end of the wrath of the public over a controversial tweet for stoking communal hatred.
"If you want pollution to come down, then you should reduce these firecrackers and not the ones burst on Diwali," Mishra tweeted tagging a photograph of an elderly man with a skull cap and several children along with women in burqa, waiting in a queue.
The tweet was soon taken down by Twitter for violating its guidelines.
Mahmood Ahmed, a resident of Joga Bai Extension filed the complaint against BJP leader at the Jamia Nagar Police Station requesting to register an FIR under relvant sections of Information Technology Act and the Indian penal Code. Mahmood alleged that Mishra's tweet allegedly sought to create enmity, hatered and communal violence.
Activist Saket Gokhale also filed an FIR against Mishra at the Bhajan Pura police station in Delhi citing for provocative communal hate speech against minorities.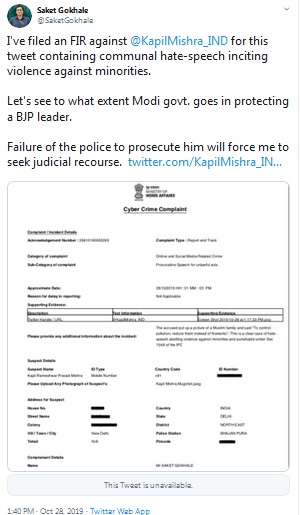 "This is to bring to your notice that Mr Kapil Mishra, a Bharatiya Janata Party leader from Delhi, has on 28 October 2019 made inflammatory comments targeting the Muslim community through his Twitter handle: @KapilMishra_IND," the complaint read.
"This content is inflammatory, unacceptable and seeks to create enmity, hatred and communal violence. It is demeaning, degrading and obscene, will corrupt minds and seriously affect religious sentiments. It may lead to illogical and dangerous consequences," it said.
Mishra, however, maintained that he was only trying to raise awareness on the need for population control.
Twitter war
Soon after Mishra's tweet, several individuals condemned his idea. The Rashtriya Janata Dal (JDU) criticized his tweet stating that he compared 'Muslim children to pollution' for his 'petty politics'.
To this Mishra replied saying that there was no mention of Hindu or Muslim in his tweet and questioned that if the photo was of a non-Muslim family, would the RJD still take up the matter?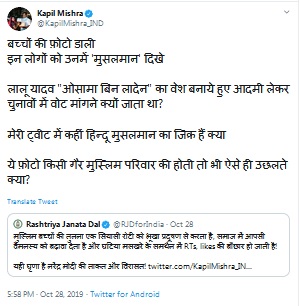 In no time, the right-wing fanatic army soon erupted in support of Mishra with the #IStandWithKapilMishra.
Kapil Mishra later tweeted saying he had even started getting personal calls abusing and threatening him over his tweet.
And showing no remorse for what he had implied, he instead threatened by asking all those who pulled him up for his vile remark, "There is so much fear after one tweet? What will these people do when the population control law comes in place?"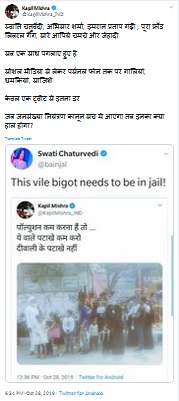 Not the first BJP leader to indulge in communal hate speech
It is a documented fact that under the Modi government, hateful and divisive language by politicians in high posts in the party, has increased almost 500% in the past four years.
Just this month, Gajraj Rana, the BJP's city president for Deoband 'advised' people to buy iron swords on Dhanteras and not gold ornaments and silverware. His comments came soon after the Supreme Court finished hearings in the Ayodha land dispute case.
Again, this month, the Election Commission pulled up BJP Mumbai Chief Mangal Prabhat Lodha for his communal speech at a rally in support of a candidate. He referred to previous instances of terror attacks and riots, claiming that claiming that bombs and bullets were manufactured 'in lanes within 5 km' of the meeting venue – one that held a sizeable Muslim population.
In another instance, BJP leader Rajeshwar Singh boasted of the ruling party's intent to "ethnically cleanse" 200 million Muslims and 28 million Christians.
Right-wing affiliate Bajrang Dal asked organisers to check Aadhaar cards of men at garba celebrations and also to not employ non-Hindus as bouncers at the events.
BJP MP Sakshi Maharaj has previously strongly associated terrorism with madarsas and Muslims.
Even Union Minister Amit Shah and PM Modi himself have engaged in hate speech against minorities time and again.
In multiple speeches Shah, among other things, described Muslims as those who "violate our women…who rape our sisters and daughters". The Election Commission conceded that Shah's code violations were made with "deliberate and malicious intention".
Modi has already called the Opposition the "tukde-tukde gang"– literally, the "pieces gang" – to suggest they were out to break up India, and said they speak the language of terrorists.
In all the Centre's claims of building a 'New India', its actions time and again point out to its regressive thought process only aimed at Hinduising the nation.
Their language of violence and openly inciting hatred only go to starkly showcase the party's political goals.
Related:
Hate Watch: How Hate Trends On Twitter—A Look into Communal Echo Chambers
Buy swords not gold this Dhanteras, prepare for Ayodhya verdict; BJP leader
EC pulls up BJP Mumbai chief Mangal Prabhat Lodha for communal speech at election rally, issues show-cause notice
Muslims and Christians will be wiped out of India by December 31, 2021: BJP leader Rajeshwar Singh
Justified? Caste slur 'ONLY' if made in public, in front of a public witness an offense: Bombay HC