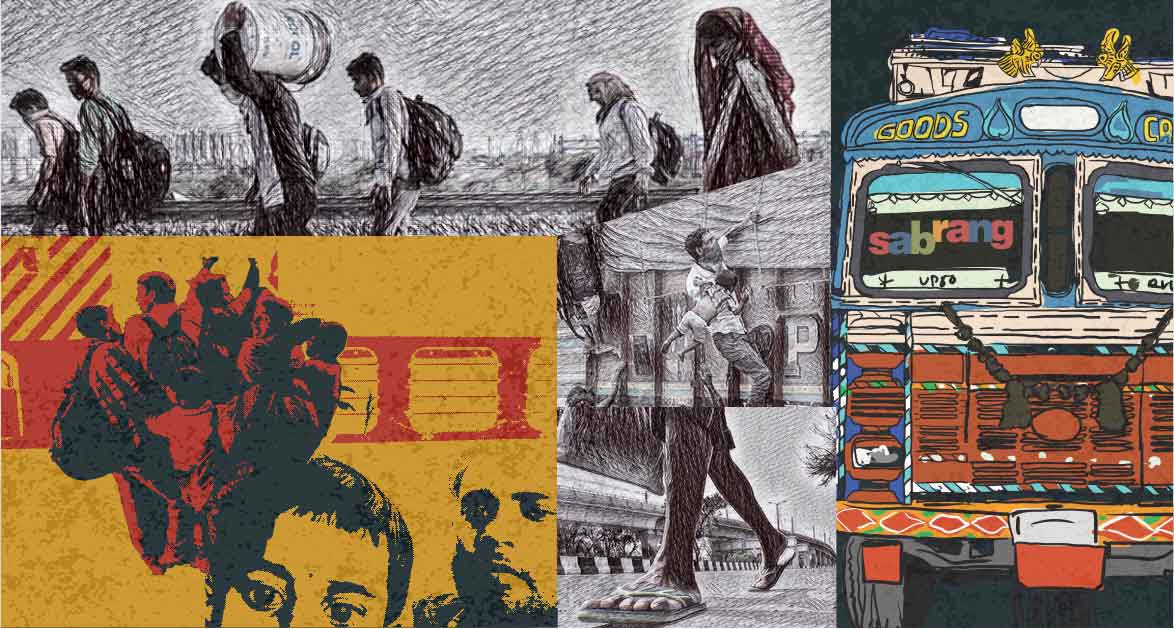 The lockdown announced by the Government of India on March 23, 2020 has had a disproportionately large impact on the migrant workers. While countless faced starvation and homelessness, many even lost their lives. Here's a look at how an apathetic State ignored some of the most vulnerable people in the country.
1) Mohammed Jamaluddin, a 39-year-old skilled mason who had been working in Mumbai for the last 13 years, was forced to leave the city and take an arduous journey back home to Birbhum, West Bengal. At first, he took two consequent journeys by bus, then travelled by truck, then a short distance even on foot, before again boarding a truck so that he could get home1 Along the way he was forced to bribe policemen who kept demanding he turn around and go back. Read more about his ordeal here.
2) A bus carrying 70 Odia migrant workers from Surat swerved off the road at KalingaGhati in Kandhamal district of Odisha killing one person and severely injuring another. 40 others sustained minor injuries.
3) Ranvir Singh, a migrant worker set on a foot-journey to his village 308 km away in Madhya Pradesh after losing his Job in Delhi due to financial uncertainty. He passed away after covering 200 kms due to a heart attack on Kailash Mod on National Highway - 2. He was last heard over the phone complaining of chest pain and asking for help.
4) Gangamma, a construction labourer in Ballari, who was on her way home to Raichur after having covered over 300 kms on foot, passed away on April 7, at VIMS hospital, Ballari allegedly due to starvation and negligence at the quarantine shelter.
5) Munna Sheikh, a 27-year-old auto driver, had moved to Mumbai from Bihar 15 years ago. He was living in Bandra'sShastri Nagar, a low-income neighbourhood with a few friends. When the lockdown began his source of income dried up. CJP came to his rescue with emergency rations, but his ordeal was far from over. Though he and his friends filled out forms to board Shramik trains, they did not receive any response. Thus, when they heard a rumour that a train was leaving for Bihar on May 19, they rushed to Bandra where police rained lathis on a large number of people desperate to go back home. Though Munna and his friends somehow managed to catch the train, it took them 62 hours to reach Katihar, Bihar! Read more about his ordeal here.
6) Locals in Srikakulam, Andhra Pradesh resisted the entry of the 200 migrants who were brought back home after they were stranded at Tamil Nadu due to the lockdown on May 1, despite the authorities explaining that they have tested negative for Covid-19. The arguments led to clashes and police had to resort to lathi charge to disperse the angry villagers, the situation was resolved when the migrants were allowed to quarantine at a local school.
7) RajuSahni, a 40-year-old migrant worker who may have been cycling to his home state, was found unconscious by a passer-by on the roadside who informed the police. Sahni was taken to the hospital where he was declared 'brought dead'. A police officer said, "He worked at a private firm in Ankleshwar and had cycled from Ankleshwar till here. But we cannot say for sure whether he was travelling back to his native town all the way to UP or to Vadodara from where trains to UP have commenced."
8) 35-year-old Ganesh Yadav, a cook from Madhubani Bihar had been living in Mumbai for 20 years. The sudden lockdown forced him to live indoors in his one room dwelling in the scorching heat with his family of five until May. With police patrolling the streets he and his family used the paid toilet once or twice a day. With his source of income coming to a standstill and earnings dwindling, CJP volunteers came to his rescue and provided him much-needed ration along with information regarding ways of getting home. When he did eventually manage to board a train, the 18-hour journey stretched to 72 hours! The family was given no food by authorities and had to depend on the biscuits they had carried and food-packets distributed by some people, a day after the journey began. Read all about his ordeal here.
9) A clip was widely circulated on social media on May 27, of a toddler playing with a shroud covering his dead mother at a railway station in Muzaffarpur, Bihar. According to the woman's family, she died due to the heat and lack of food and water. The woman had boarded the train with her sister and her family from Ahmedabad, Gujarat to Katihar, Bihar and collapsed shortly before reaching Muzaffarpur.
10) In a shocking incident 16 migrant workers were crushed to death in Maharashtra's Aurangabad region by a freight train on May 8. The workers were walking to Bhusawal from Jalna, 157 kms apart, to board a 'Shramik Special' train to return to Madhya Pradesh. Exhausted, they slept on the railway tracks thinking they would be safe if the trains were not running when the mishap occurred between Madnapur and Karmad stations in Nanded division. While 14 of them died immediately, 2 of them succumbed to their injuries later.
Related