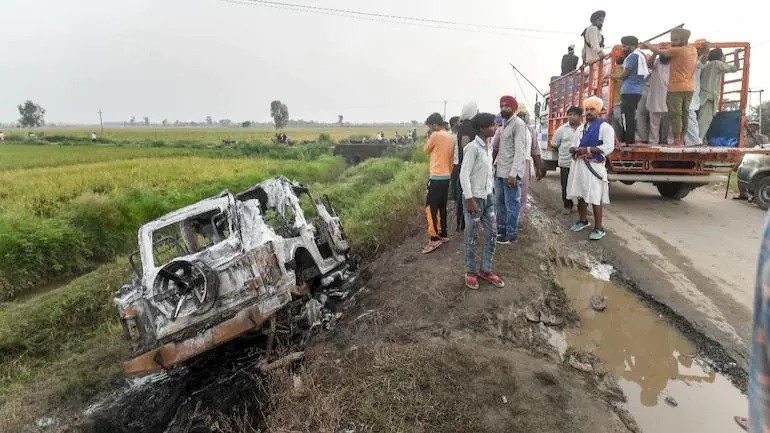 Supreme Court of India on November 8, 2021 recommended names of former High Court judges to monitor the Lakhimpur Kheri killing police investigation, after growing tired of the slow pace of the case proceeding. A Bench led by Chief Justice N. V. Ramana along with Justices Surya Kant and Hima Kohli criticised the Uttar Pradesh police for failing to include lab reports and other pertinent information in the status report despite a 10-day adjournment.
"Let an independent judge monitor the issue. This is the only solution which we are thinking. You find out from your government, we'll take it up on Friday [November 12]," said the Bench, according to LiveLaw.
Noting that the status report only includes more witness statements, it wondered if the police were examining witnesses in a particular manner to benefit a single accused. Dismissing the request for a CBI investigation, the apex court instead suggested the supervision of retired judges like Ranjit Singh or Rakesh Kumar Jain. The state government said it will confirm the same by Friday.
This is the same Bench that on October 26 asked the Uttar Pradesh government to provide security for witnesses of the October 3 violence when four farmers, two BJP workers, a driver and a local journalist died in Tikoniya village. Farmers alleged that Union Minister Ajay Mishra's son Ashish caused the deaths of farmers by running them over with his Mahindra Thar vehicle. Consequently, a counter-claim was filed wherein farmers were accused of lynching to death a vehicle occupant Shyam Sundar and journalist Raman Kashyap.
On Monday, the Bench focused on the people arrested, and questioned why only Ashish's mobile phone has been confiscated so far. The court asked, "Did other accused not use cell phones?"
In response, government legal representative senior advocate Harish Salve said that the call data records of all accused are being collected. While the Bench remained unimpressed, farmers have been pushing for the dismissal of Mishra from his ministerial post to allow for a fair investigation.
Related:
Lakhimpur Kheri killings: Two more farmers arrested for alleged lynching of BJP workers
Lakhimpur Kheri case: SC directs UP gov't to provide protection to witnesses
Lakhimpur Kheri violence: UP Police offers only excuses, sealed cover reports for SC
UP court denies bail Ashish Mishra in Lakhimpur Kheri case
We are not satisfied with UP Government's actions: SC on Lakhimpur Kheri incident