Ballia: In yet another baleful attack, BJP MLA from Ballia, Uttar Pradesh, Surendra Narayan Singh, on Friday said that those who do not want to chant Vande Matram have no right to live in India and should be sent to Pakistan.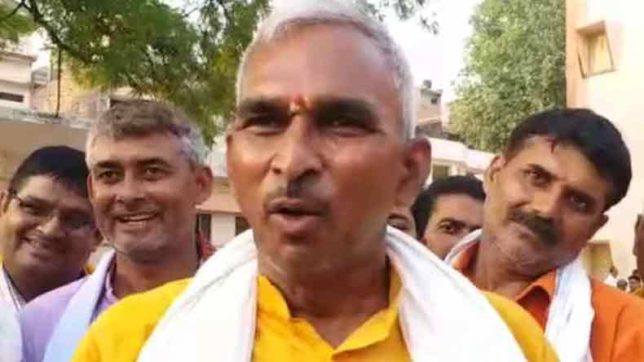 Indirectly attacking the Muslims, Singh said, "Chanting Vande Matram may be an emotion. But if you are living in India, then Vande Matram is a must. It is in Sanskrit and can be translated into Urdu too. Those who do not want to chant it by heart have no right to live in India. If it is in my hand, I would send such people to Pakistan within one week after making their passports."
Singh then criticized the people who make excuses for not singing the national song. "Their double standards are revealed if they are not chanting Vande Matram and Bharat Mata ki Jai citing difference in languages."
In 2018, Singh had sent a similar message by saying, "Mein spasht roop se kehta hun ki jo log Bharat Mata ki Jai aur Vande Matram kehne se perhez karte hai, wo Pakistan ke hain." (I clearly state that those who have reservations in saying Bharat Mata ki Jai or Vande Matram belong to Pakistan). Further, he reiterated his party's Hindutva agenda by saying that by 2024 India would become a Hindu nation and once it becomes Hindu Rashtra, only those Muslims will stay in the country that assimilate into the Hindu culture.
It seems as if in the current era, the minorities have to constantly prove their patriotism and loyalty to the nation if they wish to stay in their own country of which they are legal citizens.
Singh has repeatedly stooped to a new low by his communal remarks and sexist slurs. In March, when there were rumours of Haryanvi singer-dancer Sapna Chaudhary joining the Congress, Singh had attacked her and Sonia Gandhi with his misogynistic jibe. He said, "Rahul ji ki Mata ji bhi Italy mein isi peshe se thi. Jaise aapke pitaji ne Sonia ji ko apna bana liya tha, aapne bhi Sapna ko apna bana liya hai." (Rahul's mother was also in the same profession in Italy and how his father made her his own; he should also take the family tradition forward and make Sapna his own). Continuing with his chauvinistic rant, Singh said, "Indian politics will never accept dancers to lead the nation as against a "charitravaan" and "imaandar" leader like Prime Minister Narendra Modi."
Earlier, Singh had even attacked the BSP supremo Mayawati with his racist remarks. Responding to Mayawati's attack on Modi over the use of 'Chowkidar', Singh had said, "Mayawati ji khud roz facial karwati hain, vo kya humare neta ko kya shaukeen kahengi. Vastra pehenna koi shaukeen baat nahi hoti. Shaukeeni ki baat to yeh hoti hai ki baal paka hua hai aur rangeen karwake ke aaj bhi apne aap ko Mayawati ji jawan saabit karti hain. 60 varsh umar ho gayi lekin sab baal kaale hain." (Mayawati herself gets her facial done every day, how can she ask anyone about their tastes and style of living. Wearing clothes is not a luxury. Luxury is when you get your hair coloured to come across as young while you are in fact 60-year-old.)
In another deplorable statement, in June 2018, Singh said that prostitutes are better than government officials, as they at least "work" after charging money.
Singh said, "Officials se accha charitra vaishyaon ka hota hai, woh paisa lekar kam se kam apna kaam toh karti hain aur stage pe naachti hain. Par yeh officials toh paisa lekar bhi aapka kaam karenge ki nahi, iski koi guarantee hi nahi hai." (Prostitutes are better than government officials; at least they take money and do their work and also dance on the stage. But these officials, even after taking money, don't do their work. There is no guarantee that the work will be done).
In July 2018, after the Unnao rape case, Singh made an extremely callous remark by saying that even Lord Ram couldn't stop rapes. "I can only say one thing that incidents of rapes cannot be stopped even if Lord Ram comes on earth. Such incidents are natural pollution of society and can only be controlled by inculcating good values in the society. The Constitution of the country can't do much to stop rapes. The criminals can only be sent behind bars," Singh had said.
Singh even defended the accused, BJP MLA Kuldip Singh, by saying, "I am speaking from psychological point of view; no one can rape a mother of three children. It is not possible, this is a conspiracy against him." He later urged the Hindu couples to have at least five children to make 'Bharat mazboot' (strong).
Earlier, BJP MP Harish Dwivedi, too, when asked about Priyanka Gandhi's entry into active politics, said, "Priyanka Gandhi wears jeans and top in Delhi but turns up in a saree whenever she visits the people in her constituency in UP."
Congress responded with more sexism with the Minister from Madhya Pradesh, Sajjan Singh Verma, mocking BJP minister Hema Malini by saying that BJP makes her dance for votes.
Despite such regressive and misogynistic thinking along with a history of physical violence, such as supporting the sand mafia activities in Ballia, Singh continues to hold his political position and has the audacity to keep on passing such outrageous remarks. Inaction by the BJP, in spite of such hate mongering by its members, reflects the right-wing supremacist party's ideologies and its hypocrisy of portraying itself as a progressive party dedicated to women rights and development for all.
With the struggle for power intensifying, politics has become like a dirty verbal battleground with politicians making personal, communal, sexist and racist remarks with the only objective of demeaning the opposition.
From sexist slurs to name calling, from personal remarks to questioning each other's faith, from doubting nationalism to 'you're a Pakistani' declarations, it's all happening this election season!
Related Articles: