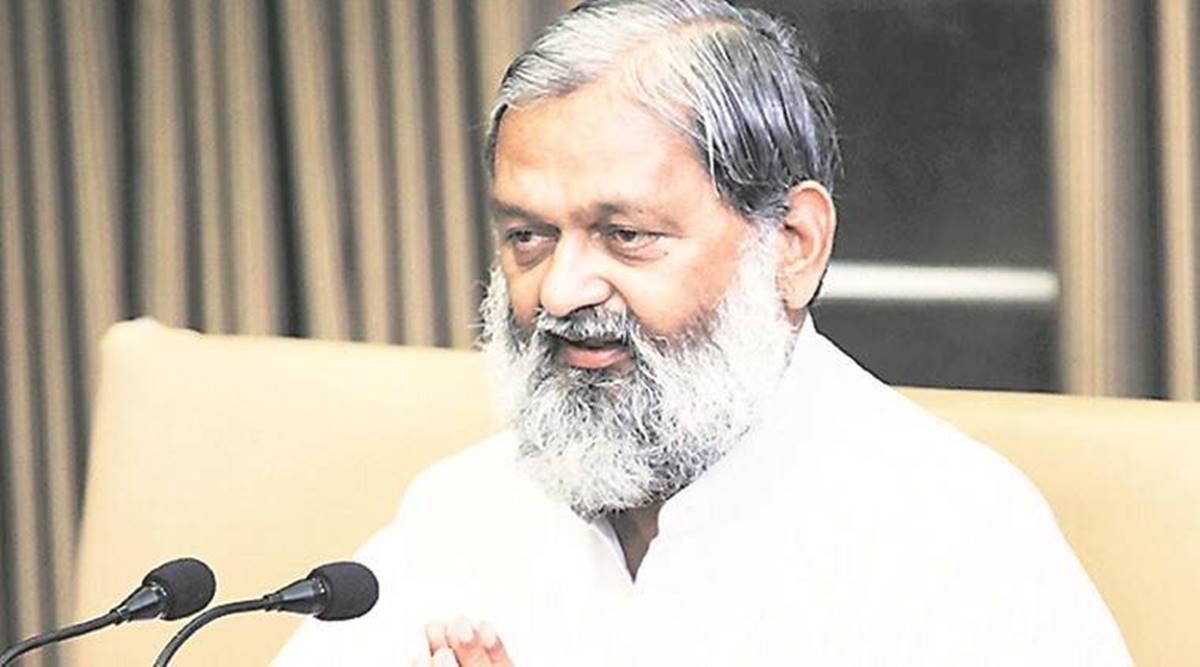 Haryana's Home, Health, Urban Local Bodies, Technical Education, Science & Technology Minister Anil Vij has called for the targeting of those he considers are 'traitors'. According to Vij those who have the 'seeds of dissent' in their minds should be eradicated completely, rather annihilated. He says such people are against the nation and names environmental activist Disha Ravi, who has recently been arrested from bangalore by Delhi police. Vij tweeted calling for 'eradication of those who thought against the nation, be it Disha Ravi or anyone else'. Ravi, in Bengaluru was arrested by Delhi police and accused of editing and circulating the protest 'Toolkit' case. She is an activist, and founder of Friday for Future (India) and has been slapped with Sedition charges, and was remanded to police custody for five days by the Patiala House Court on Sunday. The Haryana minister shared his 'opinion' on her on Monday.
देश विरोध का बीज जिसके भी दिमाग में हो उसका समूल नाश कर देना चाहिए फिर चाहे वह #दिशा_रवि हो यां कोई और ।

— ANIL VIJ MINISTER HARYANA (@anilvijminister) February 15, 2021
He has now been called out by scores of social media users, ranging from politicians to ordinary citizens. Most have expressed shock at this call for violence by a verteran politician like Anil Vij. Some have called him out publicly, Delhi Congress politician, Mukesh Sharma
Said those who have been sowing hate in society have lost their mental balance. Other users have called for legal action against Vij, as his tweet is being seen as a call for violence against Disha Ravi. Many others have begun reporting this hateful tweet to Twitter India.
No wonder Haryana is known for female infanticide. You should be booked for your tweet.

— Tongam Rina (@tongamrina) February 15, 2021
According to a report by Republic, Twitter has taken notice of reports against the Haryana minister Anil Vij's tweet targeting activist, Disha Ravi. It has reported that Twitter sent a notice to Vij on Monday, based on a complaint it received from a German user. The notice reads that under German 'Network Enforcement Act', Twitter has to provide notice to users reported by people from Germany, stated the news report. However, Twitter has investigated and found that this tweet is 'not subject to removal'. Anil Vij seems to have taken this as validation of his hate speech and was quick to share screen shots of being given a 'clean chit' by Twitter.
— ANIL VIJ MINISTER HARYANA (@anilvijminister) February 15, 2021
His thoughts seem to have resonated from hate speech from the right wing ecosystem members such as Ashoke Pandit who called activist Disha Ravi a "terrorist" who "is being paid to create unrest in India."
#DishaRavi is one of those who has worn a mask of a environmentalist but is a terrorist who is being paid to create unrest in India .
Terrorism has many faces & Disha is one amongst them. #DishaRaviArrested

— Ashoke Pandit (@ashokepandit) February 15, 2021
Related
The interplay between social media and hate speech in India …
Facebook, Twitter suspend Trump's accounts
Trump supporters attempt to take over US Capitol
Facebook protects hate speech by 'regime favourites' of ruling BJP?
Dear Mark Zuckerberg, time to speak up against hate speech on Facebook