The Mazdoor Adhikar Sangharsh Abhiyan (MASA), an umbrella organisation of workers' unions, took out a rally in the national capital on Sunday demanding better working conditions and social security for the unorganised sector.

Image Courtesy: New Indian Express/ Parveen Negi
New Delhi: The Mazdoor Adhikar Sangharsh Abhiyan (MASA), an umbrella organisation of workers' unions, took out a rally in the national capital on Sunday demanding better working conditions and social security for the unorganised sector. The rally was to protest and resist the increasing attacks on working-class rights, living wages, division of labour, state repression and the unjust distribution of resources.

The massive rally was also organised against the Narendra Modi-led Bharatiya Janata Party (BJP) government's attempts to weaken the labour laws and privatise the public sector.
The rally began at Ramlila Maidan and ended at Sansad Marg. It was attended by workers from around 20 states across the country.
Some of the biggest labour representations came from organized sectors like automobile, electronics, garment, pharmaceuticals and related sectors from the core industrial regions in Gurgaon-Manesar (Haryana), Neemrana-Jaipur (Rajasthan), Rudrapur-Haridwar (Uttarakhand), Ahmedabad-Sanand (Gujarat), Pune-Mumbai-Goa, Chennai Sri Perumbudur. Tea garden Workers were also present which included Chai Bagan Sangram Samiti (CBSS) in Darjeeling Hills-Terai-Dooars and Chah Mukti Sangram Samiti, Assam. Workers of Coal mines from Andhra Pradesh, Telangana, Bengal and Jharkhand also came to represent their voices. Rural workers from across the country, like MNREGA Mazdoor Union and Construction Workers Union from Haryana, were also present. Workers from unorganized sectors were also there in strength, like the Safai Karamcharis from Gujarat and Rajasthan, Rickshaw and Thela Pullers, Jari makers, Bidi Workers Union, Construction Workers Union, Anganwadi Workers and Domestic Workers Union from West Bengal.

"Today, neoliberalism, and especially the present regime backed by fascist forces, is wreaking total havoc on the toilers of the country. We see increased exploitation, repression and criminalisation of workers, intensifying contractualisation and unemployment, falling real wages and standards of living. But in the current context, where war hysteria peaks before the election, the issues of workers and farmers are completely absent from discourse. Hence, there was a need for the rally," a volunteer of MASA said in a report by The New Indian Express.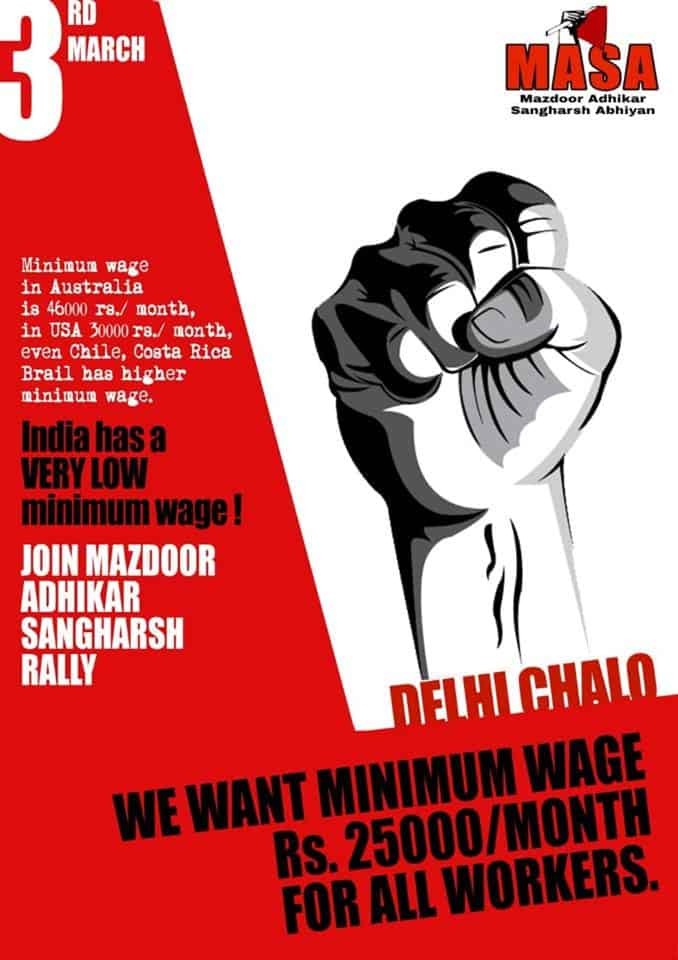 Among other demands, the MASA has demanded the abolition of the contract system, creation of permanent jobs, Rs. 25,000 as minimum wage, halting the privatisation of public sector undertakings, and Rs15,000 pension, the right to unionise, including all social security benefits, for all unorganised workers.

The MASA constitutes organisations like All India Workers Council, Grameen Mazdoor Union (Bihar), Indian Centre of Trade Unions, Indian Federation of Trade Unions, IFTU Sarwahara, Inqlabi Kendra Punjab, Inqlabi Mazdoor Kendra, Jan Sangharsh Manch (Haryana), Shramikshakthi (Karnataka), Socialist Workers Centre (Tamil Nadu), Struggling Workers Co-ordination Committee (West Bengal), Trade Union Centre of India, Workers Solidarity Centre (Gurugram), and Workers Solidary Centre (Uttarakhand).

"A country runs on workers' toil. But the country's working class neither gets respect for their labour nor do they make their ends meet with their wage," the organisers said.

MASA is a joint platform of struggling workers' organisations and trade unions from across the country. Over 13 such bodies, including Indian Center of Trade Unions, All India Workers' Council, Federation of Trade Unions, participated in the "Chalo Delhi" rally.

It is a broad coalition of working-class forces from across the country rooted in labour struggles. They have come together in the last three years to get their 17-point Charter of Demands approved.

Two and a half years back, on 26 August 2016, 14 workers' organisations came together to form MASA in a Convention in Delhi and started with focusing initially on these central issues of a workers' movement – against anti-worker labour law reforms, demanding a minimum wage of Rs. 22,000 (calculations based on the price level on 1st January 2016), abolishing the contract labour system, calling for permanent workers for jobs that are permanent in nature, attending to the demands of unorganized sector workers, and to build an uncompromising struggle against anti-worker neoliberal policies, a report said.