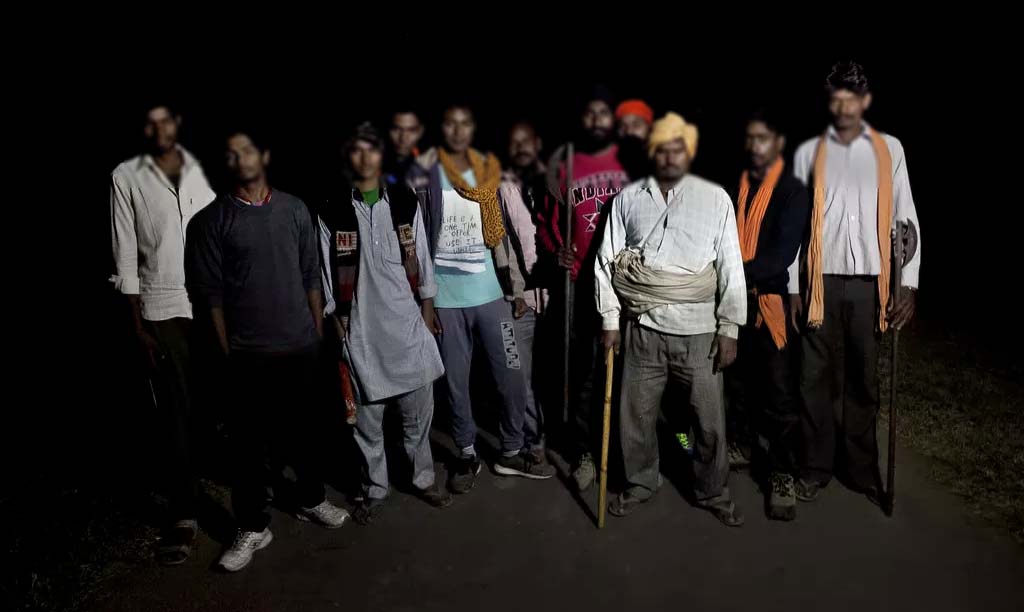 Image: Image: Allison Joyce / Getty Images
Even as the wounds of Junaid-Nasir murder case have not even started to heal, more incidents of targeted killings of Muslim men have been reported from Northern parts of India. The common string in both these reported incidents is that the involvement of cow vigilantes has been alleged. In one case of mob lynching, reported from Rasulpur in Bihar, a Muslim man named Naseem Qureshi has been beaten to death over suspicion of transporting beef. In the video uploaded on social media, a clip of the news broadcasted by media, it is being alleged that the deceased Qureshi was beaten to death by cow vigilantes. The video shows the family members of Naseem carrying the dead body of the deceased from the car to their home.
The video can be viewed here:
Mob lynching in Rasulpur, Bihar.

A Muslim man named Naseem Qureshi from Hasanpura, Siwan was beaten to death over suspicion of transporting beef. pic.twitter.com/w46uvN3XlN

— HindutvaWatch (@HindutvaWatchIn) March 9, 2023
About the incident
Family member of the deceased have provided more information about the incident while speaking with Bihar News Pratidin (BNP). Firoz Ahmed, who was accompanying Naseem and was his nephew, stated that when they entered Jogia village, they saw a mob of 6-7 people, including the Sarpanch of the village. As they came near the mob, they heard the sarpanch asking the mob to beat Naseem as they had suspected him of carrying beef.
Firoz further told that he was able to get off the bike and run before the mob could attack him, but his uncle was not able to do the same and the mob started attacking him. Firoz said that after a while, when he was returning to the spot to check on his uncle, he saw a bigger mob of villagers attacking his uncle. When Naseer saw then, he then started running towards to police station. When Firoz reached the police station and inquired with the police regarding the mob, he was informed by the head of Rasulpur, who was also present at the station, that the mob had been dispersed. The police further said that Naseem was brought here to the police station, and since he was in an okay condition, he was sent home.
The head of Rasulpur then told Firoz to not cause any uproar regarding the event, as it was because of him the Naseem was picked up from the incident spot or he would have been chopped up by the villagers. The head then goes on to threaten Firoz to go away from the station or else he might also be subjected to the same kind of meeting. Firoz said that while he was being threatened, the other officers present at the spot did not say anything. Sensing that he was not even safe at the police station, Firoz left quietly from there. On reaching home, he got to know that his uncle has been sent to the hospital. On reaching the hospital, he was informed that his uncle had been referred to another hospital in Sadar. From the hospital at Sadar, Naseem was referred to another hospital in Patna. On the way to Patna, Naseem passed away.
Through BNP, Firoz demands justice for the death of his uncle Naseem. He urges that this injustice should not be ignored and the authorities should set it right. Firoz stated that while Naseem's postmortem was taking place, the police informed him that they have arrested 3 people in connection to this case, though Firoz says that he does not believe this.
The video can be viewed here:
Family members provide more details about the incident ??

So far, police have arrested 3 men. pic.twitter.com/ZeochO6nP6

— HindutvaWatch (@HindutvaWatchIn) March 9, 2023
In another incident, a video recorded by self-proclaimed "Gau-Rakshaks" can be seen harassing and being violent towards a young Muslim man and accusing him of killing cows. It is being alleged that the goons of the Gau Raksha Dal, in Mathura, Uttar Pradesh brutally thrashed a Muslim man over allegations of cow smuggling. In the video, the Muslim man can be seen with blood around his mouth, and crying, while the mob films him. The video shows that a truck has been stopped in the middle of a highway. The individual broadcasting the video on live then says that they have caught the truck that was carrying a cow. The mob seen breaking the windows of the truck and an Echo car, which was accompanying the truck, and screaming slogans of "Jai Shree Ram, Jai Gau Mata ki". They can also be heard saying "Gae Kaatne walo ke, Haath kaat do saalo ke (those who cut cows, their hands should be cut.)
The video can be viewed here:
Goons of the Gau Raksha Dal, in Mathura, Uttar Pradesh brutally thrashed a Muslim man over allegations of cow smuggling.
pic.twitter.com/pU9eVE6nDc

— Ahmed Khabeer احمد خبیر (@AhmedKhabeer_) March 7, 2023
The power of "cow vigilantes" has grown to the point where they are attacking and killing people, they suspect of trafficking cattle for slaughter. Even as they committed this heinous and punishable crime of violence, the vigilantes posted live videos on social media. Since assuming national power in May 2014, members of the Bharatiya Janata Party (BJP) have increasingly used communal rhetoric, igniting a violent vigilante campaign against beef consumption and those associated with it, which has now reached this level of impunity. The victims in these cases are mostly Muslims or members of the Dalit and Adivasi communities. Worryingly, local authorities also fail to enforce constitutional and international human rights obligations to protect vulnerable minorities, thereby subtly supporting cow protection and the Hindu nationalist political movement.
Related:
Modus Operandi behind Muslim men's murderous killings in Haryana, shocking claims by accused
Monu Manesar not an accused in Junaid Nasir murder
Gau Rakshak Dal issues open threats to Rajasthan Police for investigating Junaid-Nasir murder
Pay Rs 50 lakh compensation each to Junaid and Naseer, two men burnt to death: CPIM to Gehlot govt: Rajasthan
Cow vigilantes brutally murder two Adivasi men in Madhya Pradesh
Gun wielding cow vigilantes walking free in Haryana?
Atrocious! Cow vigilantes brutally attack two Muslim men and a woman for allegedly possessing beef, Madhya Pradesh