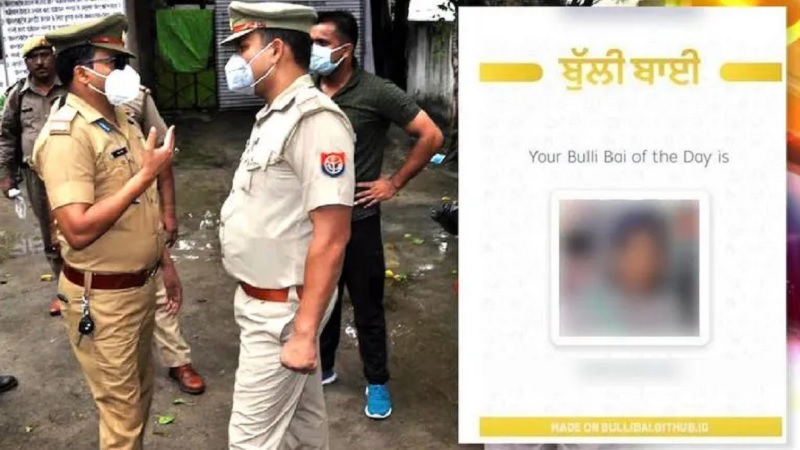 Image Courtesy:republicworld.com
In fresh developments in the large-scale attempt to defame and harass women from the minority community by way of an online auction, three people have been arrested in what is being called the Bulli Bai case. What is more shocking is how right wing affiliated handles tried to pin the blame on Muslims, and later Sikhs, and shared claims that the vile social media app #SulliDeal was developed by someone named Javed Alam. Thereby suggesting that even 'bulli bai', may have a similar 'ownership'.
"It's never too late, share this info everywhere. Don't let I$lamists make Hindus feel ashamed for their own deeds" was one such bizarre claim. This is one of those handles with a high followership that has been constantly trying to work that narrative on social media
That #SulliDeal app was developed by a guy named Javed Alam.

How many of you know that? How many of you shared this info on other social media platforms?

It's never too late, share this info everywhere. Don't let I$lamists make Hindus feel ashamed for their own deeds.

— Mr Sinha (@MrSinha_) January 4, 2022
However, all those attempts fell flat when Mumbai Police arrested three people – Vishal Kumar aka Vishal Jha from Bengaluru, Mayank Rawal and Shweta Singh from Uttarakhand. Vishal, a 21-year-old engineering student was detained on Monday from Bengaluru, and arrested by the Mumbai cyber police on Tuesday in connection with its probe into the two apps that "auctioned" Muslim women. According to news reports, Vishal was running one of the Twitter handles used to upload the content from the app, joint commissioner of police Milind Bharambe (crime) told the media that "several facts were verified and after his role was found involved in the crime, he was arrested. The accused was taken to the Bandra court around 4pm for his custody remand for further investigation." Vishal was remanded in police custody till January 10.
The Mumbai police arrested 18-year-old Shweta Singh, on Tuesday, reportedly as being the prime suspect in the Bulli Bai case investigation. The Mumbai cyber police started a fresh probe into the offensive apps after registering a first information report (FIR) under sections 153A, 153 B, 295A, 354D, 509, 500 of the Indian Penal Code (IPC) along with Section 67 Information Technology Act against unknown persons on Sunday. Her name was "revealed by Vishal Kumar" who was arrested earlier in Bengaluru. He reportedly said that he was in touch with the woman and claimed that she was in touch with the people who were working on the posts and activities on the Bulli Bai app.
According to reports now emerging after Shweta's arrest, many including India Today, and many-right wing handles have amplified how she "lost her father to Covid-19 last year and lost her mother to cancer before this. She has an elder sister who is a commerce graduate, while her younger sister and brother are school students. She was preparing for engineering entrance examinations."
Amar Ujala also reported that the investigations have revealed that Shweta was "in contact with a Nepalese youth" and "only after that did she change the name of her Twitter handle (account)." This in effect puts the spotlight on this "Nepali man" who reportedly told Shweta to use a fake Twitter handle named JattKhalsa07. From her earlierTwitter handle named Infinity07. According to Amar Ujala the Nepali man ran a Twitter handle named Giyou, from Nepal. Mumbai Police is reportedly looking for him too.
A third arrest has been made in the case from Uttarakhand, the accused has been identified as a 21-year-old student, Mayank Rawal, and was arrested by the Mumbai cyber police from Uttarakhand. Police have sought information from GitHub, the platform used to make the app and Twitter, where links to the app were reportedly posted by several accounts.
In July 2021, nearly 80 Muslim women were targeted and put up "for sale" on "Sulli Deals", and this time it is over 100 Muslim women who have been targeted on "Bulli Bai". The app's interface used Punjabi language or the Gurmukhi writing script in the app. Both Bulli and Sulli are derogatory words used for Muslim women. In both cases, there was no real sale of any kind – the purpose is to degrade and humiliate Muslim women by sharing their personal images.
The RSS mouthpiece Organiser, in August 2021, had published a "massive revelation about the mobile app 'Sulli Deals'" claiming that a private conversation suggests the app was developed by one Javed Alam of Uttar Pradesh. An expose account @sullidealsXpose, it reported, "put out a private conversation between Alam and a Muslim woman in which Alam claims to have developed the app." According to the Organiser's report, on the "leaked conversation", Alam, 23, reportedly "created the app and doesn't regret it. He further claims that it will teach a nice lesson to those Muslim women who post their pictures on social media platforms. The RSS mouthpiece claims that according to the media the "Sulli Deals" was "handiwork of some Hindu elements".
However, it was a 'editor' of Opinida who had tweeted an endorsement of the Sulli deals.
This is what editor/anchor or whatever he was for Opinida had tweeted 1st time round. Many ppl who call themselves journalists & are known to me endorsed this moron and/or the vile platform he was part of including you @TheJaggi about time we started calling ppl out pic.twitter.com/h5fnu3CYwy

— Abhinandan Sekhri (@AbhinandanSekhr) January 4, 2022
Support pours in, but ministers are silent
Statements of demanding investigation and punishment for the criminals behind this targetting of Muslim women, including journalists, have poured in since the news broke on January 1. Reporters Without Borders (RSF) called on the Indian authorities to intervene to put a stop to this form of harassment, which is both revolting and potentially dangerous for its targets, and noted how ""Bulli Bai" is now an insult for Muslim women throughout the country, one widely used by online trolls who support the Hindu nationalist right."
Microsoft, GitHub's owner, has taken the app down and India's Electronics & Information Technology minister, Ashwini Vaishnaw, said on January 2 that the police were looking into it. The police in Mumbai announced this morning that an initial arrest had been made.
GitHub confirmed blocking the user this morning itself.
CERT and Police authorities are coordinating further action. https://t.co/6yLIZTO5Ce

— Ashwini Vaishnaw (@AshwiniVaishnaw) January 1, 2022
Priyanka Chaturvedi, a Rajya Sabha MP from the Shiv Sena was one of the first political leaders to respond, and has followed up on the issue.
Have spoken to @CPMumbaiPolice and DCP Crime Rashmi Karandikar ji. They will investigate this. Have also spoken to @DGPMaharashtra for intervention. Hoping those behind such misogynistic and sexist sites are apprehended. https://t.co/Ofo1l9dgIl

— Priyanka Chaturvedi?? (@priyankac19) January 1, 2022
However, there is deafening silence on the issue from Union Cabinet Minister for Women & Child Development and MP from Amethi, Smriti Z Irani, who has been busy sharing posts on Prime Minister Narendra Modi's many visits. Also too busy to comment on this issue is Mukhtar Abbas Naqvi, Union Cabinet Minister of Minority Affairs.
The onus has been on journalists, citizens' rights groups, human rights defenders, and the victims themselves to continue making sure that justice is served in the case.
Must Watch:
"I'm a vocal Indian Muslim woman, not an object to be auctioned", CJP Secretary Teesta Setalvad's exclusive conversation with Noor Mahvish, the young law student who bravely spoke out after she was "listed for auction" in Sulli Deals.
Related
Has inaction prompted another Muslim women's auction on the internet?
Being a Muslim woman in India: A story
I'm a vocal Indian Muslim woman, not an object to be auctioned
CJP approaches Twitter over sexually violent content against Muslim wom