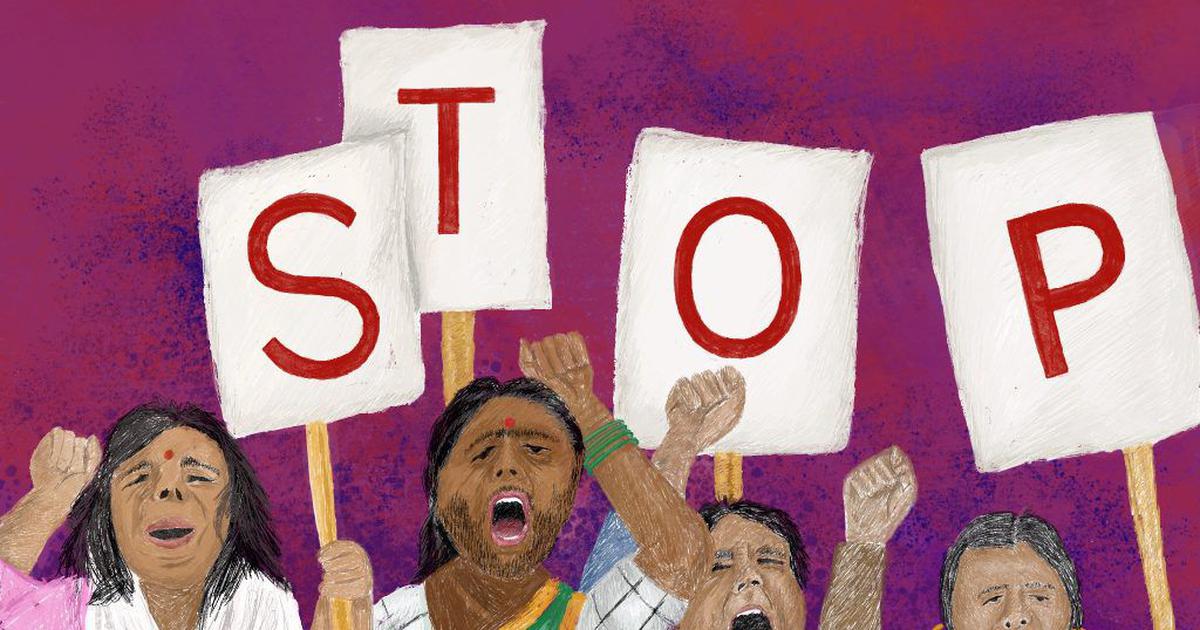 Representative image. | Aasawari Kulkarni/Feminism In India
Uttar Pradesh police arrested three men on February 27, 2021 morning for allegedly sexually assaulting a woman on February 24 night in Pilkhuwa area of Hapur district, around 70 km away from Delhi, reported the Hindustan Times.
The accused Ankit Tomar, Akash Tomar and Aakil, who sustained bullet injuries while trying to escape, took a 30-year-old woman, returning from work Ghaziabad in an auto and overpowered her near the Ganga canal that formed the Ghaziabad-Hapur border. The accused admitted to the crime during interrogations and police officials found three country-made pistols and women's clothing following the encounter.
According to Additional Superintendent of Police (ASP) Sarvesh Mishra, the accused admitted to committing similar crimes a month ago. Accused Ankit was also jailed in 2013 for sexual assault. The men said they targeted working girls and women who returned home late at night. Two of the men sat in the back seat posing as passengers while the third man drove the vehicle.
On Wednesday night, the survivor approached the Masuri police chowki following the incident and from there went to the Masuri police station to lodge her complaint.
"The Masuri police chowki is closer to the spot than the Pilkhuwa police station. The Ghaziabad police shared the information with us in the early hours and we sent the victim for medical examination and registered an FIR against three unidentified men on Thursday morning," said Mishra.
Later, police identified the auto-rickshaw and the accused after receiving inputs from local informers and examining CCTV footage. While the medical examination showed no external marks of injury or resistance, the ASP said gang-rape survivors are many times unable to offer resistance. Similarly, she was unable to raise an alarm during the incident due to road traffic in the area at the time of assault.
According to The Hindu, Masuri police did not inform senior officials immediately and took time informing Hapur police as well.
"There have been reports. We are looking into possible lapses in responding to a serious case," said Rural Superintendent of Police Iraj Raja, adding that the survivor also took time to give a coherent response.
As for possible lapse in security in Ghaziabad, Raja said that once a vehicle crosses city limits, it becomes difficult to track it. The distance between Lal Kuan, where the survivor took the auto, and the spot of crime is around 15 kms.
Related:
Unnao: Dalit girls found tied up in fields; 2 dead, 1 critical
19-year-old woman abducted, gangraped in MP, no arrests yet
Patna school principal sentenced to death for raping 11-year-old girl