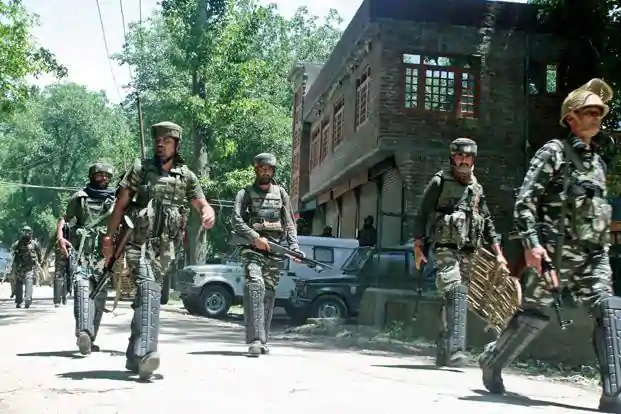 On August 15, the newly appointed Jammu and Kashmir Lt Governor Manoj Sinha, in his Independence Day speech had said, "A new era of normalcy and development has dawned due to the changes effected in the last year; a new journey has been undertaken" in the Union Territory. He had also paid tributes to the Army, J&K police, and Central Paramilitary Forces hailing them as "brave jawans of our military, who offer the ultimate sacrifice to ensure the integrity and freedom of the nation, and ensure that the citizens of the country live a secure and peaceful life." The Governor also remembered the local leaders "Ajay Pandita and Wasim Bari, who laid down their lives to defend the idea of India."
Now, there has been yet another deadly attack on the security forces in Jammu and Kashmir, the third in a week, reports NDTV. This incident is reported from, in the Baramulla area. A joint team of the CRPF and Jammu and Kashmir Police came under attack, and three security personnel – two from Central Reserve Police Force, and one from Jammu and Kashmir Police, were killed in the line of duty. According to the news report the terror attack took place just 50 km away from Srinagar, on August 17.
According to the NDTV report, the joint team of the CRPF and J&K Police were on duty at a check-post at Kreeri, when terrorists fired at them. "We have lost three jawans in the attack. Reinforcement has been rushed to the spot. We are confirming the details," Vijay Kumar, Inspector General of Police is quoted in the news report. Soon after the terror attack, a search operation was launched to track down the attackers. "One terrorist was killed in an encounter this afternoon, police said; two more are believed to be trapped. Sniffer dogs on trail helped security forces track the terrorists," NDTV quoted the officials.
#KreeriEncounterUpdate:01 more #terrorist killed (Total 02). #Operation going on. Further details shall follow. @JmuKmrPolice https://t.co/C5seCmYikt

— Kashmir Zone Police (@KashmirPolice) August 17, 2020
A 24-year-old victim Muzaffar Ali Dar, of today's terrorist attack in Kreeri was a lone bread earner of his impoverished family consisting of 7 sisters including one physically challenged. With his death, his family lost their only hope of survival.
That's what terrorism does.

— Imtiyaz Hussain (@hussain_imtiyaz) August 17, 2020
This is the third attack on the security forces in a week in Jammu and Kashmir. A day before Independence Day, a police team was attacked by terrorists in the Nowgam area, on the outskirts of Srinagar, reported NDTV, two policemen were killed and another was injured. The attack was caught on CCTV, which suggested security lapses that allowed the terrorists to escape stated the news report. On August 12, an army soldier was injured after a Quick Reaction Team (QRT) was attacked at Hygam along Srinagar-Baramulla highway.
According to news reports, a civilian was shot dead by terrorists in Pulwama, on August 17. The man identified as Azaad Ahmad Dar was at his residence in Dadoora-Kangan area of Pulwama district when he was attacked. The 42-year-old Dar succumbed to his injuries, at hospital
Meanwhile, the Lt Gov, had also announced that Elected representatives of local self-governments, who face threat, are being provided with a 25 lakh life insurance cover. It is not yet clear if that policy is also available retrospectively, to the local politicians who have been targeted so far by militants including:
August 10: Abdul Hamid Najar, shot, critically injured

August 6: Sarpanch Sajad Ahmad Khanday, shot dead

August 4: Arif Ahmad, shot, critically injured

July 8: Sheikh Waseem Bari, his father and brother, shot dead

June 8: Sarpanch Ajay Pandita Bharti, shot dead
Related:
What Non-Migrant Kashmiri Pandits are demanding from the Govt
Local politicians continue to be attacked, threatened, killed in J&K
10 reasons why Kashmiri Pandits feel betrayed in the Valley
BJP handpicks Manoj Sinha as new J&K LT Gov