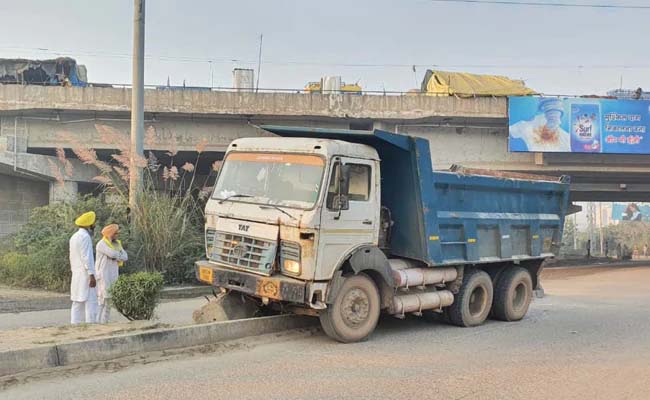 A dumper truck killed three women farmers at the Tikri-Bahadurgarh border on October 28, 2021 morning. The women were staying at the farmer protest site where farmers have been protesting for the repeal of the three contentious farm laws for over 11 months.
On Thursday morning, Amarjeet Kaur, two women both named Gurmel Kaur, Shinder Kaur, and Harmeet Kaur were sitting on the divider along Jhajjar road at 6:30 AM. The first three women died immediately after the truck ran into them. Among the latter two women who survived with injuries, one reported a fractured leg and was referred to the Pandit Bhagwat Dayal Sharma Post Graduate Institute of Medical Sciences (PGIMS), Rohtak.
All these women were between 50 to 55 years of age and hailed from the Khiva Dialuwala village in Mansa district of Punjab.
Farmers at Delhi's borders will soon complete a year of demonstration including installation of four farmer memorials for the over 600 farmers who died while participating in the national struggle. Over the days, farmers' core demands have remained the same – repeal of the Farmers (Empowerment and Protection) Agreement on Price Assurance & Farm Services Act, Farmer's Produce Trade and Commerce (Promotion and Facilitation) Act, Essential Commodities (Amendment) Act. Over time, the legalisation of Minimum Support Price (MSP), dismissal of the Electricity (Amendment) Bill and contentious clauses in the Air Quality Management law were also included in the core demands.
However, even after repeated talks between farmers and government officials, this issue still has not been addressed by the central government. Farmers will soon experience the second onslaught of winter in an area that is not equipped to shelter people. However, farmer leaders say the struggle will continue until their demands are accepted.
Related:
Maharashtra: Farmers Kalash Yatra begins
Lucknow Mahapanchayat postponed to November 22
Ghazipur farmers clear roads, demand police do the same