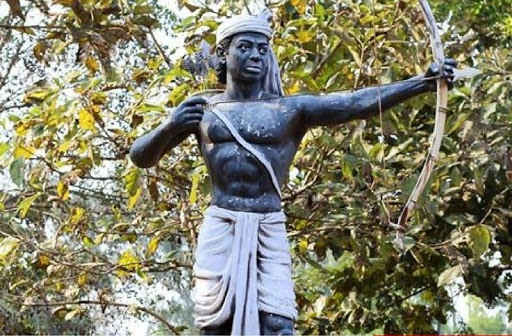 A poisoned arrow shot at British Commissioner Augustus Cleveland on January 13, 1784 marked the beginning of the first freedom struggle of the people of India against British colonists. However, unlike what history textbooks say, this attack was not led by Mangal Pandey but by Santhal leader Tilka Manjhi.
Born as Jabra Pahadia, the Adivasi (indigenous) leader led the Santhal Hul (Santhal revolt) that is considered by historians as the first armed rebellion against the British. Jabra kept the British and other oppressors such as zamindars and moneylenders from exploiting the community, stole loot from the East India Company treasury and prevented British soldiers from entering the local area.
Prior to Cleveland's death, Jabra also resisted the Company's attempts to appease Adivasi complaints. The leader went around circulating "We must be united" messages in the local script on a sal leaf. When he finally succeeded in killing the British officer, soldiers surrounded the Tilapore forest under Jabra's control and after several weeks managed to arrest him. Officials were shaken by the idea that a local person using traditional weapons was able to defeat a British officer.
On capturing Tilka Manjhi, soldiers tied him to the tail of a horse and dragged him all the way to the collector's residence at Bhagalpur, Bihar. There, his body was hung from a banyan tree to ward off any other uprising. Instead, Jabra became a hero in the community.
Once India gained Independence, Santhals erected a statue of the leader who instilled fear in colonisers at the very spot where he was hung. Even the Bhagalpur University was renamed as Tilka Manjhi Bhagalpur University. Incidentally, members of the East India Company gave Pahadia the title of Tilka Manjhi that means "village head with angry red eyes" in Pahadia language. Some British documents also called him a dreaded dacoit or gussel (angry) Manjhi.
Even in 2021, Adivasi communities in Jharkhand commemorated January 13 by garlanding Tilka Manjhi's statue, said Dainik Jagran. The news website said that MLA Mangal Kalindi said a grand statue of Tilka Manjhi would be installed at the Chowk with the same name in the future.
Meanwhile, a video published by the Ministry of Tribal Affairs, Jabra died with a smile on his face, inspiring the words "haansi haansi, chadh gaya faansi" (he died smiling hung from the noose.)
The life and accomplishments of the rebel were also documented in a novel written by Bengali writer Mahashweta Devi. Similarly, Hindi novelist Rakesh Kumar Singh described his struggles in the 'Hool Pahadiya' novel.
Tilka Manjhi's episode ended nearly 70 years before Mangal Pandey was born. Yet, other than British documents, his feats only remain in folk songs of Santhal culture. One such song is as follows:
Tum par kodon ki barsat hui (They rained whipcords on you)
Tumhe ghodon mein bandhkar ghasita gaya (They dragged you by horse)
Fir bhi tumhe maara nahi jaa saka (Still you could not be killed)
Tum Bhagalour mein sareaam (They amidst the Bhagalpur public)
Faansi par latka diye gaye (Hung you on the rope)
Fir bhi darte rahe zamindar aur angrez (Yet the landlords and the British were afraid)
Tumhari tilka aankhon se (Of your angry eyes)
Maar kar bhi tumhe maara nahi jaa saka (You didn't die even after being killed)
Tilka Manjhi
Mangal Pandey nahi (Not Mangal Pandey)
Tum adhunik Bharat ke pehle vidrohi the (You were the first rebel of modern India)
Related:
UP Police allegedly assault Adivasi women
15 years on, memories of the Kalinganagar massacre still haunt
Forest Rights: A daughter awaits her father's return in Sonbhadra's Lilasi
URGENT ALERT: Adivasi Forest Movement leader Sukalo arrested