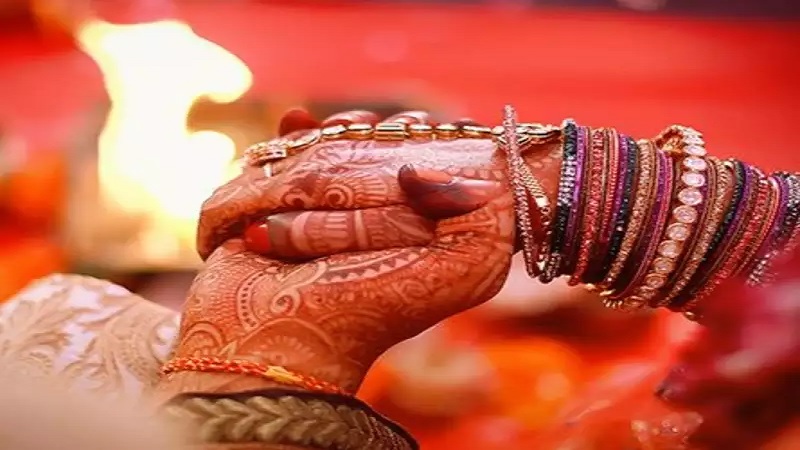 Image Courtesy:timesofindia.indiatimes.com
The Pew Research Center's recent survey on India revealed that most Indians prefer to marry a partner of the same religion as them. The report concluded that 99% of the married people surveyed said their spouse was of the same religion. This included "Hindus (99%), Muslims (98%), Christians (95%), Sikhs and Buddhists (97% each)". However, while Indians didn't really need such a survey to confirm what they have always known, it was interesting to note that "less than 1% of all Indian marriages are with spouses who were raised in a different religion (but may have since converted)." More alarmingly it added that "most Hindus, Muslims, Sikhs and Jains strongly support stopping interreligious marriage" as did some Christians and Muslims.
(table from:pewresearch.org)
On the ground in India, these numbers translate into something even more dangerous: threats, abuse, attacks, ostracisation, and in many cases murder, often by the family members of one or both partners of a mixed marriage.
To the Pew survey's question if Indians felt it was "important" to stop such marriages, an "overwhelming shares of Indians say it is at least "somewhat" important to stop people from entering into interreligious marriages, and most say it is "very" important to stop such marriages," stated the report with "about two-thirds of Indians (65%) say it is very important to stop men from marrying into another religion, while roughly the same share (67%) say stopping interreligious marriage of women is a high priority." This was the refrain from the Hindus, Muslims, Sikhs, Jains and a relatively small number of Christians and Buddhists.
However, in many states in India, especially in Uttar Pradesh where an 'Anti-Conversion law' is in place, and communities feel empowered to treat women as community and step in, often violently if she dares to marry outside her faith, or even caste.
Recently, in Gorakhpur, the home of UP Chief Minister Adityanath, the news of the gruesome murder of a Dalit Panchayat officer who had married a Brahmin woman was reported in the local media, however all but missed in the mainstream news media. Was it because such news is nearly normalised especially when it comes from a state like Uttar Pradesh? However, the victim Anish Kumar Chaudhary, the Dalit man who was murdered on July 24 was an 'empowered' citizen. In fact, as seen in some social media photos show him posing with the CM himself. According to news reports, his family has alleged that the family of Anish's wife Deepti Mishra who were against this marriage are behind the murder.
According to BBC Hindi, 17 people have been accused, out of which four have been arrested by the local police. The couple met as post graduate students and were eventually selected for the post of Gram Panchayat Officers, and a romance blossomed. However, according to Deepti, "As soon as I got to know about this relationship, my family members started harassing me." However she and Anish decided to get married hoping that her family will stop fixing her match elsewhere. They registered their marriage in court in 2019. However Dipti told the media that her family started torturing her mentally. The couple eventually decided to live together and recorded video statements detailing the harassment they faced from, Deepti's Brahmin family including filing false allegations of abduction and even rape against Anish. Deepti dismissed all such allegations and in another video statement confirmed that she married and was living with Anish of her own free will. Anish's family celebrated with a religious ceremony on May 28 this year and hosted a reception too.
Anish's family were reportedly affluent in the Unauli Dubauli village of Gorakhpur, which has a high population of Dalits and Backwards according to BBC. His elder brother Anil Chaudhary was the village head for a decade and was succeeded by his wife. However, none of that mattered to Deepti's family, who only seemed to recognise caste. Anish was hacked to death on July 24 stated in news reports. The local police registered a case under Sections 302, 307, 506 and 120-B of the IPC as well as Section 3(2)(V) of the SC-ST Act. According to a news report the FIR names Deepti's father Nalin Mishra, brother Abhinav Mishra, among others. However, apart from reports in Amar Ujala and BBC the incident seems to have been missed by the so called prime time 'news' debates. The omission is rather telling.
सवर्ण लड़की से शादी करने पर दलित युवा अनीश कनौजिया की गोरखपुर में दिनदहाड़े हत्या। आखिर योगी के राज में दलितों-पिछड़ों का नरसंहार होता रहेगा? कब तक ये जातिवाद वाले आतंकवादी समाज में रहेंगे।#Justice4AneesKanojia

— Prashant Kanojia (@PJkanojia) July 24, 2021
Despite being a Hindu devotee, Yogi's follower and a staunch supporter of the RSS, Anish Kanaujia (SC) remains a lower caste in Hinduism. He was killed by the brahmins after marrying with a brahmin girl in Gorakhpur. #CrushTheCaste pic.twitter.com/oxeutcr03o

— Mission Ambedkar (@MissionAmbedkar) July 26, 2021
In contrast, what did make recent news from Uttar Pradesh was the forcible halting of an interfaith marriage, by Hindutva mobs. The bride, an 18-year-old woman was then "handed" over to her parents, till she makes a statement in court.
The interfaith wedding was stopped, allegedly by members of Karni Sena, who landed up in a local court in Ballia district. The mob alleged that this was a case of "forced conversion" and so called "love jihad" a term the right wing invokes to harass interfaith couples, especially if the man is a Muslim. While the mob allegedly "forced the woman to go to Kotwali police station", it was the local police who "handed" the 18-year-old woman over to her parents.
According to the news report, the Ballia Superintendent of Police, Vipin Tada, told the media that the police had "lodged a case on a complaint from her father that his daughter had been kidnapped. We will present her in a court soon, where she will record her statement. Further action will be taken based on her statement, as the woman is an adult."
He clarified that while "some people alleged that illegal conversion was taking place but nothing of that sort was found." When heckled by the mob, the woman was purportedly heard in a video that she was getting married to Dilshad Siddiqui, 24 willingly, stated a news report. The heckler, a man, who purportedly identifies himself as a Karni Sena worker, was heard asking the woman, "What is your name… What caste are you from? Which caste does the boy belong to? Is he Muslim? Why are you getting married to him?" The woman apparently said that she comes from a Dalit community, is an adult, and is willingly getting married to the man, stated the news report.
Even the Supreme Court has observed that youngsters are choosing their life partners while departing from societal norms of caste and community and perhaps this is the way forward where caste and community tensions will be reduced by such interfaith marriages. However, such reports from the ground seem to show a completely different reality.
Related:
UP: Inter-faith couple found dead in Bareilly
Bill against 'love jihad' to be tabled in Gujarat Assembly
Love Jihad bogey derailed in Mangaluru
Intimacies of marriage private, can't be affected by matters of faith: SC
No central "love jihad" law on the cards: MHA
SC issues notice in CJP's Love Jihad Petition