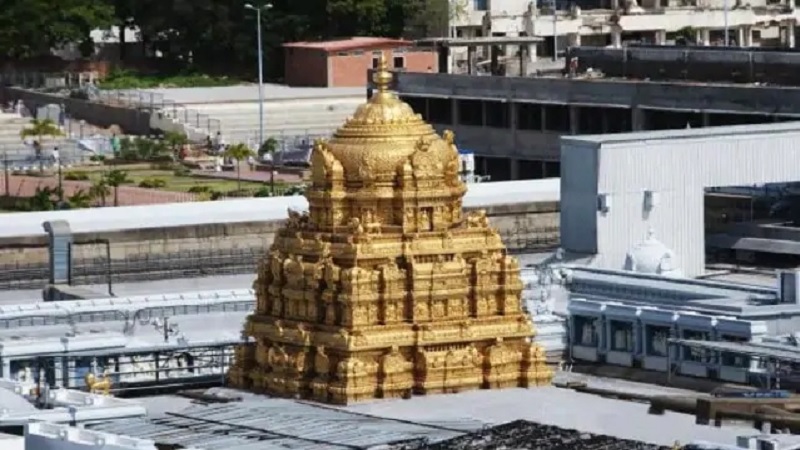 Image Courtesy:firstpost.com
Around 743, staff members, including priests of Tirumala Tirupati Devasthanam (TTD) have tested Covid-19 positive since the temple reopened, reported The New Indian Express (TNIE). Out of this, around 402 staffers are said to have recovered and resumed duties, while the remaining 338 staff are undergoing treatment at various Covid-19 hospitals and quarantine facilities in the city.
The temple reopened in July, and recorded footfalls of around 2.38 lakh devotees who visited from across the country to worship at the temple in that month itself. However, even as at least 743 employees of Tirumala Tirupati Devasthanams tested Covid-19 positive, there was hardly a news media frenzy, and the matter did not make the nightly TV discourse.
Thankfully, the media did not call it a 'hotspot' or blame the visitors and the priest, or even the temple management for this massive spread of the infection. Those infected, including some priests of the Lord Venkateswara shrine, reported TNIE. The temple has had a surge of devotees following the relaxation in coronavirus-induced lockdown in the state.
It is an interesting contrast to the way the media, politicians, police, governments had reaction when news reports of Covid-19 cases emerged after the March 10 event at the Markaz Nizamuddin mosque in Delhi. News portals ran special bulletins, Delhi Chief Minister Arvind Kejriwal also shared special lists of those testing positive after visiting the meeting, a police case was registered and what followed is a part of the city's communal history. That event was held, 14 days before the unplanned nationwide lockdown was announced by Prime Minister Narendra Modi on March 24. Some cases related to the Jamaat event are still sub-judice. However the Communal forces used the Covid-19 hotspot to fuell hate and target minorities across the country.
The Supreme Court, on May 27, had asked the Centre to submit a response in three combined petitions which seek strict action against the media for communalisation of the Tablighi Jamaat meeting in Delhi. CJI Bobde, stated, "Don't let people instigate law and order issues, there are the things that later become law and order issues," while addressing the Centre and seeking a response from it.
The petition filed by Jamiat-ulema-I-Hind stated that the "unfortunate incident of the Tablighi Jamaat was being used to demonise and blame the entire Muslim community", it also pointed towards the dangerously communal terms coined and used by the news media as well as social media such as 'corona jihad', 'corona terrorism', 'islamic Insurrection', 'corona bombs'.
Citizens for Justice and Peace (CJP) had also called out the blatant communalisation of the pandemic. CJP has sent written complaints to news channels like India TV and India Today which had made false claims relating to Tablighi Jamaat and its connection with Covid-19 as well as for sensationalizing and communalising news reportage of the pandemic. At that time, TV news media indulged in creating "anti-Muslim narratives that viewers develop animosity towards their fellow members of society and even people who have lived in harmony, start discriminating against families belonging to Muslim communities."
Interestingly, in July, when the temple town of Tirupati in Andhra Pradesh's Chittoor district was under a complete Covid-19 lockdown, the Tirumala Tirupati Devasthanams had continued to allow pilgrims to go up the Tirumala hills to have see the and pray to Lord Venkateshwara. According to a report in The Hindustan Times, District collector Bharat Gupta said reporters that the "entire temple town of Tirupati had been declared as a containment zone for Covid-19 and a complete lockdown would be in force from Tuesday till August 5."
This, he said, was done "in the wake of the intensity of Covid-19 in Tirupati," where all 50 wards under Tirupati municipal corporation were affected, and some wards reported "more than 40 positive cases for Covid-19." It was also reported that three staffers had died due to Covid-19 also.
The TNIE reported that the TTD Executive Officer Anil Kumar Singhal, has said that, "Only three employees succumbed to the virus and we are giving best possible arrangements and treatment to all our employees in the COVID centres," adding that devotees have "expressed immense satisfaction over the arrangements of darshan, accommodation, Kalyana Katta, laddu, annaprasadam" and other facilities at by TTD. According to Singhal, "cases have not increased in Tirupati alone, but the entire state as well the country is facing a similar problem."
"On August 8, about 8500-odd pilgrims had darshan against the quota of 9000 tickets", he added. Media reports state that in July, it had been suggested that the 'darshan' be discontinued in the interest of public health. However, that month around 2.38 lakh devotees from across the country worshipped at the temple in July. It had reopened to pilgrims on June 8 and initially allowed 6,000 visitors per day, with Covid-19 protocol in place. However the number soon increased.
Most of this information came to light at a media interaction during the `Dial Your TTD EO' program that was widely covered by journalists, and media porters covering South India. According to a report in Hans India, the TTD Executive Officer Anil Kumar Singhal "made it clear that the management will not hesitate to take action on any employee found indulging in other religious propagation or practicing it."
The government of Andhra Pradesh has also recently extended his deputation as TTD executive officer until further orders. This reports Hans India, is his second extension under the current government as executive officer of TTD, the biggest Hindu religious institution administering Tirumala Sri Venkateswara temple. Singhal was appointed as TTD EO in 2017 during the TDP regime and got extension after the completion of the two year deputation period in 2019 after YSRCP came to power.
The TTD had recorded an income of Rs 20.66 crore through Hundi offerings in July, cash offering of Rs 16.69 crore made by visitors and online offering of Rs 3.92 crore.
Related:
Kanwar Yatra cancelled, but will devotees stay home?
Setting an example: Muslim devotee donates sprayer for Tirupati temple
Will the Jagannath Rath Yatra be held this year?
820 ASI monuments including of places of worship set to reopen today
Foreign attendees of Tablighi Jamaat Markaz pay small fine, may go home soon
Don't let people instigate law and order issues: SC on communalisation of Covid-19
Tablighi Jamaat members still under the scanner