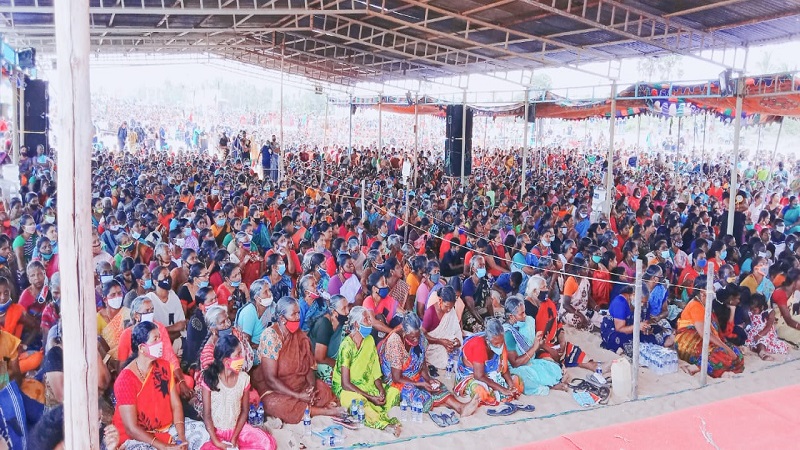 Over 20,000 fisher people and farmers gathered for a huge mahapanchayat at Kanyakumari town of Tamil Nadu on March 27, 2021 to support farmers' struggle and protest the 'Sagarmala' port project.
While expressing solidarity with the four-month long agitation of India's farmers, local peasants also condemned a central government- proposed project that allows the Adani Group to construct a huge port affecting millions of people in the region. To demonstrate their dissent, the 20,000 or so attendees presented a resolution to cancel the port project.
Notably, more than 300 boats associated with the gathering assembled at sea with big black flags hoisted on each mast. That southern regions participated in a "mahapanchayat" that is not traditionally practiced in southern India, shows the extent of the farmers' movement.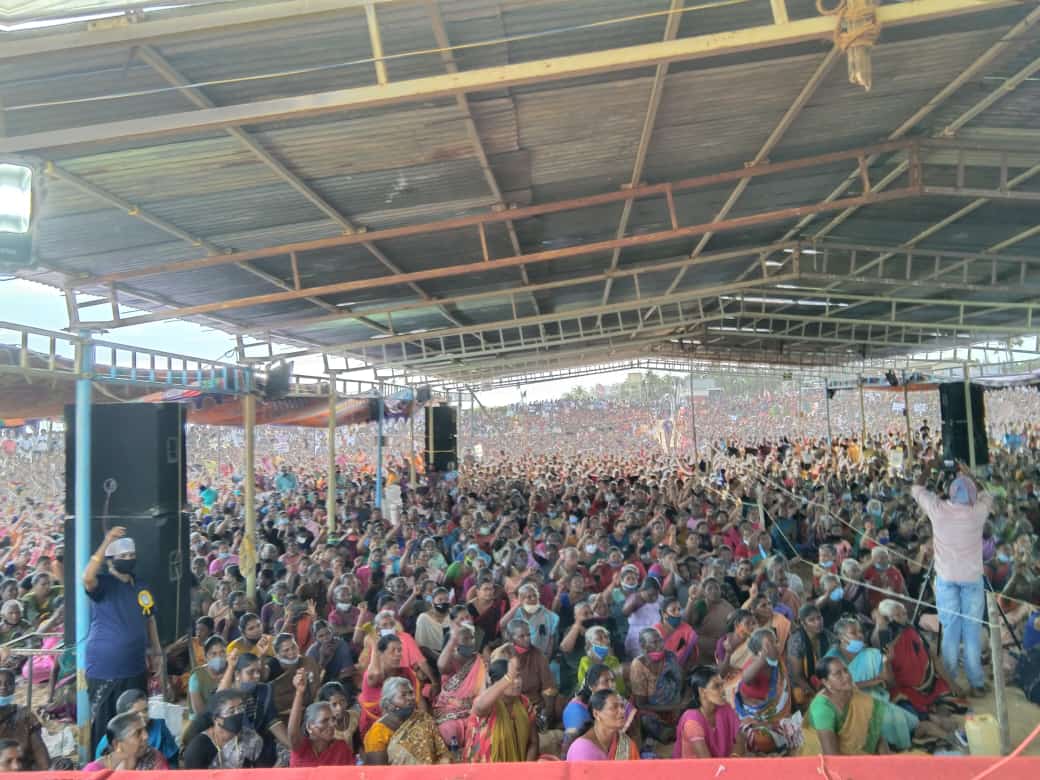 During the mahapanchayat, All India Kisan Sabha (AIKS) President Ashok Dhawale, Kisan Sangharsh Committee (KSC) Convener Kanwalpreet Singh Pannu, National Fishworkers Forum (NFF) General Secretary Olencio Simos addressed the gathering. All speakers lamented the allegedly corrupt quartet of Modi-Shah-Ambani-Adani.
"They are responsible not only for the proposed port, but also for the three agricultural laws, four black labor codes and Electricity Bill," said a speaker and encouraged attendees to "wipe out" the Bharatiya Janata Party (BJP) during the April 6 State Assembly elections and the Kanyakumari Lok Sabha by-elections on the same day.
Related:
Farm laws: SC appointed committee submits report
Protect arrestee's human rights: Lawyers send open letter to UNHRC
Farmers declare FCI Bachao Divas on April 5
SKM thanks citizens for the overwhelming response to Bharat Bandh call!