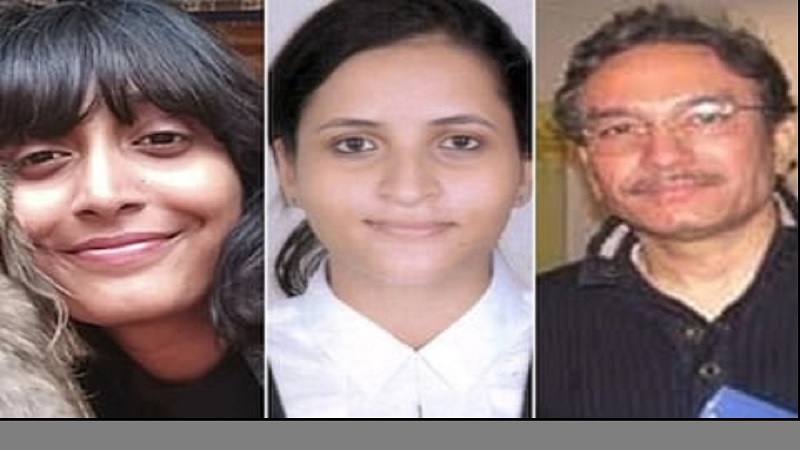 Image Courtesy:thestatesman.com
In the aftermath of Disha Ravi's arrest ordered by a Delhi Magistrate, Dev Suroha who remanded the 21-year-old climate activist to five days of police custody over the toolkit shared by international activist Greta Thunberg related to the farmer's protest on social media, the Delhi Police is on the lookout for two more people.
Non-bailable warrants were issued against Nikita Jacob and Shantanu in connection with the same toolkit on farmer protests matter, as they were allegedly "in direct interaction with pro-Khalistan elements and worked closely with other creators of the document", claimed Delhi Police.
According to an Indian Express report, Police said that Nikita Jacob and Shantanu Muluk, were not found at their residence in Mumbai and Beed, respectively. Both of them work for a UK-based NGO called Extinction Rebellion (XR) and two more people are learnt to be on the police radar pertaining to the toolkit case.
A senior police officer told IE, "We believe Nikita and Shantanu asked Disha to join because she has contact with Greta. Their aim was to highlight the issue globally. The toolkit was supposed to be private but Greta posted it on Twitter. They later asked her to delete it, which she did. Disha then edited the document and it was uploaded again".
Police also reportedly said they are looking into the alleged role of American rights activist Pieter Friedrich in connection with the case. Manisha Chandra, DCP (Special Cell), said, "In the toolkit, there's a section of 'who is to be followed'. There are names of established media houses, reputed fact checkers, some NGOs and among those we found an incongruous name. That is Pieter Friedrich", according to Indian Express.
In a statement to IE, Friedrich said, "It's laughable that the entire world today- from a white Christian writer like me, a Black Barbadian singer like Rihanna is labelled as supporters of a mythical Sikh separatist state. I have co-authored two books with Bhajan Singh, including one on how the origins of Sikhism are entwined with the anti-caste struggle. He is one of many South Asian-origin friends who include Sikhs, Hindus, Muslims, Dalits, and people from all backgrounds. Our friendship centres on a mutual passion for working for equality and liberty for all of humanity. Had I ever seen Bhajan even hint at support for Khalistan, I would have run the other way but he didn't…"
NDTV also reported that the Delhi Police said a Canada-based woman, identified as Puneet, had put Nikita, Shantanu and detained Disha Ravi in touch with Poetic Justice Foundation, an organisation with Khalistani links and they also organised a Zoom meeting on January 11. The Police have also written to Zoom seeking details of participants of the meeting, tweeted PTI.
Toolkit case: Delhi Police writes to video conferencing app Zoom, seeks details of participants who attended Jan 11 meeting, says official

— Press Trust of India (@PTI_News) February 16, 2021
Jacob, Shantanu move court for anticipatory bail
Nikita Jacob, who practices at the Bombay High Court moved the Bombay High Court seeking transit anticipatory bail on February 15. In her petition filed through Advocate Sanjukta Dey, Jacob has said that on February 11 the Delhi Police's Cyber Cell Unit came to her house with a search warrant and seized her personal documents and electronic gadgets which had confidential information protected by attorney- client privilege, as reported by LiveLaw.
The petition also states, "The present applicant has no religious, political and/ or financial motive or agenda for researching, discussing, editing and circulating communication packs/ toolkits for raising awareness let alone to incite violence riots and/or cause other physical harms."
The plea also reportedly adds, "The said accounts have been circulating the same anonymously and has been picked up by fact less/ untrustworthy and unethical news channels who have been violating the applicant's privacy and dissecting her personal information whilst also alleging absolute lies to incite hate and violence against the applicant by claiming that the applicant has ties with political parties like Aam Aadmi Party". The matter is to be heard on February 16 before a Single-judge Bench of Justice PD Naik.
Activist Shantanu Muluk has also moved an application before the Aurangabad Bench of the Bombay High Court apprehending arrest, seeking transit anticipatory bail on the grounds that "the Delhi Police has stationed itself in the town of Beed which is his native town for the past three days and seized several materials without following due process of law", reported Bar & Bench. Justice Vibha Kankanwadi is likely to hear the matter on February 16.
His plea reads, "It is submitted that apparently vendetta has trickled down from politics to the house of a common man making a mockery of the rights and principles enshrined in the constitution of India. That such vendetta which is the dark face of authoritarianism and is the real tool kit for devastation of not only democracy but also basic human rights". The charges against him "would be destructive for his life and his family to carry a false blot of being an anti-national", states the plea, according to Bar & Bench.
Related:
Know your rights: Disha Ravi's arrest & the Delhi police witch-hunt
FIR against unknown 'toolkit' makers, not Greta Thunberg: Delhi Police