In what could be a body blow to Uttar Pradesh Chief Minister Adityanath's political career and even land him behind bars, his former Man Friday Sunil Singh has now come forward to testify against him in a hate speech case. In an exclusive interview to The Caravan, Singh says that he was present when Adityanath made an incendiary speech urging his listeners to avenge the death of a Hindu boy killed in the Gorakhpur inter-community violence of January 2007. Singh will now testify against Adityanath in the case, thwarting the UP CM's efforts to protect himself.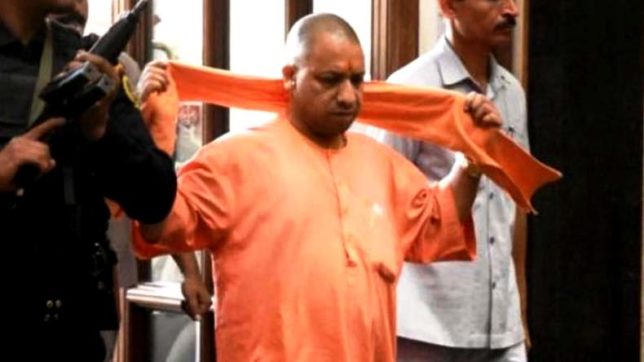 Brief background of the case
On January 27, 2007, Adityanath who was a Member of Parliament from Gorakhpur, flouted a direct order by the District Magistrate and visited the site where a boy named Raj Kumar Agrahari had been killed during violent clashes between members of two communities during Muharram. He addressed the people gathered there and made what can only be described as hate speech as he instigated the crowd to avenge the boy's death.
In Singh's interview to The Caravan he says, "A hotel just in front of the venue of meeting was looted and vandalised even before Adityanath could finish his speech. The hotel was owned by a local Muslim. I am myself an accused in that case. From there, the rioting spread to other parts of Gorakhpur." The very next day, local police arrested Adityanath and a few of his followers including Singh on charges of disturbing peace. "I was also arrested along with Adityanath," Singh told The Caravan adding. "While Adityanath remained in the custody for 11 days, I was released after 66 days." Though he was released, Adityanath's arrest allegedly sparked communal riots in which at least 10 people were killed and several buses, trains, homes and mosques were set on fire.
In 2008 an FIR was filed by Parvez Parwaz and this should have ideally led to criminal prosecution against Adityanath. A magistrate's court in Gorakhpur had in 2008 ordered the initiation of a criminal case against Adityanath and four others. But, in February 2018, the Allahabad High Court accepted the state government's refusal to sanction the prosecution of its chief minister. A decision that perceived by some to be the result of a possible abuse of power by Adityanath. On August 20, based on a plea challenging that decision, the Supreme Court asked the Uttar Pradesh government to explain why Adityanath should not be prosecuted for the alleged hate speech. A bench of Chief Justice of India Dipak Misra, and justices AM Khanwilkar and DY Chandrachud sent notices to the state government, its home department, and the District Magistrate and Superintendent of Police of Gorakhpur.
Why the sudden change of heart
At the time of the alleged hate speech in 2007, Sunil Singh was an Adityanath loyalist and was the State President of the Hindu Yuva Vahini (HYV), an organisation floated by Adityanath. He held the post until he was expelled in early 2017 for fielding electoral candidates from the outfit despite Adityanath's insistence against it. When Adityanath became CM in March 2017, he allegedly began neglecting the HYV to appease the RSS. This caused the HYV cadres to lose confidence in Adityanath and many turned to Singh for leadership. A breakaway faction Hindu Yuva Vahini (Bharat) named Singh their national president and tensions rose between members of both factions. After a skirmish at Rajghat police station in July 31, Singh and a few members of the new faction were arrested. Two weeks later Singh was charged under the draconian National Security Act.
Singh fears he is being persecuted at the behest of Adityanath who knows Singh's testimony can nail him. He told The Caravan, "Earlier, my differences with Adityanath were political. But now I am being subjected to all kinds of torture in the jail. This has changed everything. The differences have now become personal. And this is left me with only option: to tell the truth to the court, if I am given an opportunity."
Adityanath now has only two options; make peace with Singh or watch as his once trusted lieutenant spills his guts before a judge.