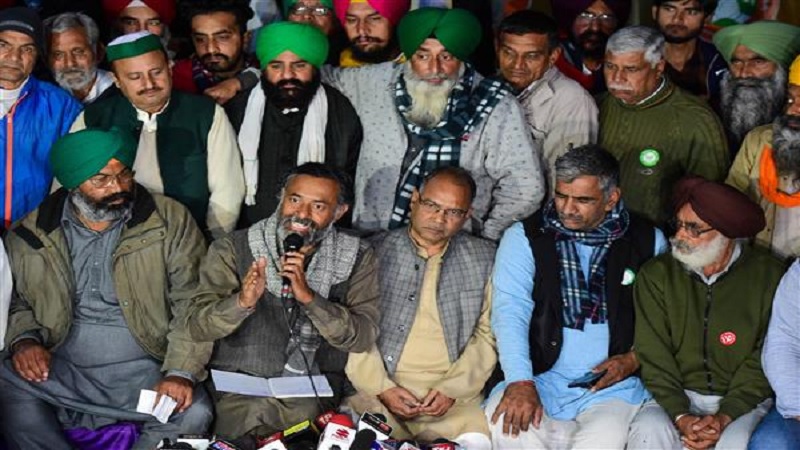 Image Courtesy:tribuneindia.com
Farmer leaders announced during a press conference at Singhu border on January 5, 2021 that the January 6 tractor march along KMP highway would be deferred to January 7 at 11 AM owing to inconvenient weather forecast on Wednesday.
Farmers riding tractors will head towards the highway from the Kundli border and Tikri border. Similarly, people at the Ghazipur border and Rewasan will head towards Palwal.
Farm leader Yogendra Yadav said that the march should be considered a "dress rehearsal" for January 26, a small example of what is to come on Republic Day.
Regarding the attack on protesters marching along the Jaipur-Delhi highway, Gramin Kisan Sangathan, Ganganagar member Ranjit Raju said that protesters were blocked at the Rewari bypass by Haryana police who allegedly threw expired tear gas shells, an explosive banned by the United Nations Organisation.
"I want to tell the central government that we have a lot of patience but do not push us. Everything has a limit. We are Indians and protesting is our right. We are protesting peacefully. Yet, at Rewari farmers have been barricaded on both sides. Even now we cannot deliver wood and langarto the people there," he said.
Similarly, All India Kisan Mahasabha General Secretary Rajaram Singh condemned the government for claiming "surplus food grains" as "the main problem" in the country.
He reminded the government that India ranks below Nepal, Bangladesh and Pakistan on the Global Hunger Index. 56 percent women in India are suffering anaemia while 54 percent children of the country are victims of hunger.
"In such a country, it is shameful that a minister says surplus food is a problem. This also shows that the Cabinet Ministers want to move towards corporate farming. They plan to pass a resolution in the Cabinet to create ethanol using food grains. We want to state that in a country where people suffer from food insecurity, we will not allow such laws to be passed. Modi-government does not care about BPL families," said Singh.
Meanwhile, in Haryana farmers organisations resolved to send at least one person from every house to join the tractor march. State peasant leaders will set out for a 10-day campaign from January 9 – the death anniversary of farmer leader and former Development Minister Sir Chhotu Ram who first passed APMC laws in the country – to inform every district that every house has to send at least one farmer to join the struggle.
Related:
Is Reliance not walking the talk on Contract farming?
Karnataka and Kerala farmers come together to intensify struggle
Are the new farm laws constitutional?
Haryana: Farmer protesters suffer tear gas shellings, survivors claim police used expired shells
Farmers protest faces new enemy in the form of winter rains
Former Minister calls Centre's three agri laws "draconian", demands repeal
Rajasthan julloos at par with Delhi protests! Farmers observe relay fast
Change of Land Use permission granted to Adani raises eyebrows