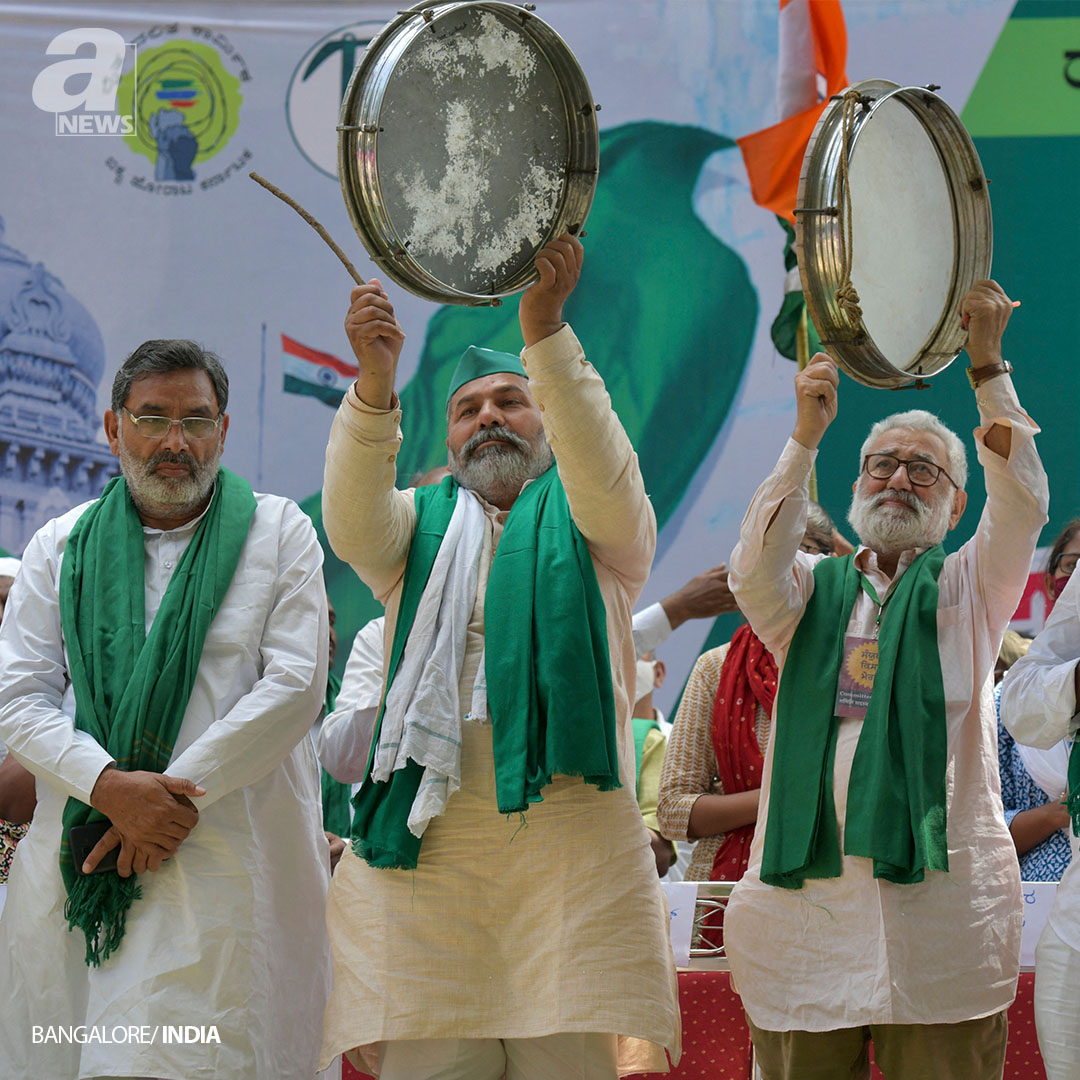 To ensure the success of Bharat Bandh on March 26, 2021, the Samyukt Kisan Morcha (SKM) appealed to all citizens to participate in the programme. This call has been answered by many farmers' workers, women and marginalised groups.
Accordingly, on Friday, all roads, rail transport, markets, shops, malls and institutions will be closed from 6 AM to 6 PM. However, leaders said that states and union territories with upcoming elections as well as essential services will be exempt from the shutdown. These are: West Bengal, Assam, Kerala, Tamil Nadu and Pondicherry.
"We appeal to the people of India to make this Bharat Bandh a success and honour their Annadata," said the SKM in a press release.
Various farmers' organisations have geared up for the event including Karnataka Rajya Raitha Sangha (KRRS) that declared dharnas and bandhs all across the state. The Joint Struggle of Farmers, Daliths and Workers coalition group said members would observe bandhs around capital city Bengaluru.
The main demands of the programme are:
repeal the three agricultural laws namely the Farmers (Empowerment and Protection) Agreement on Price Assurance & Farm Services Act, the Farmer's Produce Trade and Commerce (Promotion and Facilitation) Act, and the Essential Commodities (Amendment) Act

give legal guarantee for Minimum Support Price (MSP) and procurement

cancel all police cases against farmers

withdraw the Electricity (Amendment) Bill 2020

reduce diesel, petrol and gas prices
In support of these demands and to further demand the withdrawal of the four labour codes, a joint platform of ten Central Trade Unions will conclude its three-day protest on Friday. Later, unions will tear up or burn copies of the four labour codes on April 1, 2021 to denounce the arrogant and negative attitude of the central government for not responding to trade unions' demands against privatisation of the public sector.
"Just as December 8 witnessed a huge nationwide Bandh, there will be a huge show of solidarity from trade unions on March 26," said CITU Secretary Sindhu A. R.
For this, Delhi State Committee members will assemble at various parts of Delhi such as: Journal Hospital near Mansarovar Park Metro Station in East Delhi at 9:30 AM; M2K near Azad Pur Bus Terminal in North Delhi at 11 AM; Mongol Puri, B-Block near Kali Mata Temple in West Delhi at 10:30 AM; Mahaveer Enclave in Southwest Delhi at 10:30 AM; Kalka Ji Bus Depot in South Delhi at 9 AM.
Similarly, Pragatisheel Mahila Sangathan (PMS) General Secretary Poonam Kaushik said members all across India will support farmers wherever dharnas take place. Recently, PMS members distributed pamphlets in various parts of Delhi to spread word about the Bandh and encourage shopkeepers to close shops and express their solidarity with farmers.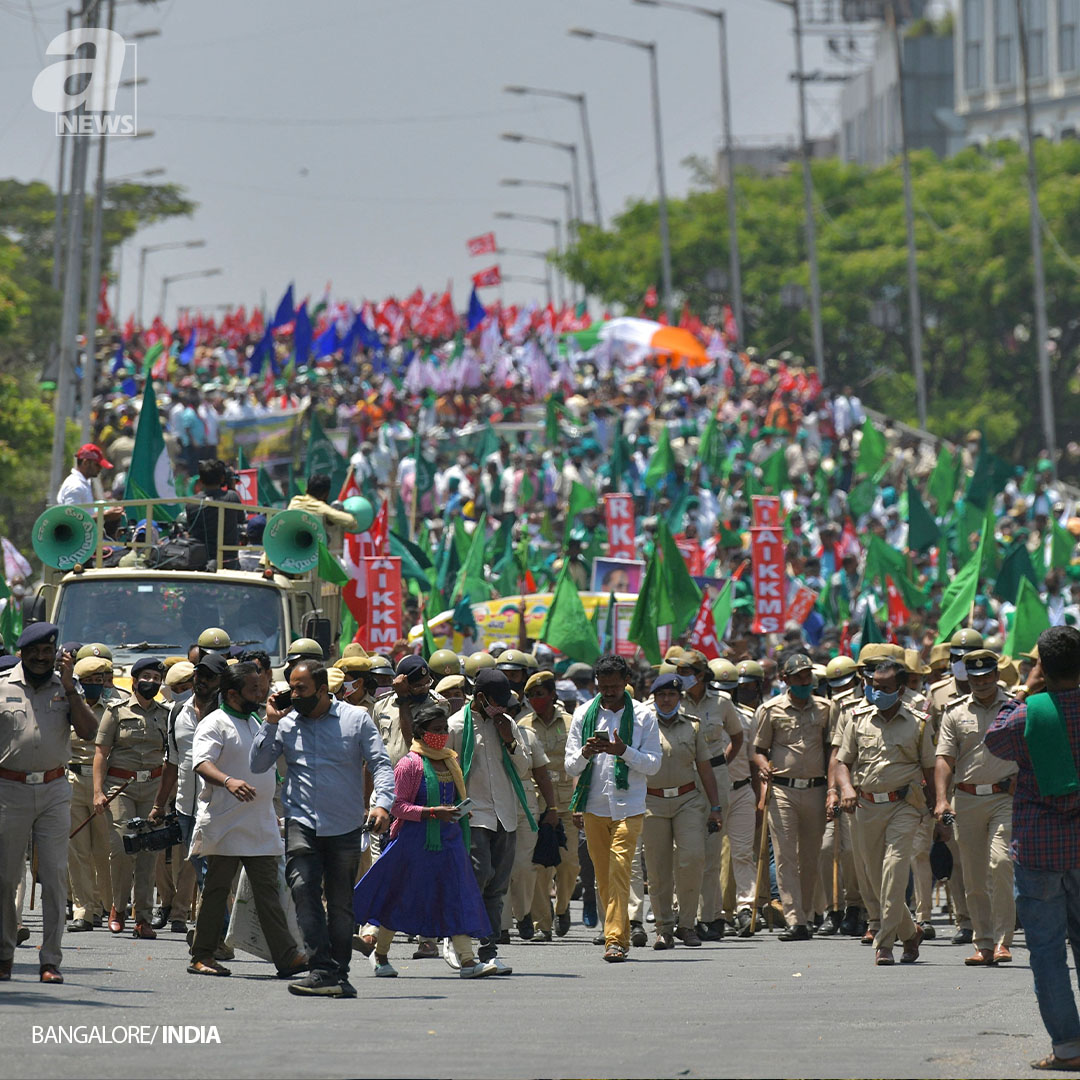 All India Democratic Women's Association (AIDWA) Maharashtra Secretary Prachi said members received a similar call to join farmers wherever they can. Moreover, Janwadi Mahila Sanghatana Adivasi group also promised to demonstrate on the day.
Various student unions and youth leaders like members of the Students' Federation of India (SFI) already promised to join the event earlier on Shaheed Diwas. Despite the widespread response, some state farmers such as those from Gujarat said that the Bandh will be lukewarm or focused in Saurashtra owing to rising Covid-19 cases.
"Protesters are advised to not get involved in any kind of illegitimate debate and conflict. It is a result of the patience of the farmers that the movement has gone so long that we are constantly getting successes," said SKM leader Darshan Pal in a press release.

Related:
SKM finalises Bharat Bandh on March 26; progessive associations to join
Framers lost Rs. 18 crore on Moong sales: MSP Loot Calculator
Martyrdom Day brings together Jawaans and Kisans
Varanasi: Kisan-Mazdoor Mahapanchayat in PM's constituency!
Farmers may lose nearly Rs. 5,000 crore this season: MSP Loot Calculator
Farmers condemn parliamentary committee's recommendation to implement ECAA 2020
Mitti satyagraha begins on the same day as the historic salt satyagraha!
Punish anti-farmer BJP and its allies in upcoming elections: SKM