Two separate acts of violence against Muslims have come to light from the national capital and one from UP's Meerut. Both incidents reveal the brutality with which minorities are treated in India and as authorities continue to deny "communal angles", concerns continue to rise about the efficiency of existing law and order resources to tackle these rising issues.
Sundar Nagri, Delhi 
Early Tuesday morning on the streets of Delhi's Sundar Nagri, a 26-year-old mentally disabled Muslim man named Isar Mohammad was brutally lynched to death. He was allegedly accused of theft by a group of people who accosted him near block G4 of Sundar Nagri at approximately 5 am in the morning, accordingly to police reports. What followed was a savage and merciless attack, during which they bound him to an electric pole and subjected him to a vicious beating, using sticks and hands both.
"Is this how anybody should be punished? Locals claimed he was found stealing a banana. How can anybody tie a person to a pole and beat them to death?" Isar Mohammad's sister spoke to The Hindu saying she found out of about his death from videos being circulated online.
Isar was discovered by a boy in the afternoon, who transported the grievously injured Isar back to his home in a rickshaw However, none of this saved him for Isar succumbed to his injuries at around 7 pm later the same day.
Abdul Wajid, Isar's father, has stated to The Hindu, narrating what happened after Isar was found and brought home later in the afternoon, "Isar wasn't able to speak. He told me some men caught him and accused him of stealing at a Ganapati stall. He told me the boys tied him to an electric pole, and thrashed him with sticks, and left him injured at the spot."
The brutality of the incident was captured in a video that has since gone viral on social media platforms. In the video one can see Isar Mohammad tied to a poll the mob continues their relentless assault. Isar can be seen crying vehemently but despite his pleas the attackers don't stop their assaults.
Isar's father has subsequently filed a formal complaint with the Delhi Police, of murder and according to reports, the authorities have registered a case under sections 302 (murder) and 34 (act involving two or more persons) of the IPC. Several people have been taken into custody for questioning in connection with the incident.
According to the post mortem conducted at Guru Teg BahadurHospital, Isar's dead body was covered with blunt force injuries all over his body, including his back, arms, and legs. The cause of death was determined to be shock and haemorrhage.
The Deputy Commissioner of Police (North East Delhi), Joy Tirkey, has stated to The Print that there is no "communal angle" here. Instead, the official reports seem to allege that the attack was driven by suspicions of theft.
#WATCH | Delhi: DCP Northeast Joy N Tirkey says, "We got a call around 10:45 pm yesterday from a man that his son was killed. We reached the spot and saw that the body of the 26-year-old Isar was kept outside their home. We got to know that he was beaten up by a few people in the… pic.twitter.com/uZLiBLRMjX

— ANI (@ANI) September 27, 2023
A total of six individuals have been apprehended in connection with the lynching, and their names are Kamal, Manoj, Yunus, Kishan, Pappu, Lucky. Additionally, a minor, aged 17, has also been taken into custody, according to a report by The Print.
I met the family of Mohammad Isaar, 26, who was lynched by a mob today morning after he ate Prasad at a temple in Sunder Nagri New Delhi. He was a lone brother of four sisters. His poor family lives in a one room house.

Photo: @meerfaisal01 pic.twitter.com/kpUrq29O64

— Meer Faisal (@meerfaisal01) September 27, 2023
The National Platform for the Rights of the Disabled has condemned the incident according to a report in NewsClick. The statement notes that similar such incidents have occurred throughout the year, and this is the third incident of a disabled man being targeted for his religious identity. Earlier this year, similarly one man, Mohamamed Faiyaz, who was mentally challenged was beaten to death in Samastipur, Bihar in February, and also refers to the case of a disabled truck driver Zahiruddin who was lynched by cow vigilantes earlier this year.
Meerut, Uttar Pradesh
A 22-year-old man, identified as Mohd Sahil, was reportedly assaulted by a group of boys when he visited his sister's college to deposit her college fees. The incident was captured on video and has since gone viral on social media platforms.
According to local law enforcement, the incident occurred on Monday as Mohd Sahil was standing in a queue at the college's fee counter. Reports allege that is when a group of youths allegedly began hurling communal slurs at Sahil and took issue with his choice to wear a skull cap. Although similarly, police officials have denied a communal angle, reports continue to attest otherwise.
Mohd Imran, Sahil's brother, who filed a police complaint has asserted that the assailants demanded Sahil to remove his skull cap before the situation escalated into physical violence. He recounted, "Sahil was accompanied by our sister, who is pursuing a B.Sc. degree at the college. Some youths began passing communal slurs and they objected to his skull cap and demanded it be removed. Then they started slapping him. It was only after our sister screamed for help that they fled."
In the video footage that has come out a group of college students can be seen surrounding Sahil, with one of them even picking up a brick, seemingly in a threatening manner. There are also claims of religious slurs being used.
Similar to the Delhi incident, the police narrative seems to be different, as according to a note released on Meerut Police' X account, it is stated that the victim was allegedly recording videos of girls.
— MEERUT POLICE (@meerutpolice) September 28, 2023
The victim's police complaint has detailed the harrowing experience, stating that he was subjected to physical assault, slaps, and death threats by the assailants. Sahil has stated, "I went to NAS college to deposit my younger sister's fee when some youth started abusing me. They also threatened to kill me."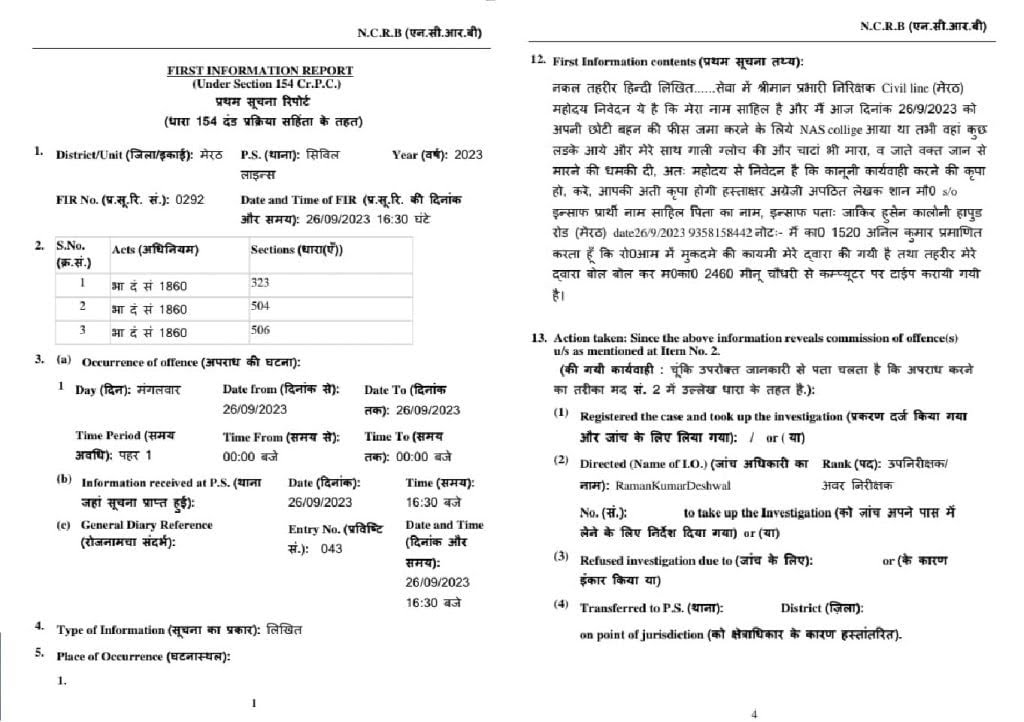 According to Times of India, the accused have been booked as "unknown" under IPC sections 323 (voluntarily causing hurt), 504 (provocation with an intention to breach peace) and 506 (criminal intimidation).
UP: A Muslim youth beaten & threatened for going to NAS degree college, civil lines, Meerut for not taking off his skull cap!

He alleged religious abuses were made which CCTV would confirm & Police removed religious abuse & threats to remove skull cap while registering the case! https://t.co/lQM10SNBpV pic.twitter.com/Dd8yuQvWha

— Muslim Spaces (@MuslimSpaces) September 28, 2023
However, the family members allege that they were asked to write their complaint application thrice, and only their fourth attempt was accepted. The father has also stated, according to the above video, "Police ki karyawahi dekhi, toh Jo humne likha hai woh aaya hi nahi hai." (Looking at the steps police as taken, what we have written as complain does not reflect in the actions)
Related:
Taking the Law into Ones Hand: Unravelling the Disturbing Trend of Vigilantism in India
Horrifying instances of rape in MP and Mahrashtra, accused booked under POCSO
The blatant anti-Muslim bias displayed in the Indian parliament is a shame for the country
Taking the Law into Ones Hand: Unravelling the Disturbing Trend of Vigilantism in India