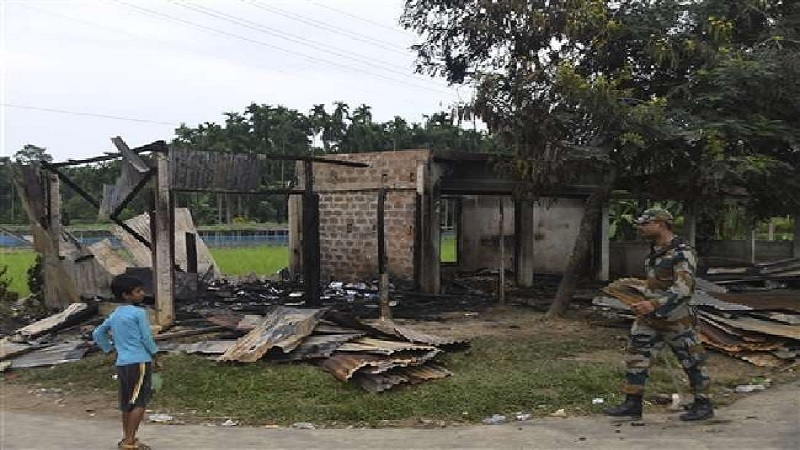 Image Courtesy:mpbreakingnews.in
News from Tripura continues to report incidents that have the potential to lead to "breach of peace". Section 144 has been imposed in Laxmipur and Kailashahar, after a group of unidentified miscreants allegedly vandalised a Kali temple in Kailashahar's Kubjhar area under Laxmipur Gram Panchayat on Friday. According to EtvBharat this alleged vandalism sparked off tensions in the area and members of Hindu Jagaran Mancha and Hindu Yuva Bahini met the office of sub-divisional police officer (SDPO) Kailashahar Chandan Saha "demanding the immediate removal of officer-in-charge (OC) Partha Munda, who allegedly failed to ensure proper security to the temple."
ABVP leader allegedly attacked in Kailashahar
In a separate incident, an ABVP leader was allegedly attacked in Kailashahar on the same day, reported EtvBharat. On the other hand, ABVP leader Shibaji Sengupta was injured, allegedly by a group of student leaders affiliated with Trinamool Chhatra Parishad and NSUI reported EtvBharat.
Shibaji Sengupta said that he had gone to check out information that some "student leaders of opposition parties were threatening the students of RKI school, Kailashahar" and there he reportedly "got involved in a heated altercation that later took a turn of physical assault and fistfights." It was then that he was allegedly stabbed from behind, and could not see his attacker. He was referred to GBP hospital Agartala. District Magistrate Unakoti District Uttam Kumar Chakma told the media that the accused have been arrested and section 144 imposed in the area.
Citizens for Justice and Peace writes to National Commission for Minorities
As anti-Muslim violence flares in Tripura, Citizens for Justice and Peace (CJP) has written to the National Commission for Minorities (NCM) over the targeted attacks. Over the last few days, mosques have been allegedly vandalised by right-wing groups. Further, shops and houses owned by Muslims have also not been spared by these mobs who are allegedly carrying out attacks as a retaliation to the attacks on Hindus in Bangladesh.
During the Durga Puja festival in Bangladesh, incidents of vandalism were reported from Hindu temples which led to aggravated violence that left three people dead and dozens injured. The Bangladesh government was forced to deploy paramilitary forces in 22 districts. After this news surfaced, Tripura has been seeing "outbreaks of retaliatory targeted violence" where Muslims are being targeted and certain homegrown extremist groups are taking the law into their own hands. Muslim families have been living in fear and distress over the past few days. Over 15 mosques have been reportedly vandalised and shops owned by Muslims have been ransacked by goons.
Tripura High Court takes suo motu cognisance
The Tripura High Court has taken suo motu cognisance of the various reports of anti-minority violence in the state, and has asked the government to file its response by November 10. The court took note of the violence reported in various newspapers on October 26 in the districts of North Tripura, Unakoti as well as Sipahijala. The order read, "We direct the respondents [government] to file further affidavits before this Court on or before 10th November, 2021 specifically dealing with preventive measures they had taken or what is their plan of scuttling the design of stoking communal passion or to perpetrate in the violence."
Related:
Anti Muslim violence in Tripura, HC takes suo motu cognisance
Delhi: Students, activists detained for protesting Tripura violence
Panisagar mosque safe and secure: Tripura Police
Tripura: Right-wing mobs vandalise mosques in response to the attack on