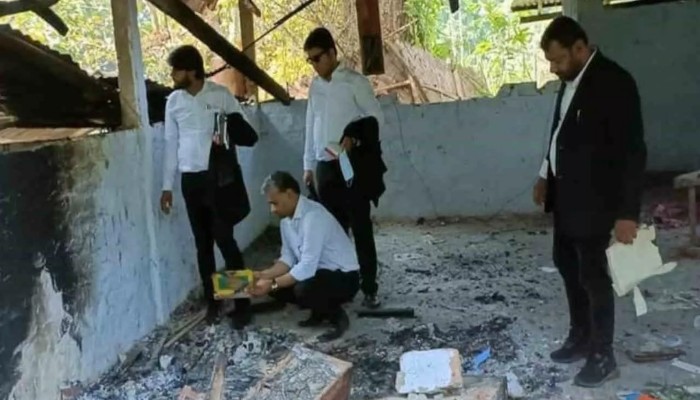 Soon after a fact finding report on the Tripura violence was released by Lawyers For Democracy, a coalition of law practitioners, the Tripura Police booked a Delhi-based lawyer from the group, under Unlawful Activities (Prevention) Act (UAPA) for allegedly sharing fake information, on social media.
The group of lawyers had, after their visit to the violence hit areas of Tripura, investigated and released their fact finding report. The lawyers, belonging to different organisations, were led by Ehtesham Hashmi, Advocate Supreme Court of India, and travlled to meet survivors of the Anti-muslim violence in Tripura. The report was released simultaneously in Agartala and in New Delhi on November 1.
On Wednesday, November 3, Tripura Police sent notices under the stringent anti-terror Unlawful Activities (Prevention) Act to two of the lawyers who were part of a fact-finding team that visited the northeastern state to investigate the communal violence that broke out in the state in October. The notice accuses them of allegedly "promoting enmity among two religious groups as well as provoking the people of different religious communities to cause a breach of police," as per news reports. Tripura Police have charged the lawyers under Indian Penal Code Sections 153-A and B (promoting enmity between different groups on grounds of religion, race, place of birth, residence, language, etc), 469 (forgery for purpose of harming information), 503 (criminal intimidation), 504 (intentional insult with intent to provoke the breach of peace) and 120B (punishment for criminal conspiracy).
According to Advocate Ehtesham Hashmi, who led the group and co-authored the report with colleague Amit Srivastav, the fact-finding group or the lawyers named are yet to receive an FIR. The police asked advocate Mukesh to remove the alleged posts on social media. "I don't see anything anti-national and unconstitutional in the posts I have shared. I don't know which post is offensive according to the police," he told SabrangIndia.
He called the Tripura Police's reported response "unfortunate" and said the fact finding group of lawyers "were just trying to discharge our duty as an honest citizen of India". When asked if the group stood by their fact finding report, Hashmi said, "Yes report is 100% fair. Tripura police suppressing the voice of dissent. We conducted the fact finding just to unearth the truth," adding that the group will meet soon and decide the next course of action. He further said, "We have full faith in our Constitution. We were promoting communal harmony," adding that they spoke to both Hindu and Muslim residents of the vionece hot areas who have coexisted peacefully for years.
However, according to news reports, the advocates have been to appear for questioning by November 10, and the Tripura police in their notice to him has reportedly stated, "During the investigation, your involvement has been found in connection with the case. As such, there are reasonable grounds to ascertain the facts and circumstances relating to the case." News reports from the region say that Tripura police has already "booked 71 people and filed five criminal cases over alleged fake and provocative posts on social media in connection with the communal violence in the state."
Related:
Fear and trauma still haunts survivors of anti-Muslim violence in Tripura: Lawyer for Democracy
Tripura: ABVP leader attacked, Section 144 imposed in 2 subdivisions
Anti Muslim violence in Tripura, HC takes suo motu cognisance
Delhi: Students, activists detained for protesting Tripura violence
Panisagar mosque safe and secure: Tripura Police
Tripura: Right-wing mobs vandalise mosques in response to the attack on Hindus in Bangladesh