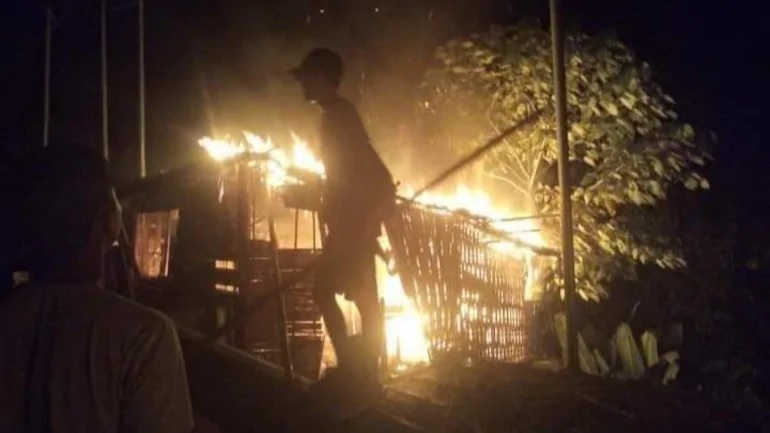 Last weekend clashes broke out once again along the Assam-Mizoram border. This time residents of Lailapur village in Assam's Cachar district allegedly clashed with residents of Vairengte in Mizoram's Kolasib district, burning down huts and small shops in the area. The outbreak of fresh violence on Saturday where people allegedly hurled stones at police personnel at a border check-point also brought interstate transport to a grinding halt. Four people were said to be injured in the clashes.
Explaining how clashes broke out on October 17, Kolasib Deputy Commissioner H Lalthangliana told the Indian Express, "According to an agreement between governments of Assam and Mizoram some years ago, status quo should be maintained in no man's land in the border area. However, people from Lailapur broke the status quo and allegedly constructed some temporary huts. People from Mizoram side went and set fire to them." It is noteworthy that the area technically falls under the jurisdiction of Cachar district.
This is the second such clash this month. On October 9, similar clashes had broken out along the border between Assam's Karimganj district and Mizoram's Mamit district when a hut and betel nut plantation belonging to two Mizoram farmers were set on fire. Though the area has been cultivated historically by Mizoram farmers, the spot falls in the territory of the Singla Forest Reserve that falls under the jurisdiction of Karimganj district of Assam.
The violent clashes on October 17 led to a telephonic conversation between Chief Minister Sarbananda Sonowal of Assam and Chief Minister Zoramthanga of Mizoram. Administration officials in both states then went into a huddle and emergency meetings were held on both Sunday and Monday.
Currently in an emergent Cabinet Meeting to discuss the recent #borderconflict between #Mizoram and #Assam.

I sincerely request everyone to maintain peace and to kindly not bypass any administrative proceedings.@AmitShah @narendramodi @sarbanandsonwal @himantabiswa pic.twitter.com/JlDPT4hcDy

— Zoramthanga (@ZoramthangaCM) October 18, 2020
Talked to Mizoram CM Shri @ZoramthangaCM over phone about the incident at Assam-Mizoram border.
We agreed to maintain the law & order situation of the area so that peace returns immediately. We resolve to work together for maintaining brotherhood between both the states.

— Sarbananda Sonowal (@sarbanandsonwal) October 18, 2020
The problem stems from an unresolved border-dispute between the states. In colonial times, Mizoram was a district of Assam and was called Lushai Hills. In 1875 a notification was issued that differentiated Lushai Hills from the Cachar plains. Today, three districts of Mizoram — Kolasib, Aizawl and Mamit — share a border with southern Assam's Cachar, Hailakandi and Karimganj districts. It is alleged that in many places the border is not properly demarcated leaving it porous, thus leading to encroachment.
Several students' organisations such as Mizo Zirlai Pawl (MZP) and Mizo Students' Union (MSU), have also been actively involved in the region and are monitoring the border dispute. Some of them allege that the violence was sparked by illegal 'Bangladeshis' who have encroached parts of the border area. B Vanlaltana, president of MZP told Indian Express, "Illegal Bangladeshis are creating all this trouble. They come and destroy our huts, cut our plants and this time pelted stones on our policemen."
On Monday, the Home Department of the state of Mizoram along with the Central Young Mizo Association, Mizo Zirlai Pawl and Mizo Student Union issued a joint press release assuring safety of inter-state transporters and vehicle drivers.
Following are the joint Press Release issued by Home Department along with the Central Young Mizo Association, Mizo Zirlai Pawl and Mizo Student Union about the safety of everyone entering #Mizoram @PMOIndia @HMOIndia @narendramodi @AmitShah @DrJitendraSingh @sarbanandsonwal pic.twitter.com/k68eSWGLom

— Zoramthanga (@ZoramthangaCM) October 19, 2020
Now, Union Home Minister Amit Shah has also started talks with representatives of both states.
Following are the joint Press Release issued by Home Department along with the Central Young Mizo Association, Mizo Zirlai Pawl and Mizo Student Union about the safety of everyone entering #Mizoram @PMOIndia @HMOIndia @narendramodi @AmitShah @DrJitendraSingh @sarbanandsonwal pic.twitter.com/k68eSWGLom

— Zoramthanga (@ZoramthangaCM) October 19, 2020
More news from the North East:
Turmoil in the North East: The Naga Pact and its ramifications
Turmoil in the North East: The demand for Bangalistan
Turmoil in the North East: A Bru Story
Turmoil in the North East: Ethnic divide widens in Meghalaya