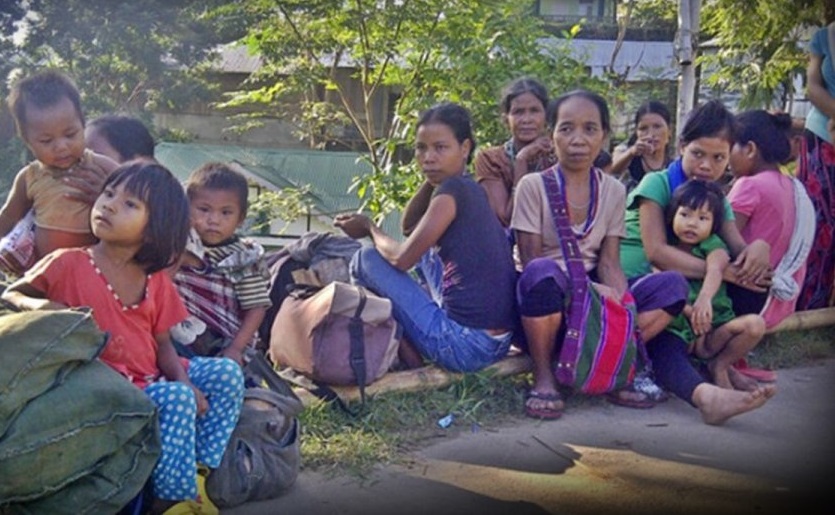 After 22 years of being ousted from their homes and being forced to live in refugee camps, the Bru community has finally found a permanent home in Tripura as per a new agreement signed in New Delhi on Thursday. The Bru tribe had been displaced from their traditional home in Mizoram in wake of an ethnic conflict in 1997. Since then 32,000 Bru people have been living as refugees in Tripura and even parts of Assam.
Several attempts have been made to repatriate them, but most have resulted in failure. The most recent attempt was made last year and ended in tragedy when after the deadline for repatriation talks ended, the government stopped the flow of food and other supplies to six refugee camps forcing the Brus to evict or starve!
Six peopledied before Kirit Pradyot Deb Barman, scion of the erstwhile Manikya royal family of Tripura, intervened demanding Brus be granted the right to live and settle in Tripura.
Now, the center has finally reached a solution to the long-standing crisis. On Thursday, a quadripartite agreement was signed in the presence of Tripura Chief Minister Biplab Kumar Deb, Mizoram Chief Minister Pu Zoramthanga and leaders of Mizoram Bru Displaced Peoples Forum (MBDPF), the largest forum of Bru migrants. A Rs 600 crore package was announced for the resettlement of Brus. The terms of the previous resettlement agreement in Mizoram have now been tweaked for the purpose of resettlement in Tripura as follows:
· Rs 1.5 lakh housing assistance to the migrants into three instalments
· Rs 4 lakh one-time cash assistance for sustenance to be handed over after 3 years
· Rs 5,000 monthly cash assistance
· Free ration for two years to migrants who wish to be permanently settled in Tripura
Pradyot Deb Barman, who is also the Chairman of The Indigenous progressive regional alliance – T.I.P.R.A has welcomed the new agreement tweeting, "It's a start and a wonderful one at that! Our Bru people have been given the rehabilitation inside Tripura! United we stand."
"According to the agreement, those willing to go back to Mizoram can go and the rest can stay in Tripura. They have to stay in either of the states. He said a large quantum of land would be required to rehabilitate these 34,000 people and it would take at least six months," Tripura Chief Minister Biplab Kumar Deb told NDTV.
Brief history of Brus
Brus who are also called Reangs are an agrarian tribe practicing Jhum cultivation. In the late 90s there emerged a movement to create an autonomous Bru territory carved from western Mizoram, parts of Triura and even Bangladesh. In September 1997 the movement gained momentum and on October 21, 1997, a forest guard was killed in the Dampa Tiger Reserve allegedly by members of the Bru National Liberation Front. This led to clashed with the Mizos, and eventually 37,000 Brus were forced to flee Mamit, Kolasib and Lunglei districts of Mizoram.
While 5,000 people returned over 9 phases of repatriation since then, but around 32,000 continued to live in six refugee camps in Tripura. In these refugee camps they were given 600 grams of rice for each adult and 300 grams for each minor every day, along with a daily allowance of Rs 5 and Rs 2.5 respectively. They were forced to live in makeshift bamboo huts without proper power or water supply.
When the last repatriation agreement was launched in 2018 there were fears of persecution at the hands of Mizos upon their return leading most Brus to reject the deal. But when the deadline for the repatriation talks ended on November 30, 2019, relief supplies to the refugee camps were stopped. Six people including four infants died allegedly due to starvation. This led to Brus blockading the streets categorically stating that they will not entertain any talks of repatraition while they were being forced to starve!
That's when Pradyot Deb Barman made an appeal that Brus be permitted to stay in Tripura. Various Bru refugee groups came together to lobby for the best solution for the decades old crisis and now it appears that the tribe can finally live in peace.