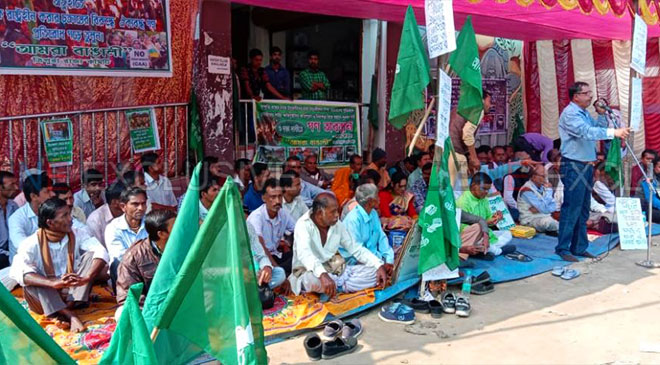 There is trouble brewing in Tripura. While the Indigenous People's Front of Tripura (IPFT), a BJP ally, has renewed its demand for a separate state for indigenous people called Tipraland, a Bengali group named Amra Bangali is demanding the creation of Bangalistan, a separate state for ethnic Bengalis.
Amra Bangali leader Hari Gopal Debnath says that many Bengali families were victimized due to insurgency, and Bangalistan is required to protect the interests of the Bengali community. Debnath told Inside Northeast, "Our demands are simple…the way government resolved the problem of Bru refugees, it should also intervene in the case of victims of insurgency. Thousands of people were displaced in the insurgency period and they also deserve the government's rehabilitation package."
Bengalis in Tripura
Tripura was a princely state that joined the Republic of India in 1949. The ethnically diverse state is home to many indigenous tribes that account for almost a third of its population. These include Tripuris, Reang, Jamatia, Chakma, Halam, Mog, Munda, Kuki and Garo. These tribes speak a variety of languages that belong to the Sino-Tibetan family of languages.
However, over two thirds of the state's population comprises ethnic Bengalis. These include Bengalis practicing different faiths including but not limited to Hinduism, Islam, Christianity, Buddhism and sundry animist beliefs. The influx of Bengalis was largely on account of immigration from erstwhile East Bengal and subsequently Bangladesh.
It is alleged that these Bengali immigrants gradually took over the politics and administration in the state, turning the original inhabitants of the state into a minority, pushing them to the periphery, forcing them to live in the hills.
India-seminar.com presents the following table to show how the demographic change took place. The data is based on census reports.
TABLE 1
Decadal Variation of Population and percentage of Tribals
| | | | | |
| --- | --- | --- | --- | --- |
| Year | Total Population | Percentage Variation | Total Tribal Population | Percentage of Tribals |
| 1874-75 | 74,523 | – | 47,523 | 63.77 |
| 1881 | 95,637 | 28.33 | 49,915 | 52.19 |
| 1891 | 137,575 | 43.85 | 70,292 | 51.09 |
| 1901 | 173,325 | 25.99 | 91,679 | 52.89 |
| 1911 | 229,613 | 32.48 | 111,303 | 48.47 |
| 1921 | 304,347 | 32.59 | 171,610 | 56.37 |
| 1931 | 382,450 | 25.63 | 203,327 | 52.00 |
| 1941 | 513.010 | 34.14 | 256,991 | 53.16 |
| 1951 | 639,028 | 24.56 | 237,953 | 37.23 |
| 1961 | 11,42,005 | 28.71 | 360,070 | 31.50 |
| 1971 | 15,56,342 | 36.28 | 450,554 | 28.95 |
| 1981 | 20,53,058 | 31.92 | 583,920 | 28.44 |
Source: Census Reports
Table from: India-Seminar
This led to the birth of the Tripuri Nationalism movement. Writing in Livemint Sudeep Chakravati says, "In 1967, the Tripura Upajati Juba Samiti demanded official recognition for the Kokborok language and autonomous tribal councils. There was a demand to restore tribal lands. It took until 1978 with the formation of the armed group, Tripura National Volunteers, or TNV, for the government to wake up. The newly-elected Left Front government of the time tried to make amends. In early 1979, they moved to restore to tribals land grabbed by non-tribals, and moved the Tripura Autonomous District Council bill in the assembly. It had the opposite effect. Several hundred Bengalis grouped under Amra Bangali initiated violence. By mid-1979, 19 people had died in altercations with Amra Bangali. Violence escalated: 1,800 people, mostly Bengalis, died.
"Even after peace deals, indigenous peoples' enclaves continue to be the most undeveloped. The state's recent push for prosperity with reserves of natural gas, and trade with Bangladesh, largely benefits the majority community. Tripuri anger remains, an anger the BJP and IPFT leveraged as hope during elections in early 2018."
Tripuri Nationalism and birth of armed outfits
Armed conflict ensued in the 1980s, with Tripuri nationalists targeting Bengalis. In 1989 the National Liberation Front of Tripura (NLFT) was at the forefront of the insurgency. According to the Tripura Police website, "The NLFT, a tribal extremist outfit, was formed in 1989 under the leadership of Biswamohan Debbarma. The objectives of the outfits are:-
To liberate Tripura from union of India.
To deport all foreigners who entered into Tripura after 1956.
To restore alienated tribal's lands"
The website adds, "With a view to fulfill the objectives of the outfit, a large number of tribal youths of Tripura were taken to their hide outs in Bangladesh and imparted them training on arms, handling explosives. They procured large quantity of sophisticated weapons from the arms smugglers in Bangladesh to carry out subversive and secessionist activities in Tripura. During the last two decade, over 600 innocent people have been killed by this outfit and huge quantities of arms were looted. The outfit also abducted over 700 innocent people for ransom and killed large number of innocent people in their captivity. A number of members of the outfit are wanted in a series of criminal cases like murder, abduction etc."
The outfit allegedly also has close ties with other alleged extremist and separatist groups from other Northeastern states. These include:
(a) NSCN (IM) (National Socialist Council of Nagalim, Issac/ Muivah)
(b) ANVC (Achik National Volunteer Council) (Garo)
(b) HNLC (Hynnienwtrep National Liberation Council) (Khasia)
(d) NDFB (National Democratic Front of Bodoland) (BODO)
(e) KYKL (Kanglei Yawol Kanna Lup) (Manipuri extremist)
(f) BBFM (Bru Development force of Mizoram)
Another major player that emerged was the All Tripura Tiger Force. According to the Tripura Police website, "All Tripura Tiger Force was initially established as All Tripura Tribal Force on 11th July 1990. Differences had cropped up between the leaders of ATTF namely Ranjit Debbarma and Lalit Debbarma on the issue of signing a 'Memorandum of settlement' with the Govt of Tripura and surrender of its cadres. Lalit Debbarma and his followers signed the 'Memorandum of settlement' on 23-08-1993. 1633 militants surrendered to the Government. But others did not surrender, rather continued with terrorist activities. Since then, it has come to be known as "All Tripura Tiger Force". But large number of its leaders, followers including founding members has returned to mainstream of life in different phases."
The website further lists the objectives of the outfit as follows:
i) Expulsion of all foreigners who entered Tripura after 1956
ii) Land restoration to tribal under "Tripura Land Revenue and Land Reforms Act ", 1960.
iii) Removal of names of illegal migrants from electoral roll who entered Tripura after 1956
iv) Implementation of the 'Tripura Merger Agreement' which came into force on 15th October, 1949, under Article 291 and 362 of the Indian Constitution.
According to the Tripura Police, "ATTF leadership also misguided a large number of tribal youths, took them to Bangladesh and imparted training on handling arms and explosives. The outfit thereby committed similar secessionist and disruptive activities in the state. Around 300 innocent people have been killed by this outfit. They also looted huge quantities of arms from SF during the same period and abducted over 200 innocent people for ransom. Many of these abducted victims were killed even after realization of ransom."
Police say that there is ample training and arms supply infrastructure for Tripura militants in Bangladesh mostly in Srimongal and Moulavibazar Districts. They further say, "The Chittagong Hill-Tracts is the haven and training grounds for militants of the North-Eastern region including Tripura. Tripura militants continue to operate from the soil of Bangladesh with the active support from the anti-Indian forces backed by the ISI. The militants are responsible for unleashing reign of terror and disruptive activities in the soil of Tripura to destabilize democratically constituted Government."
Armed resistance by Bengali groups
The Bengali nationalists also formed their own armed militias. Chief among these was the United Bengali Liberation Front (UBLF). According to the South Asia Terrorism Portal, "The United Bengali Liberation Front (UBLF) came into existence October 1999. The proclaimed objective of the outfit is protection of the Bengali population in the State from attacks by other terrorist outfits such as the National Liberation Front of Tripura (NLFT)."
It adds, "The UBLF is not a proscribed outfit under the Prevention of Terrorism Act, 2002, but has been banned by the State government for its involvement in the activities of selective killings. The UBLF terrorists are also alleged to be involved in activities such as kidnappings, extortion, arson besides the killing of Tribes."
As of today, due to alleged "Bengali domination", the UBLF has lost its relevance. However, groups like Amra Bangali have resurrected the Bengali persecution narrative in wake of lakhs of Bengali Hindus being excluded from the recently concluded National Register of Citizens (NRC) in neighbouring Assam. 'Amra Bangali' leader Hari Gopal Debnath told Inside Northeast, "No Bengali can be disenfranchised by these laws. We shall not let any Bengali excluded from this land."