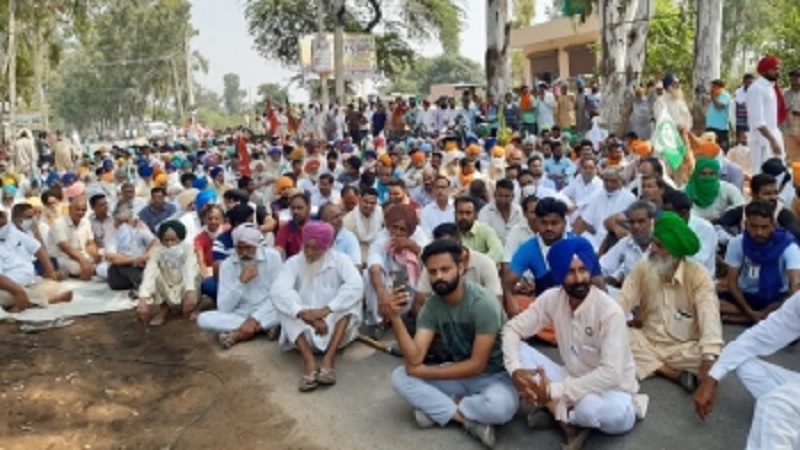 Image Courtesy:indianexpress.com
September 25, 2020 saw an unprecedented outpouring of people on the streets with lakhs of farmers and workers coming together to protest the regime's anti-people policies, including the recent spate of bills and codes, passed hastily in the Parliament.
Punya Prasoon Bajpai set the tone for the day presenting the bigger picture; touching upon the protests, distractions therefrom and the underlying political machinations.
आज किसान का दिन…
आज बॉलीवुड का दिन…
आज बिहार चुनाव के ऐलान का दिन….
आज मीडिया का दिन..
आज सत्ता प्रचार का दिन..
आज विपक्षी ताक़त के अनदेखी का दिन..
आज जुम्मा है…………….गुडमार्निंग

— punya prasun bajpai (@ppbajpai) September 25, 2020
Journalist Abhisar Sharma also threw his weight behind the Indian farmer and tweeted:
मैं देश के किसान के साथ हूँ। और आप ? #FarmerFirst #FarmersProtest

— Abhisar Sharma (@abhisar_sharma) September 25, 2020
Meanwhile, Arfa Khanum Sherwani quoted celebrated Hindi author Ramdhari Singh Dinkar and tweeted:
बैलों के ये बंधू वर्ष भर क्या जाने कैसे जीते हैं
बंधी जीभ, आँखें विषम, ग़म खा शायद आँसू पीते हैं !
-दिनकर
हमारे किसानों को आपकी आवाज़ की ज़रूरत है, साथ आइये।
एक अकेला थक जाएगा मिल कर बोझ उठाना।
साथी हाथ बढ़ाना। #किसान_बचाओ_देश_बचाओ #भारत_बंद

— Arfa Khanum Sherwani (@khanumarfa) September 25, 2020
However, a large section of mainstream media remained focused on either the Bihar election announcement or how actor Deepika Padukone had been dragged into the drugs in film industry controversy that broke out in wake of the death of Sushant Singh Rajput. While reporters fell over themselves to tail Padukone and her husband Ranveer Singh as they flew in from Goa yesterday, today, they considered it an achievement to drive alongside their vehicle! Many on Twitter rightly called out this desperate attempt to divert attention from the real issues being raised by the nationwide farmers' protest.
एक दीपिका के पीछे 10 रिपोर्टर, करोड़ों किसानों के लिए एक रिपोर्टर भी नहीं. ये है न्यूज चैनल्स का सच.

— Ranvijay Singh (@ranvijaylive) September 25, 2020
Nationwide farmers are on strike today in India. #FarmersProtest against Modi's #FarmBill2020 ignored by media, which is busy with Bollywood, IPL & Bihar election.

— Ashok Swain (@ashoswai) September 25, 2020
Meanwhile, civil society did its best to draw attention back to things that matter. Advocate and activist Prashant Bhushan tweeted this self-explanatory cartoon by Satish Acharya:
#FarmBills2020 #BharatBandh pic.twitter.com/7xkPLJwB32

— Prashant Bhushan (@pbhushan1) September 25, 2020
Harsh Mander, who was recently dragged into the investigation into Delhi riots tweeted about solidarity for farmers being expressed by CAA protesters:
Farmers from Punjab came to Shaheen Bagh to establish a langar in solidarity with their sisters protesting CAA/NRC. Now Muslim youth from Malerkotla serve food in solidarity with protesting farmers of Punjab. With these bonds of love that bind us, India is safe @karwanemohabbat

— Harsh Mander (@harsh_mander) September 25, 2020
Tribal socio-political activist and son of a farmer, Hansraj Meena too asked the country to stand for Farmers' Rights:
We stand with Farmers of the Country.

Raise your voice, And fight for Right.#5बजकर25मिनट

— Hansraj Meena (@HansrajMeena) September 25, 2020
Dalit Rights activist and convenor Dalit Army, Yash Meghwal urged people to vote out the current regime to protect Framers' Rights:
एक ही विकल्प #भाजपा_हटाओ_किसान_बचाओ

— Yash Meghwal (@YashMeghwal) September 25, 2020
LGBT rights activist Harish Iyer also reminded people to stand by farmers:
Just like you don't have to be queer yourself to support Queer Rights, you don't have to be a farmer to support Farmers' Rights.

Stand up. Speak up. Tweet on. Make your voice heard. #NoToFarmBills #FarmBill2020 #FarmersBill #FarmerFirst

— harish ?️‍? (@hiyer) September 25, 2020
Related:
Live Updates on All India Protests against Farm Bills, 2020
Farmer Protests: From streets to social media