The accused shared the 'missing' post on a traders' WhatsApp group which also had some local BJP leaders as its member. One of these members allegedly informed BJP senior leader about the post, after which an FIR was lodged at Sardhana police station and Khatri along with two others was arrested under the IT Act.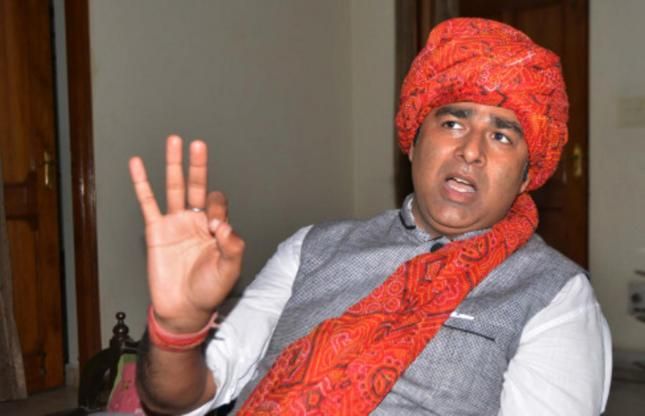 Meerut: Two men were arrested in Sardhana town, UP for sharing a sarcastic message about local BJP MLA Sangeet Som. Aijaj Khatri, 35, and Mohammed Anas, 25, had an FIR filed against them by a local BJP leader on Aug 25, claiming that it was a threat to national security.

Sardhana is in Meerut district and Som is a two time sitting MLA from that consitituency. He is known for making controversial statements like Taj Mahal was built by traitors and is a blot on Indian culture and more. He has been an anti-beef campaigner for years. He also has stock in a beef trading company called Al Dua. "A report in The Hindu said he co-founded a firm called Al Dua in 2005-06 and was associated with it till around 2008 as director. The firm is a large scale exporter of halal meat. On the website, Al Dua's product portfolio includes beef from buffalo. The company exported halal buffalo meat, lamb meat, goat meat and hides," it was reported.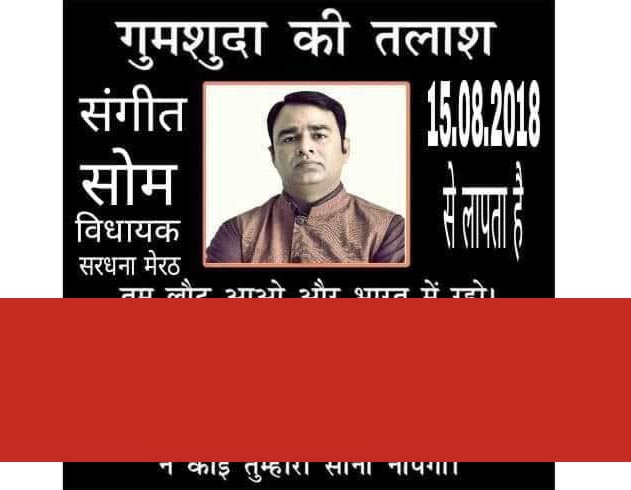 Khatri is a labourer and Anas is a medical student. They shared a message that mocks Som for inaction over a crime in his constituency. A 14-year-old girl was set ablaze by six men on August 17 in Sardhana.

The message read, "Gumshuda ki talaash. Sangeet Som, vidhayak Sardhana, Meerut. 15-08-2018 se lapata hai. Tum laut aao aur bharat mein raho. Sardhana ke case mein aapko koi kuch nahi kahega. Aap kyun tension le rahe ho vidhayak ji? Wo aapki beti nahi thi. Aapko sirf vote hi chahiye. Tum samaaj ke liye kalank ho. Pahuchane walo ko 101 ka inaam milega. Na koi tumhara seena naapega. (Search for missing person. Sangeet Som, MLA Sardhana Meerut. Missing since 15-08-2018. Return here and stay in India. No one will say anything to you regarding the Sardhana case. Why are you tensed respected MLA? She was not your daughter. You only want votes. You are a stain on society. The person who returns you receives a reward of Rs. 101. No one will measure your chest.)"

The post was a sarcastic take over Som's alleged ignorance towards law and order in his constituency, where a 14-year-old girl was set ablaze by six people at her house. The publishers attacked the controversial legislator over inaction in the case.

"Khatri had allegedly shared the 'missing' post on a traders' WhatsApp group which also had some local BJP leaders as its member. One of these members allegedly informed BJP senior leader about the post, after which an FIR was lodged at Sardhana police station and Khatri along with two others were arrested under IT Act. Speaking to media on the issue, Som said, "My opponents are maligning my image by such posts. All the BJP leaders, including me know about the case of the 14-year-old and girl and are concerned about her health as well," News18 reported.

The men had forwarded the message and there is no proof yet if the message was created by them.

In 2016, a school principal from Som's constituency had shared a Facebook picture depicting PM Modi, RSS leaders and other BJP leaders as ten faces of Raavan. Mudassir Rana, is still facing consequences as he was arrested for sharing the post and Sec 153-A was slapped on him. He was ostracised by family, relatives and friends.

"Rana was planning to travel abroad for his son's higher studies, but the family has shelved the plans as getting visas and passports could get complicated. "The case is yet to reach the court. Till it is resolved and I am let off the hook, this will hang on my and my family's head," Rana said. "But I won't go down without a fight," he said in a report by Huffington Post.

In 2014, Devu Chodankar, a 38-year-old former shipping executive in Goa, shared a Facebook post warning of a "holocaust-like" situation if Modi came to power. "He spent at least Rs 6,00,000 in legal fees and travel costs after he was booked in 2014. Chodankar had once been a BJP supporter, but came to change his mind. One turning point was the party's decision to build an airport at Mopa plateau, which – environmentalists said — would cause great ecological damage. "The water tank in my house was contaminated. Every other day, I would find the electricity connection to the house cut off," Chodankar said. "I kept getting hate messages from unknown people." In 2016, Chodankar moved to Belgium to study. Back home in India, Prime Minister Modi is plotting his campaign for the next general election, and the police continue to investigate Chodankar's Facebook post from four years ago," the report said.

"Over the past four years, news reports of arrests for insulting Modi have appeared with alarming regularity. The arrested include teachers, students, businessmen, auto-rickshaw drivers, and members of the police and paramilitary forces. Such arrests, which once caused a stir on social media platforms, now attract only passing mention," the report said.

Sabrang India had reported how a JNU alum and professor from Bihar was beaten up and almost set on fire by students for making comments on Atal Bihari Vajpayee. "An assistant professor of Sociology at a college in Motihari, Bihar, was beaten and doused with petrol after criticizing Atal Bihari Vajpayee in a Facebook post. Sanjay Kumar, A JNU alumnus and a professor at the Mahatma Gandhi Central University, Motihari, was allegedly attacked on August 17, a day after the stateman's death," the report said.

The Information Technology Act and the now-scrapped Sec 66A are being misused to create troubles and obstacles for detractors of the current regime.